by
posted on August 11, 2017
Support NRA American Hunter
DONATE
Within the realm of waterfowl shotshells, few names are as instantly recognizable as is "Black Cloud FS Steel." Debuting in 2007, the unconventional and innovative loads immediately caught the attention of ardent waterfowlers and, since that time, have terminated the travel plans of countless migratory species. As effective as the loads are, they weren't (and still aren't) optimal performers across the spectrum of shotguns. As such, for 2017 Federal Premium unveiled an improved version of Black Cloud FS Steel featuring the new FliteControl Flex wad, as well as other enhancements. How does it "stack up" to the original? Keep reading.
The Drawing Board: Take Two
Porting can be viewed as a godsend for recoil attenuation and muzzle flip reduction, but it is counterproductive for Black Cloud FS Steel loads. Here's why: the FliteControl wad relies on muzzle pressure to deploy the rear fins, which, when teamed with side air-catching flaps, slow the wad's forward momentum and enable release of the shot charge. Porting reduces the muzzle pressure to such extent that it causes the FliteControl wad's fins to deploy inconsistently, and thus the release of the payload is erratic, too, thereby negatively affecting patterns. Federal's solution—named FliteControl Flex—was to lengthen the fins and provide support gussets so that, once flared, they stay that way. Moreover, in place of the flaps are side vents that allow for equalization of pressure inside the tube and facilitate cleaner wad/shot separation.
A common complaint among waterfowling Internet threads is about Black Cloud FS Steel's dirtiness. Federal's engineers heard the call to action; in fact, creating a cleaner load was a fundamental factor. The company achieved such by using a clean burning, temperature-stable propellant ignited by the new efficient, Catalyst lead-free primer. To hinder corrosion on the head, it was finished with a black nickel coating.
Like its predecessor, Black Cloud FS Steel with FliteControl Flex features various quantities of FliteStopper steel (FS) and standard steel shot. Why change a good thing, right? Ardent users of Black Cloud FS Steel are well aware of the benefits of FS pellets; the raised band circumventing each pellet's midsection increases its lethality by widening the wound channel. Standard steel shot fill in the pattern. While the "standard" load features a 60/40 (FS/standard) combination, Close Range has 100-percent FS shot.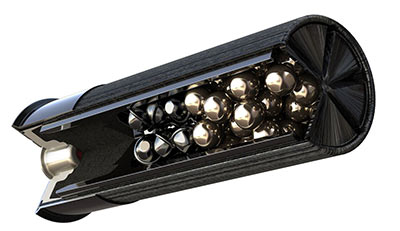 To The Range ...
"Is Black Cloud FS Steel with FliteControl Flex better than it's predecessor?" That's the question I sought to answer through multiple range visits, with each spanning hours and chock full of rigorous testing—including expending several hundred shells in patterning, chronographing, and function-testing through a half-dozen guns and nearly twice as many factory and aftermarket chokes in ported and standard configurations.
According to Daniel Compton, product line manager, shotshell/rimfire, Federal Premium/CCI, "Extensive testing with 3½-inch shotshells and a variety of choke styles revealed that the new Black Cloud with FliteControl Flex reduces variation in pattern efficiency 36 percent in ported chokes and 41 percent in all other choke tubes with all shot sizes." To compare the old and new Black Cloud FS Steel offerings objectively, I selected the same load—12-ga., 3-inch, 1¼ ozs. No. 2—in each and ran them through identical tests.
Here's what I discovered: patterning at 40 yards illustrated that Black Cloud FS Steel with FliteControl Flex provides more consistent pellet distribution in a 30" circle than does the original; however, almost without exception, the elder delivers places more pellets on-target—albeit frequently in clusters, leaving patterns rife with holes. For example, from a 26-inch-barreled Stoeger M3000 shotgun with a ported, HEVI-Shot Extended Range choke tube in place, Black Cloud FS Steel with FliteControl Flex delivered an average of 82 pellets (54 percent) on-target, while the original load delivered a slightly higher 58%. The discrepancy grows, too; from an 18½-inch-barreled Sarsilmaz shotgun with a non-ported Patternmaster Black Cloud Modified choke, 64 percent patterns were achieved with the original option, while the FliteControl Flex-loaded shell had 46 percent patterns. This was par for the course.
The sole exception came with the non-ported Cabela's Northern Flight Mid choke in the M3000, where the new load bested the elder by 12 percent. In general, though, the new shell has fewer shot on-target but offers less holes in the pattern than does the original load. There's something to be said about that.
Collecting the spent wads revealed that, as advertised, the flaring fins FliteControl Flex wad opened consistently and did a better job of releasing the pellets—hence the reason why patterns with it were more evenly distributed. The same couldn't be said of the aged FliteControl wad; many didn't remain open after the initial flaring while others did. Unsurprisingly, the new wad traveled about two-thirds the distance to the target while the elder often hit (or fell nearby) the patterning board. A Competition Electronics chronograph revealed that, through a variety of shotguns, Black Cloud FS Steelwith FliteControl Flex was from 14 to 59 fps faster than the original load, though there was a noticeable increase in felt recoil, too.
Considering cleanliness, Black Cloud FS Steel with FliteControl Flex seemed to offer a slight improvement over the older shell. Swabbing the barrel, piston (if present), action, and trigger group/assembly showed less residue from the Black Cloud with FliteControl Flex than with the original load—except in one instance. On one occasion a Remington Model 1100 Magnum's bore was dirtier with the new load. Don't expect a squeaky-clean shotgun after shooting a couple boxes of the updated Black Cloud FS Steel; it isn't going to happen, and it doesn't need to, either. With the exception of two shells from preproduction runs, all shells functioned without issue.
Black Cloud FS Steel with FliteControl Flex will be offered in the same popular loads as the original at the same price, and they're already on store shelves.
So often companies ignore consumer suggestions and feedback, preferring instead to believe that their products are perfect as-is. It's refreshing to see that Federal Premium bucked the trend and listened to its customers. The result is a product that offers some real benefits over its predecessor, and in the field that's what you want.