by
posted on September 10, 2018
Support NRA American Hunter
DONATE
Last October, I attended a media event by Christensen Arms to launch their then-newest rifle, the Modern Precision Rifle (MPR). At the time, I wrote that the MPR was "the future of long-range hunting." 
As new product events go, the Christensen launch was first-rate. The MPR's were pre-zeroed, the ammunition was plentiful and, I'm sure was selected because it was a great fit for the rifles. The steel targets were newly painted, and our shooting platforms were very stable. I recorded some great groups that day, including a 2.5-inch group of three shots at 520 yards. However, you never really know about a rifle based solely on a media event, as it doesn't replicate day-to-day shooting. I needed to use a production MPR at home at my own pace, and that recently occurred.

After 250-plus rounds at my range, tinkering with the rifle and really getting to know it, I must go one better on my original claim. The MPR isn't simply the future of long-range hunting, it is what longer-range hunting is all about. The rifle combines the precision of a competition rifle with the in-the-field functionality of a fine hunting rifle. Until someone builds a much superior rifle, the MPR is my first choice when my hunting shots are likely to be 300 yards or more.
The MPR I received is chambered in 6.5 Creedmoor and sports a 22-inch stainless steel and carbon-fiber wrapped barrel. The barrel is hand lapped, free-floating and button rifled with a 1:8 twist rate. The end of the barrel was outfitted with an adjustable, stainless steel baffle brake.
With a rifle, great accuracy usually means substantial weight, but the MPR weighs in at just 7.5 pounds unloaded. That lighter weight is due to several factors, including the Christensen Arms 7075 billet aluminum chassis the MPR is built upon. The handguard is also lightweight carbon fiber, as is the adjustable cheek riser.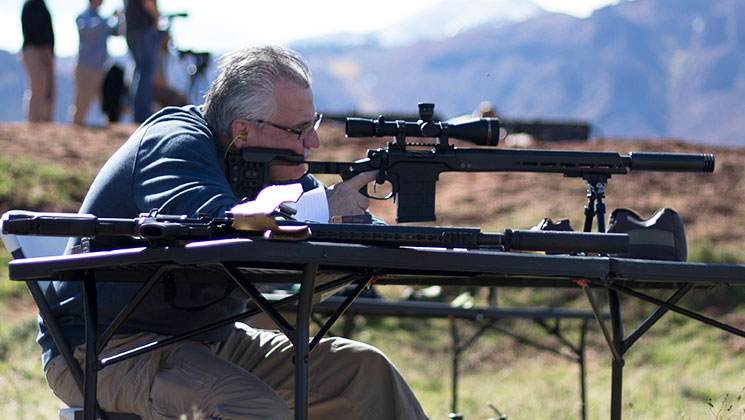 The stock is skeletonized for further weight reduction, and the two-lug bolt-action is fed via an AICS-compatible detachable magazine. The over-sized and fluted bolt knob know allows for easy loading and unloading, and the rifle itself is done in a black nitride finish. The MPR was initially available in only 6.5 Creedmoor and .308 Win. But since the rifle's launch, Christiansen has added the .300 Norma, .300 Win. Mag., and .338 Lapua to the MPR offerings.
Not only is the rifle extremely accurate, its design shows that a great deal of careful thought went into making it a more-effective hunting rifle. The stock is adjustable for cheek weld and length-of-pull; while many rifles are, Christensen did something I only occasionally see on new rifles—they made those adjustments all possible with a single hex wrench.
The 3/32-inch included hex wrench loosens and tightens the screws to adjust the cheek plate and length-of-pull, plus the two screws that remove the rear half of the stock for cleaning and repair. It even fits the eight screws that hold the handguard in place, which may not sound like a big thing, but I've used adjustable stocks which required two different wrenches and a screwdriver for stock adjustments. Apparently, someone at Christensen Arms looked at these stocks and said to themselves, "Why not design our rifle stock so one tool lets you make all the changes?" Good thinking.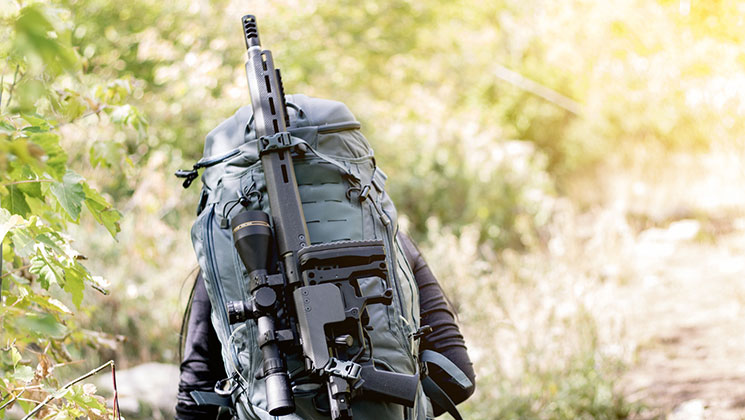 The carbon fiber handguard with M-Lok attachment makes the hunter's life easier, by giving the handguard a flat bottom—not the rounded bottom common on many hunting rifles, but a nice flat surface for greater stability when the bottom is rested on the ledge of an elevated blind, the top of a fence post or a wide branch. Want to use a bipod instead? The MPR features a section of Picatinny rail already in place near the front of that flat bottom.
The MPR's folding stock is impressive, too. Simply depress a small button on the left side of the stock and it folds up and into the rifle receiver. There's a small cut-out in the stock which fits over the end of the bolt handle. The now-folded stock is held in place with a locking hinge. Plus, a rounded magnet on the right side of the stock matches up with a small steel circle just forward of the bolt itself and magnet secures the stock to this metal circle. This is a great feature for hunters, as it easily straps on to a large pack.
I mounted a Bushnell 2.5-15x50 Trophy scope with a BDC reticle onto test rifle. For accuracy and function testing, I used three brands of 6.5 Creedmoor hunting ammunition: Federal Fusion 140-grain bullet; Hornady Full Boar 120-grain GMX bullet; and Sig Sauer Elite Performance HT 120-grain copper bullet.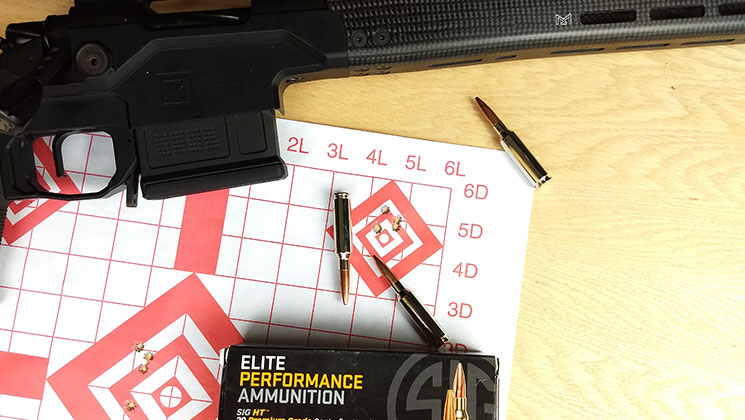 Shooting from a table off of sandbags at 100 yards, the MPR's accuracy was impressive with all three rounds. The best five-shot group and the best overall average for five, five-shot groups went to the Sig Sauer ammunition at .477-inch and .966-inch, respectively. The Fusion averaged just a bit over 1-inch, with a best .84-inch group, and the Full Boar averaged 1.24 inches and a top group of .90-inch.
I'm not sure exactly when the Accuracy Testing Gods decided that a five-shot group was superior to a three-shot group, as three-shots had been the norm for years. I can see the arguments for and against both, but it seems to me that if your first three shots print a ½ MOA group, you have a ½ MOA rifle. A gust of wind, a nervous shake by the shooter, or any of 100 other variables can pull either shot No. 4 or 5 just a little, resulting in a 1 or 1.5-inch group.

*Determined with five, five-shot groups at 100 yards from sandbagged rest.
That's the group size, no doubt. Yet, is it truly indicative of a hunting rifle's accuracy? I printed three- and four-shot groups of .5-inch or better at 100 yards at least three times with each brand of ammunition. This included a .290-inch group of three shots with the Federal Fusion rounds, and two, three-shot groups with the Sig ammo at .302-inches. For me, this makes the MPR a ½ MOA rifle all day, every day.
MPR's great match-grade flat trigger helped make that accuracy possible. According to my Lyman Digital Trigger Pull Gauge, the MPR's trigger has an average trigger pull of just 1.7 pounds. Not so light it might go off with a brush of your finger, but light enough that with practice, trigger pull shouldn't result in pulled shots.
The only issue I found was the tendency of the MPR's bolt to throw spent brass into the side of the receiver behind the enlarged ejection port, where it left a series of tiny dings. The surface of the finish wasn't broken, but this could happen with more ejected brass and would require a touch up. I wouldn't term it a "problem," but with a suggested retail of right around $2,200 the MPR costs much more than most new hunting rifles on the market today.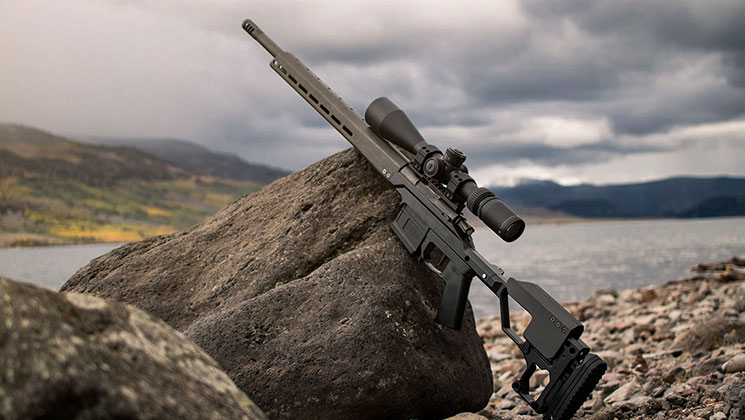 There are many great rifles available today for $500 or less. I've used a dozen of the newest ones over the last four years, and nearly all of them are capable of MOA accuracy at 100 yards. So, why would anyone pay four times that for a hunting rifle?
If your shots are all going to be 200 yards or less, there's no functional reason to buy an MPR. The difference between ½ MOA and 1.0 MOA or even 1.5 MOA at 200 yards on deer-sized game still translates into a heart-lung shot, but my personal preference is to be able to take a shot at up to 400 yards. A rifle shooting 1.5 MOA at 100 yards could be off six inches or more at 400 yards. A bit of wind or a slight shift by the animal, and you could easily wound it.
For this shot, I would not only need substantial practice, a very stable shooting position, and a thorough understanding of my ammunition's ballistics. I'd require a rifle with ½ MOA accuracy, which is why I'd want an MPR.
Technical Specifications
• Type: bolt-action, magazine fed
• Caliber: 6.5 PRC, 6.5 Creedmoor (tested), .308 Win., .300 Win. Mag., .300 Norma, .338 Lapua
• Barrel: 22″; free-floating; 1:8″ twist; 416R stainless steel aerograde carbon fiber wrapped; ⅝x24 threaded muzzle
• Chassis: Christensen Arms 7075 billet aluminum
• Finish: black hardcoat anodized
• Handguard: carbon fiber with M-LOK attachment points, black
• Stock: folding, with locking hinge and Magnelock Technology; LOP adjustable 12.5″ to 14.5″
• Trigger: match-grade, flat
• Weight: 7.5 lbs.
• Length: 36.75" extended, 28" folded
• Misc: 6 quick-detach flush-cup mounts; standard AR grip; monopod Picatinny mount on handguard; uses AICS-compatible detachable magazines (one included).
• MSRP: $2,295; christensenarms.com