by
posted on November 3, 2017
Support NRA American Hunter
DONATE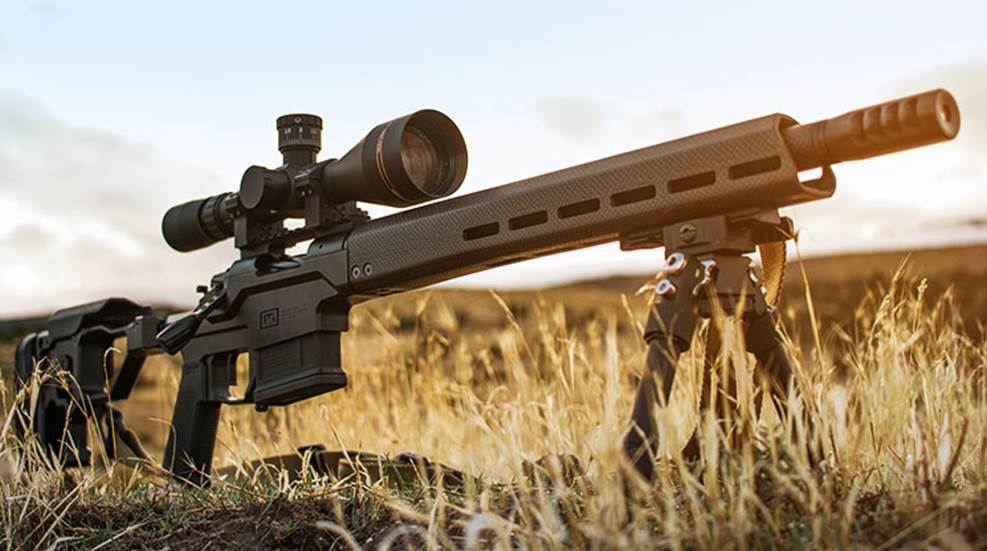 The future of long-range hunting just arrived: the Modern Precision Rifle (MPR) from Christensen Arms of Gunnison, Utah. Lightweight and accurate, the bolt action MPR performs like a rifle you'd find on the Precision Rifle Shooting circuit, but with features the long-range hunter will appreciate and use in the field.
I was invited by Christensen Arms to try out the MPR in mid-October, at a launch event held near Moab, Utah, one of two outdoor media at the event.
The MPR is a chassis system rifle, but unlike most chassis on the market, this one is light. Most models come in right around seven pounds, though the model with the longest barrel (26 inches) weighs 7.9 pounds.    
The chassis is machined from 7075 billet aluminum and features V-block bedding. Other features include an adjustable folding stock with a locking hinge mechanism, an oversized fluted bolt knob, and black nitride coated bolt, receiver, and muzzle brake. The MPR's barrel is made from aero-grade carbon fiber barrel, as are the free-floating handguard and the adjustable comb.
The folding stock packs in nicely for the hiking hunter, and is designed so that it can also be carried via sling comfortably when folded. The stock itself is adjustable for length of pull and height. The bottom of the MPR's handguard is flat, not rounded like many rifles, proving a more stable surface for the hunter using a fence post, tree branch or rock for a rest. The MPR uses ACIS-compatible magazines. The match-grade, flat trigger is made by Trigger Tech and breaks very cleanly. The MPR is also guaranteed to shoot sub MOA, with quality ammunition.
Initial caliber offerings are 6.5 Creedmoor and .308 Win., available in a variety of barrel lengths: 22- and 26-inch barrels in 6.5 Creedmoor; 16-, 20- and 24-inches in 308 Win. The MPR should be on dealer shelves by the end of November, with a suggested retail of $2,295.
After a general introduction to the new rifle, we headed to the range. In this case, the range being a rolling, 1,200-acre pasture on a working cattle ranch outside of Moab. Steel targets were set out from 100- to 1,000-yards, with shooting positions ranging from prone, to sitting on the ground, to shooting off tables.
All other positions being taken, I found myself starting off my day's shooting at the 500-yard table. Actually, the pair of 12-inch long, red steel diamonds were 520 yards away, the range officer (RO) explained.
I used a new MPR chambered in 6.5 Creedmoor and with a 22-inch Barrel. The rifle was equipped with a Vortex Razor HD AMG 6-24x50 scope and an Omega suppressor made by SilencerCo. My ammunition was Hornady ELD Match firing a 140-grain bullet.
The optic was already zeroed in for that range, the RO said, so I lined up my first shot at the left diamond—and promptly missed, high and to the left. The rifle had a bipod attached, and I shifted that over a bit, plus got a better grip on the shooting bag I was using to support the end of the stock. My next four shots pinged the steel solidly, though the hits were scattered around the diamond.
There were just four rounds of 6.5 Creedmoor left in the Hornady box I was given, so I loaded those into the MPRs detachable magazine, inserted the magazine and took on the diamond to the right. My first shot was centered, but high at 12 o'clock.
I took a few deep breaths as I adjusted my position. I lined up the reticle on the center of the steel diamond and squeezed off my next shot.
"Impact!" The range officer said, peering into his large Swarovski spotting scope.
Two more shots, two more hits I was sure, and I opened the MPR's bolt and dropped the magazine.
"Do you know what you just did?" the range officer asked.
"Well, my last three shots hit the steel…didn't they?" I said, a little confused. Given the RO's tone of voice, I thought I was being accused of some foul up.
"Damn right they did," the RO said. "You nailed those last three shots at about two-and-a-half inches. At 500 yards, one minute of angle equals five inches. So, you just shot a half minute of angle at 500 yards! Take a look."
The Swarovski revealed a tight three-shot group pegged neatly onto the newly painted steel, the concentric impact rings touching. I'm a pretty good shot, but had no illusions about doing any better. I moved onto to other distances!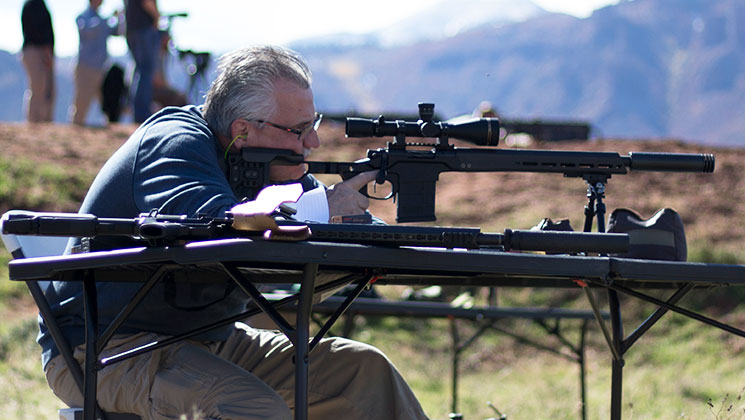 Using various MPR's in 6.5 Creedmoor and .308 Win., I shot from the different positions at steel set up at the 100, 200 and 300 yards.  It felt like cheating, after the 500-yard shooting, like I'd have to try to miss.
The other media representative, a former military sniper team leader, was calling and making 800-yard head shots on steel silhouette targets.
A group of firearms distributors and gun store owners were in attendance, too, and I watched as they hit steel consistently at 100- to 600-yard targets. Many of these guys admitted they never considered themselves longer-range shooters. Now, with the MPR, good glass and first-rate ammo? They thought it very possible.
I have a new MPR in 6.5 Creedmoor heading my way for more testing and evaluation, and hope to have the chance to hunt with it, too. For right now, the MPR looks like the benchmark for how a long-range hunting rifle should feel and preform.

And as a benchmark, the MPR is going to be damned hard to top.