by
posted on January 7, 2019
Support NRA American Hunter
DONATE
If I had to pick one word to describe Big Horn Armory's new AR500 semi-auto rifle, that word would be "stout." From its .50-caliber bore, to the large chunks of lead this AR launches, to the build and recoil … it is stout.
Big Horn Armory of Cody, Wyo., made its name by building big-bore lever-action rifles. But a couple years ago, Big Horn Armory president Greg Buchel decided it was time to build a rifle that would appeal to a younger demographic. Given that the company was already focused on larger calibers, an AR with lots of "thump" was the logical choice. This led Buchel and Big Horn Armory to produce the AR500, chambered in the massive .500 Auto Max cartridge. Based on the .500 S&W cartridge, the .500 Auto Max a rimless, straight-walled case designed to work in an AR-style rifle, as the .500 S&W Mag. (being a rimmed cartridge) isn't well-suited to box magazine fed rifles.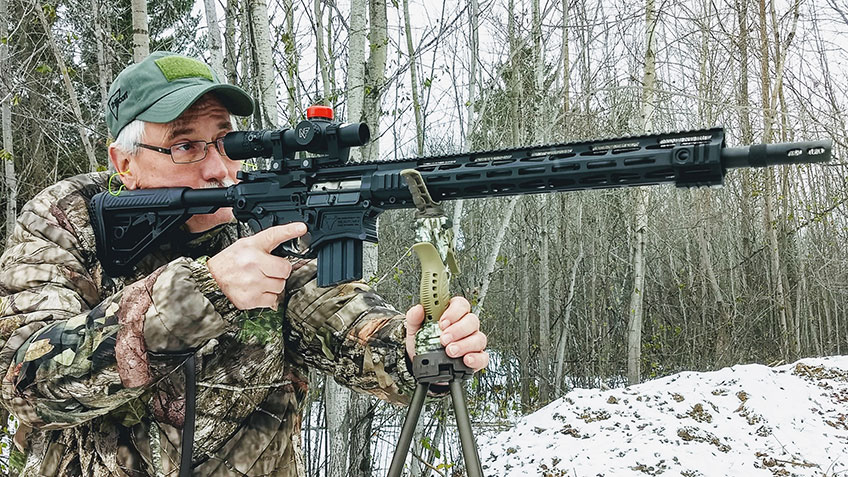 After several range sessions with the AR500, I rate it as a rifle capable of taking very large game animals—out to 150 yards. It may actually have more effective range, but given the newness of the round and the limited availability of ammunition, my 150-yard limit is based on the one round I had at my disposal: a 400-grain, flat-nosed lead bullet from Buffalo Bore. Other rounds, loaded with different weights and sizes of bullet, could well extend that range.
First, I mounted a Nightforce NX8 1-8x24mm scope on it using Nightforce 30MM rings. The Nightforce, I discovered, was a perfect choice for this rifle. It provided extremely clean, sharp images and ample magnification for short to mid-range distances, while the ruggedness of the design shrugged off the AR500's considerable recoil.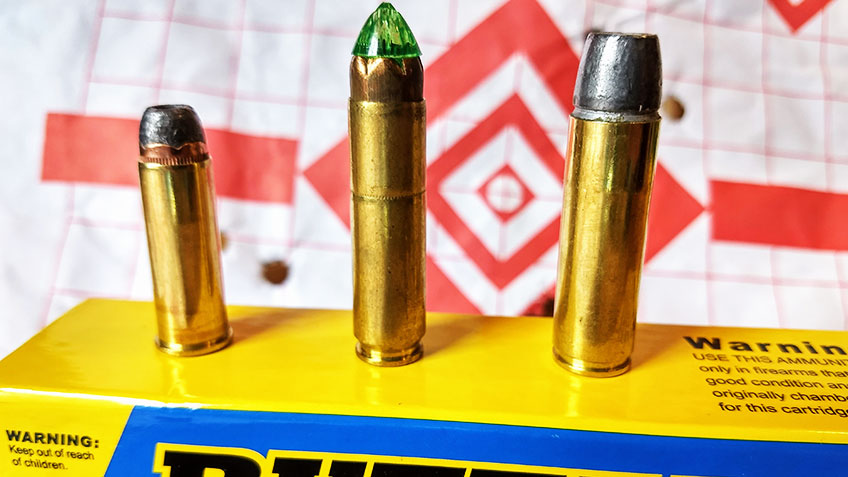 The rifle was easily zeroed at my outdoor range at 50 yards, taking only five shots to get me on the bullseye. At 100 yards, the limitations of this round and rifle came into play. While my first shot was almost always within 1.5 inches of the bullseye—and frequently right on it—follow-up shots were anywhere from right next to the first shot to three inches away. Initially, I took the blame, and worked up a better, more stable shooting position, but it didn't help. So I left my range thinking I was just off that day. Over the course of two more range sessions, it was clear that my initial accuracy results were correct.
My best five-shot groups at 100 yards were right at 2 inches—not bad—but I also pegged groups at 3.25, 3.45 and 3.5 inches. This is why I rate the AR500 as a 150-yard hunting rifle—with the 400-grain loads I was using, anyway. If you're averaging nearly 3-inch groups at 100 yards, you're looking at possible 6-inch groupings at 200 yards. That, to me, is wounding territory for the hunter. At 150 yards, I guestimate the accuracy at hopefully 4 to 4.5 inches—not great, but accurate enough to consistently put a bullet into a game animal's vital zone.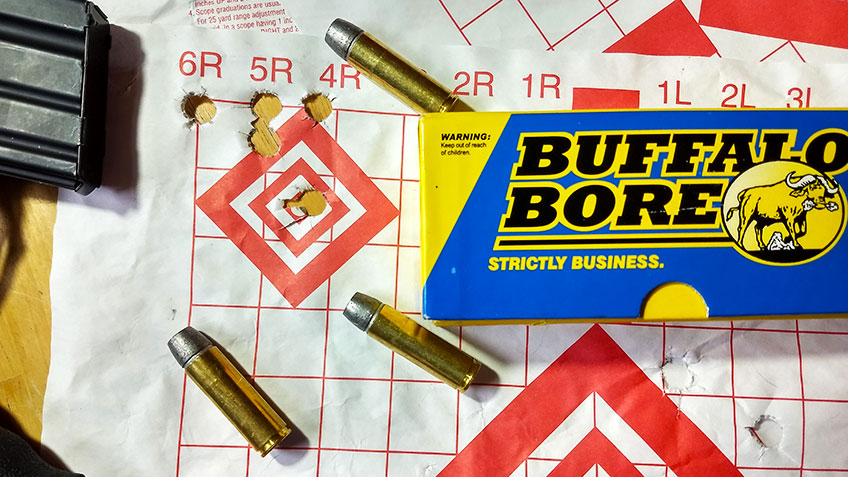 As noted earlier, there are different ammunition options available, from both Buffalo Bore and Underwood, with more options likely in the works. One or more of these options may provide better accuracy.
Recoil? We're back to "stout." It won't rattle your teeth, but the recoil was significant enough that if I wasn't shouldering the rifle very firmly, the kick back hurt. I considered the recoil comparable to a 12-gauge semi-auto shooting 3-inch waterfowl loads.
Initially, the AR500 fed and ejected rounds without a hitch, but at about 50 rounds, I started to get failures to feed. The problem was the magazine; the feed lips on the 5-round magazine I was provided were simply too stretched out. I could've tried to bend the lips back down, but AR magazines can be finicky to begin with, and I didn't want to mess up my testing. As it was, I had only four failures to feed over the course of the next 30 or so rounds.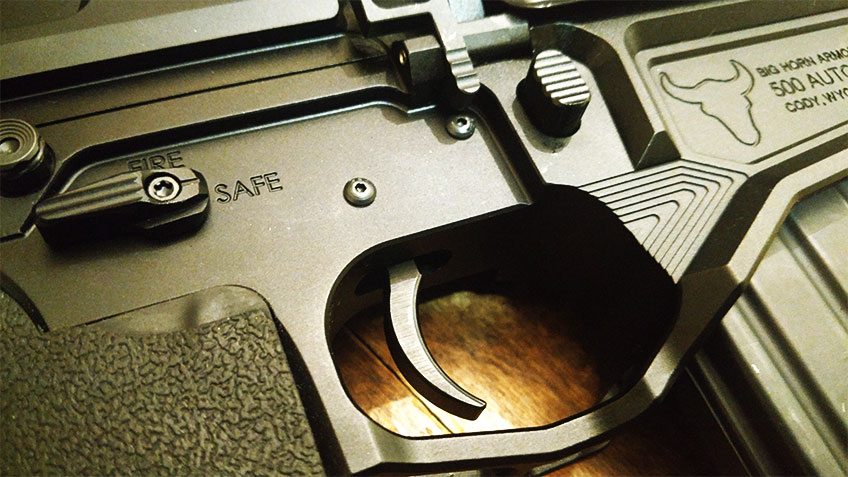 The trigger on the AR500 breaks very crisply at just 2.375 pounds, according to my Lyman Digital Trigger Pull Gauge. The trigger guard is oversized, allowing the shooter to access the trigger easily while wearing gloves. In addition to the M-Lok handguard, the rifle has many other attachment points, including a quad picatinny rail at the end of the handguard, and small rail sections on either side of the barrel and just forward of the receiver.
The magazine release popped out the magazine positively, and the beefy ambidextrous slide releases present a good amount of surface area for ease of use. The six-position AR stock snapped out easily and locked up tightly. The rifle itself weighs in at a hefty 9.375 pounds.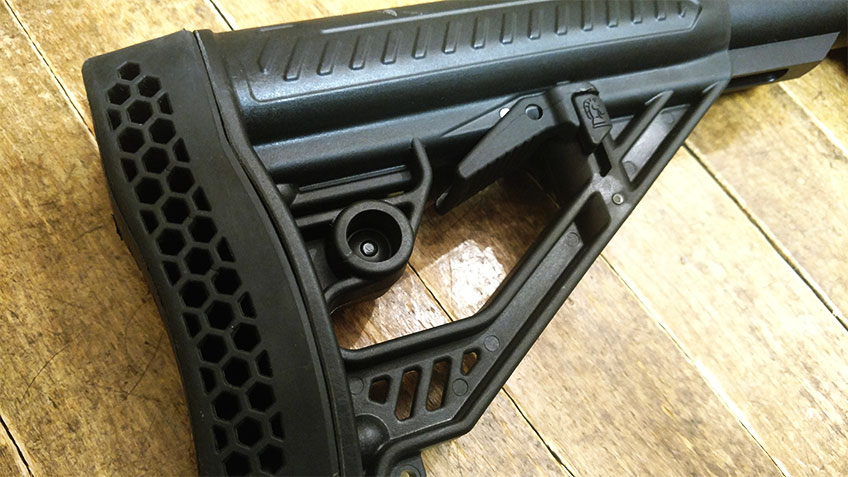 My PACT Professional-XP Chronograph measured 10 rounds of the Buffalo Bore ammunition at an average of 1766 fps. At the muzzle, that translates to approximately 2,770 ft.-lbs. of game-dropping energy. According to two different online ballistic calculators, this round is moving at 1538 fps with 2,227 ft.-lbs. of energy at 50 yards, 1419 fps with 1,788 ft-lbs. of energy at 100 yards and 1276 fps at 150 yards while still smashing along at a very impressive 1,446 ft.-lbs. of energy.
For the hunter, I see the AR500 as a perfect rifle for hogs, bear, moose and any other large game animal that presents a closer shot. Whitetails? The rifle will certainly take them down. My concern is that the 400-grain bullet might tear up too much meat. If you want a big, stout rifle launching equally big, stout rounds in a semi-auto platform the AR500 is your next hunting rifle.
Technical Specifications
• Caliber: .500 Auto Max
• Action: semi-auto, direct impingement
• Finish: receivers anodized black; barrel black oxide.
• Barrel: 18″; 1:24 twist
• Magazine: 5-rnd. capacity as tested (larger capacity magazines to be available in the future) 
• Sights: none; Picatinny rail integral to receiver for mounting optics
• Stock: 6-position adjustable
• Overall Length: 37″ to 40.25″
• Weight: 9 lbs., 6 ozs.
• MSRP: $1,999; bighornarmory.com