by
posted on October 8, 2015
Support NRA American Hunter
DONATE
So, I have to admit: when Marlin introduced the new lever action 1895GSBL last year, I missed the intro altogether. Then, this past spring, I noticed the 1895GSBL while checking out firearms online. What caught my eye: a neat-looking laminate stock and that John Wayne loop at the bottom of the lever. 
So, I asked the good people at Marlin if they could send me one to try out on an alligator and hog hunt I had planned in south-central Florida over this summer. They did. Here's what I discovered:
1. It's light.
Although it's a big bore rifle and packs a heck of a big wallop, the 1895GSBL is actually a light and nifty rifle, coming in at 8 pounds and measuring just 37-inches long. It feels even lighter than that. Perfect for hunting in heavy brush or in a tight blind; great for carrying in your truck, too.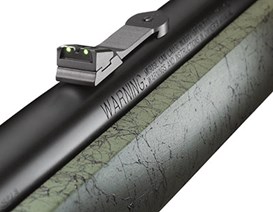 2. It's smooth.
The lever action on my 1895GSBL worked smoothly and positively, jacking out spend shells easily and chambering in new rounds quickly. The big loop lever aids in this, I believe, because it gives the shooter a little more cocking leverage than the standard closed loop. It also makes me think of those great Westerns films the Duke made.  
The only problem I had with the rifle was during loading the 6-round tubular chamber. I had to consciously push the brass down, length-wise, to avoid the brass from scraping against the ejection port and shaving off. Was that a rifle ejection port issue or the ammo? I was not sure.
3. The recoil is manageable.
I assumed that the smaller-stature of the rifle paired with the .45-70 cartridge was going to equal some pretty hefty recoil. Wrong. Hey, I certainly knew when I pulled the trigger and that 325-grain bullet Hornady LEVERevolution bullet launched down the barrel. But I didn't find the recoil excessive or off putting.
4. It's accurate.
Figuring (correctly) that the gator portion of my hunt would be a fairly close range affair, I sighted in the 1895GSBL at 50 yards. The adjustable Williams Fire Sights and Hornady LEVERevolution ammunition were soon dropping in bullets within a half dollar sized group, shooting from a set of tall sticks. Later, at a range with a shooting table, the groups shrunk by nearly half at the same distance. So, for a practical hunting rifle, you can drill the kill zone on deer-sized and larger game all day at 150 yards. Likely further with a good optic.
5. It's modern.
I know it's a sacrilege to many, but I actually prefer laminate and composite stocks to wood. Sorry! And one of the things that attracted me to this rifle was that someone had given the "standard wood stock on a  lever action" an update.  The durable laminae stock is painted green with black webbing, sheds water and mud, and cleans up easily with a damp rag. Metal surfaces are done in a tough FNC black finish. I think it all looks pretty darn cool!