Support NRA American Hunter
DONATE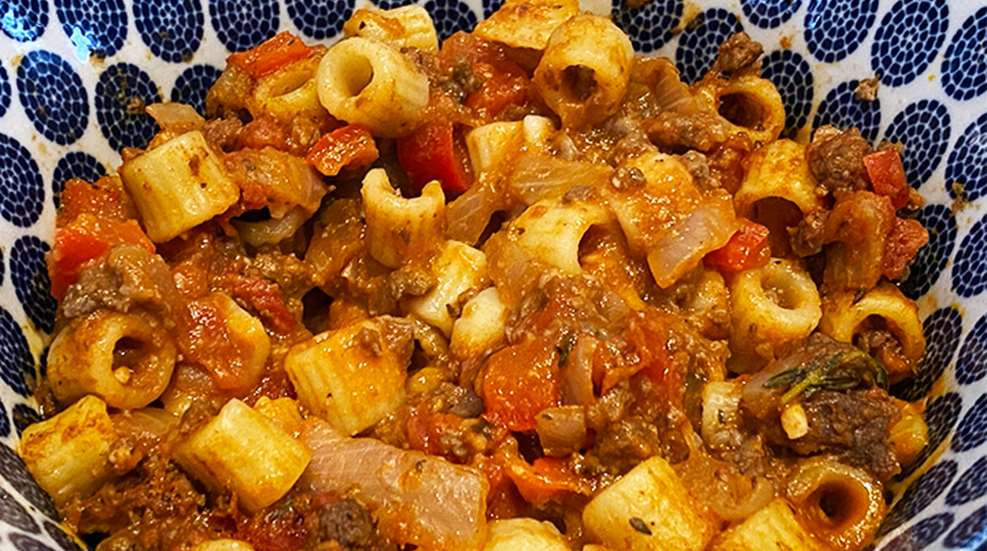 Is it soup, stew, casserole or just simple comfort food? There is often confusion around goulash. European and North American recipes are not even close to being the same dish. The European goulash includes stewing meat, onions and lots of paprika and is Hungary's national dish. The North American version, for most of us, is like the original Hamburger Helper.
North American goulash is easy to make, a fabulous way to use ground venison and is a quick fix for lunch, dinner or hunting camp. The ingredients can be altered for preferences and palates around the table. I love adding diced jalapeno, and some like to include sugar to make the dish sweet.
Peas or corn can also be added, which increases the confusion of whether the dish is a soup, stew or casserole. Hungarian goulash is typically considered a stew. However, the North American goulash is best described as a one-skillet dinner or casserole. 
Ingredients
• 2 Tbsp olive Oil
• 2 lbs. ground venison
• 1 large yellow onion, diced
• 4 cloves garlic, minced
• 2 bay leaves
• 1 cup beef broth
• 1 - 14.5 oz. can diced tomatoes with juice
• 1 - 15 oz. can tomato sauce
• 1- 10.5 oz. can Rotel
• 1 - 6 oz. can tomato paste
• 2 Tbsp soy sauce
• 1 Tbsp Worcestershire sauce
• 1 Tbsp seasoned salt (Bearded Butcher Original or Cajun work great)
• 1 Tbsp paprika
• 1 tsp ground black pepper
• 1 tsp oregano
• 1 tsp thyme
• 1 tsp basil
• 1 tsp cumin
• 2 cups elbow macaroni
• 2 cups frozen peas or corn (optional)
• 2 cups cheddar cheese, grated
Directions
1. Heat a Camp Chef Dutch oven or stockpot on med-high heat. Add the oil and the ground venison. Cook for 5 minutes, stirring occasionally. As the meat starts to brown, add the diced onion, garlic, and bay leaves. Cook for 4 minutes, stirring occasionally.
2. Add the broth, diced tomatoes, tomato sauce, Rotel, tomato paste, soy sauce, Worcestershire sauce and spices. Stir well.
3. Reduce the heat to low, cover and simmer for 15 minutes, stirring occasionally.
4. Stir in the macaroni noodles (uncooked), cover, cook for 20-25 minutes, or wait until the pasta is almost tender. Add the frozen vegetables and cook 5 minutes. Add the grated cheese and stir until melted.
5. Remove and discard bay leaves, and serve hot.
For more delicious wild-game recipes, click here.