by
posted on October 9, 2021
Support NRA American Hunter
DONATE
Have you ever had one of those days when you just can't decide what to make for dinner? A conversation brings up several options, and before you know it, the ultimate combination is created. Who doesn't love a good Philly cheesesteak or sloppy joes on a bun? Putting the two together redefines comfort food and makes an incredible meal.
This recipe is also excellent for when you're in hunting camp and you want a hot satisfying meal after a long day afield.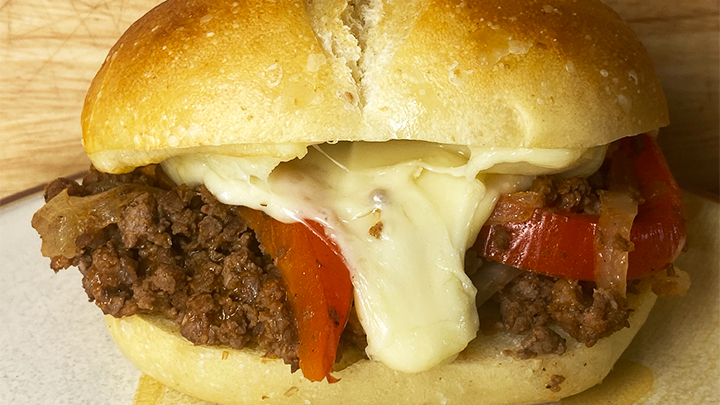 Ingredients
• 1 lb. ground venison
• 2 Tbsp olive oil
• 2 cloves garlic, pressed
• 2 tsp onion powder
• 2 tsp black pepper, freshly ground
• 1 tsp salt
• 2 Tbsp tomato paste
• 2 Tbsp Worcestershire sauce
• 1½ cups beef broth
• 1 Tbsp cornstarch
• 1 red bell pepper, sliced
• 1 yellow onion, sliced
• 4 hamburger buns
• 1 Tbsp Butter
• 8 ozs. cheddar cheese, sliced
Directions
1. In a large Camp Chef cast-iron frying pan, heat olive oil over medium heat and add the ground venison. Add the garlic, onion powder, black pepper and salt, and cook for about four minutes.
2. When the meat begins to brown, add the tomato paste, Worcestershire sauce and 1 cup of beef broth. Stir to combine ingredients and bring to a rolling simmer.
3. Add the sliced pepper and onion and stir. Cook for two minutes.
4. Dissolve the cornstarch in the remaining ½ cup of beef broth and slowly stir into the mixture. Bring back to a simmer to thicken.
5. Butter each half of a hamburger bun, and add at least ½ cup of the meat mixture to the bottom piece.
6. Layer slices of cheddar on the meat mixture to cover.
7. Place the buns in a toaster oven, or under the broiler, until cheese bubbles and starts to brown. Remove from the heat source and slowly push the top half of the bun onto the cheese and meat. Serve hot with potato chips or a side of fresh vegetables with blue cheese or ranch dressing.
For more delicious wild-game recipes, click here.