by
posted on February 25, 2017
Support NRA American Hunter
DONATE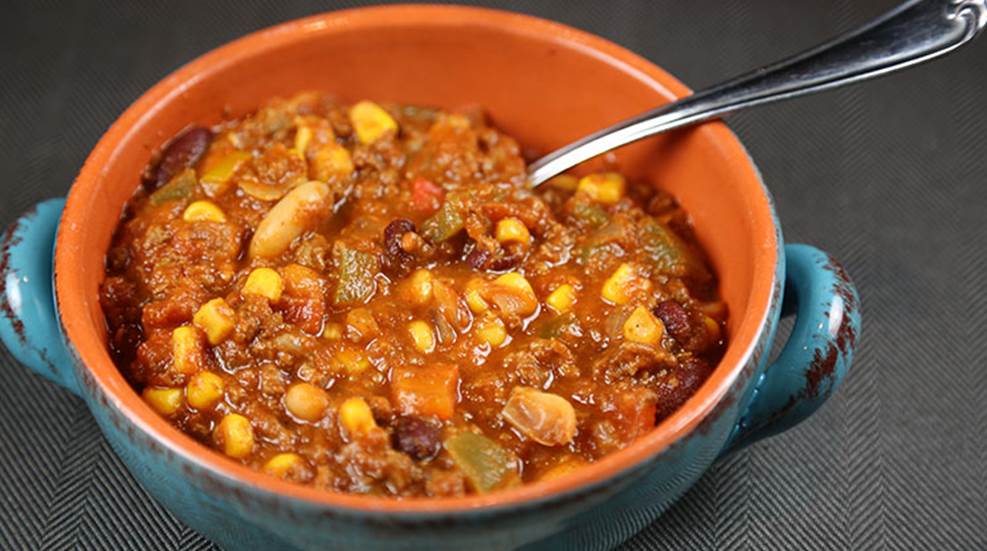 A good pot of chili should reign as some of the all-time best comfort foods for outdoor enthusiasts. Whether you're in hunting camp, camping at your favorite lake, or searching for a tasty meal that is sure to satisfy, no matter where you are, chili is a good answer to the age-old question—what should we have for dinner?
Chili could be a food group all on its own with its vast array of ingredients and spices. Chili cookoff competitions regularly prove there is more than one way to make this heart-warming dish. There are all-meat, no meat, and many variations with plenty of beans, but the one constant is chili powder. After trying a variety of recipes over the years, I have found the one thing that stood out was the proportion of meat. Chili needs to be thick and should never be confused with soup or pasta sauce. To that end, I've always doubled the amount of meat in a batch of chili to make it meatier than most.
Adding a southwest flare, including jalapeños, green peppers, kidney beans, red onion and corn will add distinct layers of flavor and a colorful festive note to this satisfying chili. Garlic, pepper, smoked paprika, and cumin are the real flavor makers and the longer you simmer your chili the better it gets.
You can throw all your ingredients in a pot and cook it, but browning the ground meat first always adds a richer taste to the finished product.
Ingredients
• 2 Tbsp olive oil
• 2 lbs ground venison
• 1 cup beer or beef stock
• 1 large red onion, chopped
• 1 large yellow onion, chopped
• 3 cloves garlic, finely chopped
• 1 green pepper, chopped
• 1 red pepper, chopped
• 2 jalapeño peppers, seeds and ribs removed, finely chopped (optional)
• 2 cups corn kernels (fresh, frozen or canned)
• 1 can (14 oz.) red kidney beans, drained
• 1 can (14 oz.) white kidney beans, drained
• 1 can (28 oz.) diced tomatoes
• 1 can (14 oz.) tomato sauce
• 1 can (5 oz.) tomato paste
• 2½ Tbsp chili powder
• 1 Tbsp smoked paprika
• 1 Tbsp cumin
• 1 tsp black pepper
• 1 tsp salt
Directions
There are two effective ways to build and cook a good chili. The easiest is to use a crock pot, but being a camping enthusiast, a Camp Chef cast iron Dutch oven is still a favorite vessel to cook with, as it holds steady heat and is easy to use anywhere.
Heat a frying pan to medium heat and add olive oil, then ground meat. Brown meat but do not overcook or dry out the pan.
Put browned meat in the Dutch oven or crock pot. Use the beer or beef stock to deglaze the frying pan by heating the liquid and stirring to gather the flavors left in the pan by the meat. Add deglazed liquid to the meat. Add all chopped ingredients, corn, kidney beans and tomatoes. Slowly heat the ingredients until they start to simmer. Add the chili powder, smoked paprika, cumin, black pepper and salt to the mix, as the spices will blend easier with simmering ingredients.
Low and slow is the way to go to finish off the chili. That is, adjust the heat so the chili simmers slowly and is not at a rolling boil. If using a Dutch oven, cook for 3 to 4 hours with the lid on. For a crock pot, cook on low for 8 to 10 hours or high for 3 to 4 hours. To thicken, remove the lid for 30 minutes to let some of the moisture escape while simmering.
If you like chili extra spicy, leave the jalapeño pepper seeds and ribs intact, or take 2 to 3 habanero peppers and poke holes in them with a fork. Add them to the simmering ingredients, but make sure to remove them before serving. The natural heat from the habaneros will cook out but not overpower the chili if cooked with the ingredients then removed.
Serve with shredded cheese over the top, or a dollop of sour cream.