by
posted on August 7, 2021
Support NRA American Hunter
DONATE
Late summer is a great time to go through the freezer and find the remaining waterfowl you still need to eat before the new season opens. With liberal limits and seasons, waterfowl hunters often stock their freezers with more lean goose meat than anything else. If you're looking for a delicious way to deplete your stores, be it big honkers, specklebellies or snow geese, try preparing them to pull or shred (think pulled pork) to then be used in various recipes.
A slow cooker or electric pressure cooker (Instant Pot) is a great vessel for preparing large quantities of pulled goose breasts for future meals. Once pulled, goose meat can then be packaged into meal-sized portions and frozen until you're ready to cook. Pulling the meat also gives you another chance to find any lingering steel pellets with the potential to ruin even the best tasting dinner.
With a stash of pulled goose meat, you can make any number of mouth-watering meals like barbecued pulled-goose sandwiches, manicotti, fried rice, shepherd's pie, tacos, nachos and one of my favorites, pulled goose enchiladas, an easy and excellent meal for hunting camp.
Making Pulled Goose Breasts
Place boneless, skinless goose breasts into a slow cooker or pressure cooker and cover them with water or broth. Add 1 tsp. salt and 1 tsp. black pepper and turn the pot on high. A stockpot on the stove can also be used; just remember, once the water begins to boil, turn it down to low and cook birds at a simmer.
Cooking times may vary depending on the amount, type and size of breasts. Smaller snow geese will cook faster than large Canada geese. Allow 4-8 hours for cooking in a slow-cooker, 1-2 hours for a pressure cooker and 4-6 hours on the stovetop. Check to see that birds are fork-tender and adjust cooking time as necessary.
When the breasts are fork-tender, remove them from the liquid and let them stand for 10 minutes, then shred the meat by hand or by using two forks. You can then use it for tonight's dinner, or package and freeze the meat for later. 
Ingredients
• 2 cups (packed) pulled goose meat (about 4 breasts)
• 2 Tbsp olive oil
• 1 can black beans, drained and rinsed
• 1 can corn kernels, drained
• 3 cups enchilada sauce
• 2 cups shredded cheddar cheese
• 1 tsp salt
• 1 tsp black pepper
• 1 tsp cumin
• ½ tsp paprika
• ½ tsp onion powder
• ½ tsp garlic powder
• 8 large flour tortillas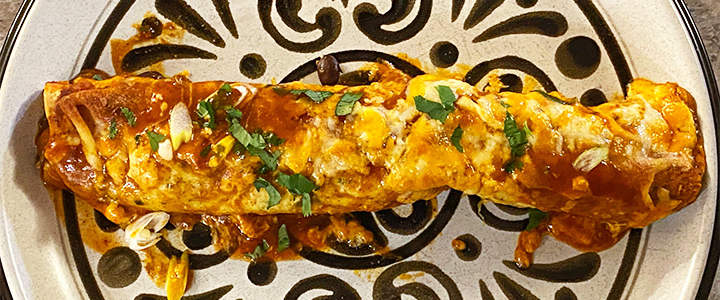 Directions
1. Preheat oven to 375°F.
2. Heat the olive oil in a frying pan over medium-high heat. Add the pulled goose and cook until the bottom lightly browns and the edges get crispy. Do not turn or stir.
3. In a large mixing bowl, combine browned goose meat, black beans, corn, ½ cup enchilada sauce, ½ cup shredded cheddar cheese, salt, pepper, cumin, paprika, onion powder and garlic powder, and blend well.
4. Spread ½ cup of enchilada sauce on the bottom of a 9x13 baking dish.
5. Spread ½ cup of goose filling evenly across the center of each flour tortilla and tightly roll. Place them tightly in the baking dish to fill the pan
6. Pour the remaining 2 cups of enchilada sauce evenly over the rolled tortillas and bake uncovered for 10 minutes.
7. Remove dish from the oven and evenly distribute the remaining shredded cheese over the enchiladas. Bake for an additional 15 minutes or until the sauce is bubbling around the edges and the cheese is golden brown. Let stand for 5 minutes before serving.
For more delicious wild-game recipes, click here.