by
posted on July 27, 2019
Support NRA American Hunter
DONATE
Geese often get a bad rap as unwelcome table fare. Nothing could be further from the truth. Birds fresh out of the Arctic are succulent, having been feeding on green sedges, blueberries, cloudberries and a host of other tundra and taiga herbs and berries.
Snow goose is fine-grained meat that breaks down easily, making it the ideal candidate for a spread. Normally served as an hors d'oeuvre, roasted snow goose transformed into a spread can compete with any proteins needed to make a special starter to your party or dinner.
Ingredients
Preparing the Goose:
• 3-4 goose breasts, cleaned and washed (enough to make about 4 cups of cubed meat)
• 2 yellow onions, diced
• 2 stalks celery, chopped
• 2 bay leaves
Making the Spread:
• ½ cup chopped green onions
• 1 cup finely chopped celery
• 1 cup mayonnaise
• 8 ozs. cream cheese
• 1 cup mango chutney (see below for ingredients/directions)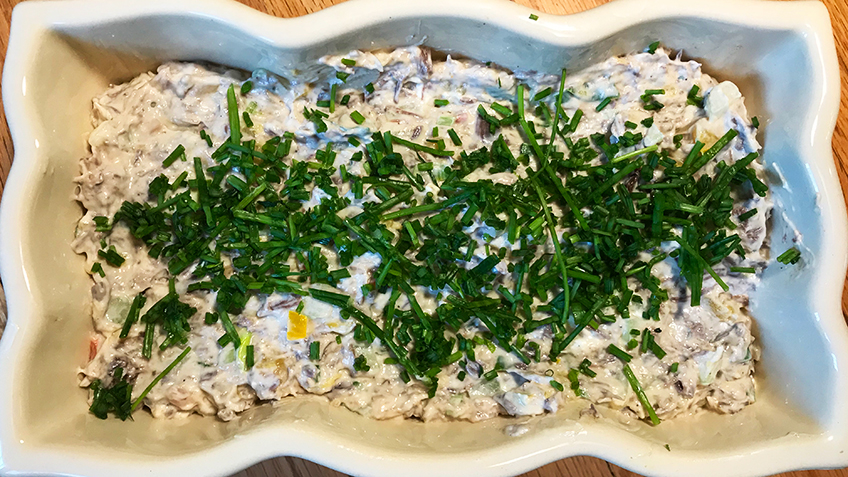 Directions
1. Place onions, celery and bay leaves in a roasting pan or Camp Chef Dutch oven. A cooking vessel with a tight-fitting lid is required.
2. Place goose breasts on top of the moisture and add water until there is one inch in the bottom.
3. Roast in an oven at 250°F for four hours (roasting at a low temperature for a long time makes the meat tender).
4. Remove the goose and set aside to cool.
5. Cut the goose with the grain, and it will shred into fine pieces. There should be about 4 cups.
6. In a mixing bowl, combine mayonnaise, cream cheese and chutney, then mix in the chopped green onions and celery.
7. Add shredded goose meat and gently fold into mayonnaise and cream cheese mixture.
8. Refrigerate until serving, which also helps the spread set firmly.
*Serve with your favorite crackers, crusty bread or make snow goose sliders. You can even try serving it in celery sticks or cucumber boats.
Mango Chutney
Ingredients:
• 2 large mangos, diced
• pineapple juice
• 1 red onion, finely diced
• ½ cup red bell pepper, finely diced
• ⅓ cup golden raisins
• ⅓ cup brown sugar
• 3 tablespoons olive oil
• 3 tablespoons finely minced garlic
• 3 tablespoons ginger root, finely minced
• 3 tablespoons white wine vinegar
• 1 teaspoon curry powder
• ¼ teaspoon salt
• ⅛ teaspoon red pepper flakes
Directions
1. Peel the mangos and cut the flesh away from the pit. Chop the mango flesh into small cubes.
2. In a sauté pan, heat the oil and toast the chili flakes to flavor the oil. Add the onions and cook until soft. Add the garlic, ginger and bell pepper, and sauté for two minutes. Finally, add the mango and cook for one more minute.
3. In a separate bowl, combine the pineapple juice, vinegar, sugar and curry powder. Add this mixture to the pan. Stir to combine. Season with salt and pepper and add the raisins.
4. Bring the mixture to a slow simmer and allow to cook for 30 minutes, stirring frequently. The chutney should thicken as it simmers.
5. Remove from heat and cool the mixture. It can be stored in an airtight container in the fridge for a week.