by
posted on February 15, 2020
Support NRA American Hunter
DONATE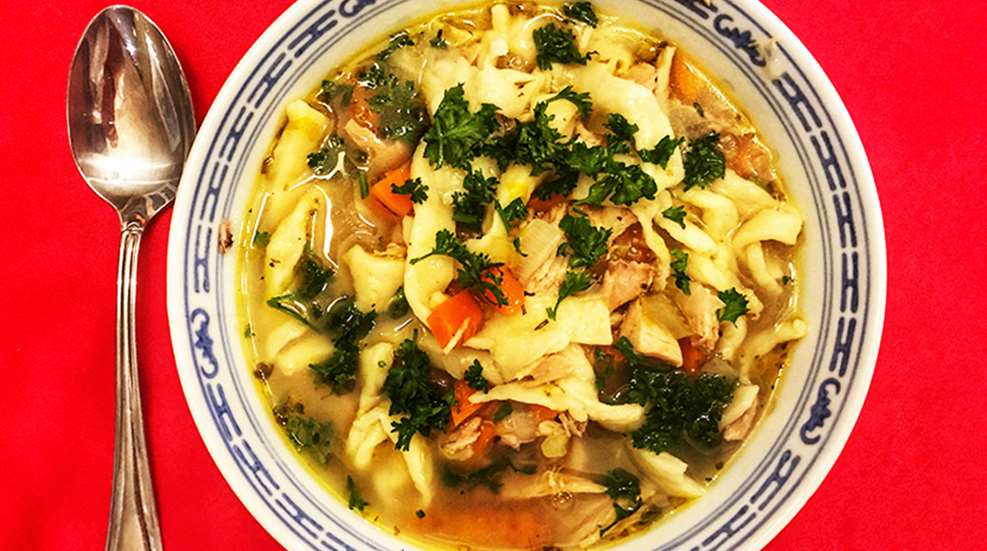 It's hard to beat a hearty bowl of soup during the winter months. It is the perfect meal for lunch or dinner and would be considered comfort food for most people. Using gamebirds you harvested earlier in the year will be a great reminder of fun times afield and will reinforce why you hunt.
If you've ever had soup with homemade egg noodles, you know there is nothing better. The texture and flavor are far superior to any of the dried products you get in the store, and they only take minutes to make. If you've never made your own noodles, follow the simple recipe below to turn your next pot of soup into your new favorite comfort food.
Building your broth, or stock, from the birds you shot with simple vegetables will ensure lots of flavor without the need to add bouillon. This is the type of soup your grandma used to make when everything was built from scratch.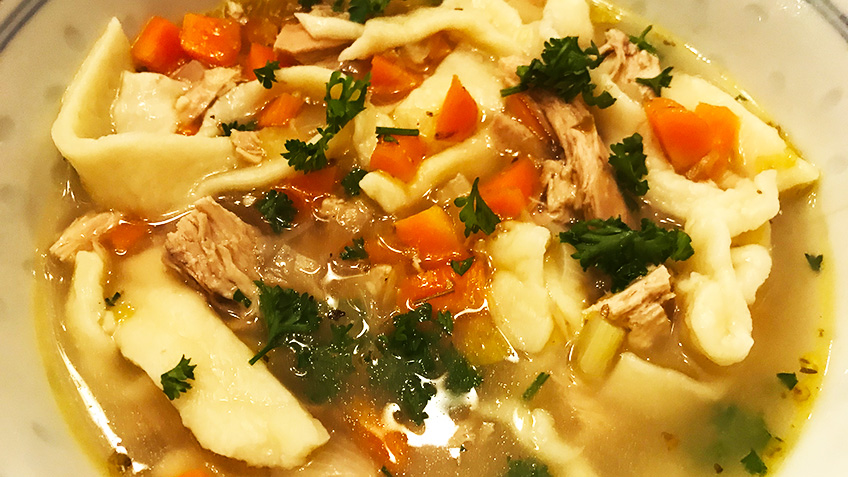 Stock Ingredients
• 10 cups water
• 2 pheasant breastplates (4 breasts on the bone)
• 2 celery ribs, coarsely chopped
• 2 carrots, coarsely chopped
• 1 onion, coarsely chopped
• 1 teaspoon celery salt
• 2 bay leaves
• 12 black peppercorns
Directions
1. Place all the ingredients in a stockpot and bring to a boil. Reduce heat and simmer for 45 minutes.
2. Remove pheasant breasts and allow them to cool before removing the meat and chopping.
3. Use a sieve to remove ingredients in the stock, allowing you to reserve just the broth for building the soup.
Egg Noodle Ingredients
• 2 large eggs
• 2 tablespoons milk
• 2 teaspoons salt
• 1½ - 2 cups all-purpose flour
Directions
1. Mix the eggs, milk and salt until smooth. Slowly stir in 1 cup of flour until it is incorporated. Add flour a few tablespoons at a time, until the dough can be worked into a ball, but is still somewhat sticky.
2. Place the dough onto a floured surface and knead with floured hands until it's no longer sticky, about 3 to 5 minutes.
3. Roll the dough onto a lightly floured surface until it is thin. You can make the noodles paper-thin or leave them as thick as ¼-inch.
4. Use a sharp knife to cut the dough into strips, about ¼-inch wide. Cut the other direction to create noodles about 2 inches in length. Sprinkle loosely with flour and store on a plate until they are added to the soup.
Building the Soup:
Ingredients
• 2 tablespoons butter
• 2 celery ribs, diced
• 3 large carrots, diced
• 1 medium onion, diced
• 4 garlic cloves, minced
• 10 cups homemade pheasant and vegetable stock
• 1 teaspoon salt
• ½ teaspoon ground black pepper
• 1 teaspoon poultry seasoning
• 1 batch homemade egg noodles
• 2 cups cooked pheasant, chopped, removed from birds used to create the homemade stock
• ¼ cup parsley, chopped finely
Directions
1. Add butter, celery, carrots, onion and garlic to a large stockpot over medium-high heat. Sauté the vegetables for 3 to 5 minutes.
2. Add the pheasant stock, salt, pepper and poultry seasoning and bring to a boil, reduce heat and simmer for 10 minutes.
3. Bring the broth back to a boil and add the homemade egg noodles and pheasant meat and simmer for five minutes. If you make thick noodles, you can simmer for eight to 10 minutes.
Serve the soup hot, garnished with chopped parsley.
For more delicious wild-game recipes, click here.