by
posted on April 24, 2021
Support NRA American Hunter
DONATE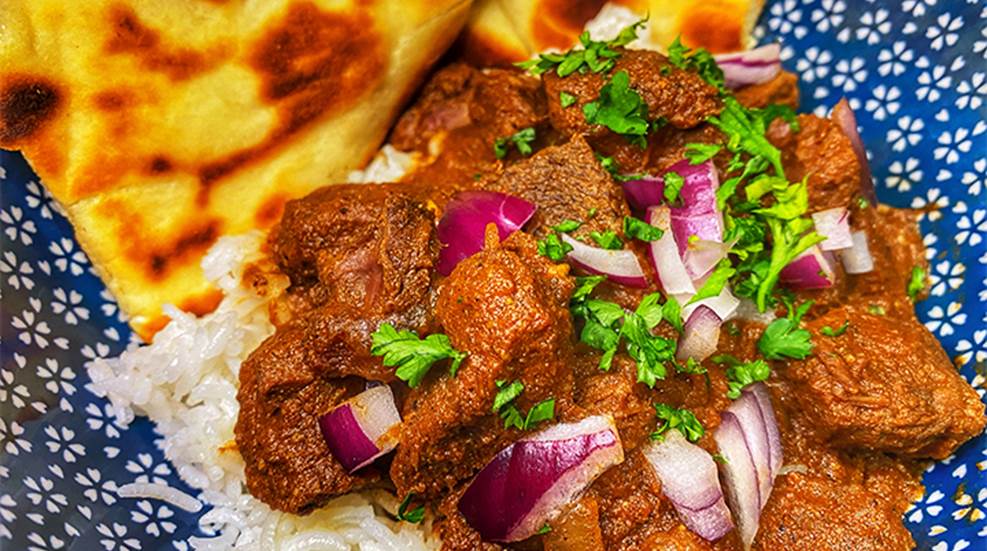 Most wild game is lean, with well-defined muscle associated with a free-range lifestyle. Occasionally, an old buck, bull or boar is harvested that can be challenging to prepare tenderly. A slow cooker, or Crock-Pot, is an excellent tool for slow cooking meat with curry for a tasty, tantalizing and tender meal. Weston Brands make slow cookers in several sizes, covering home use to big hunting camps.
The attached recipe was prepared with stewing meat from an old, mature bull moose harvested last fall. The result was easily chewable meat that I'd guess most connoisseurs would find hard to distinguish from a young calf.
Curry is a blend of spices. Although you can purchase a variety of curries in most supermarkets, developing your own ensures your preferred flavor profile. There are several curry staples on the market, but below is a lesson in blending your own. This recipe is easy to prepare, and time does the rest. Whether you have a hectic day planned at work or want a delicious meal at hunting camp after a long day, this recipe is meant to inspire.
Stewing meat is ideal, but round roasts, neck or front shoulder work equally as well. Take the meal one step further and make coconut rice—recipe included below.
Ingredients
• 3 to 4 lbs. moose or venison, cut into 1-inch pieces
• salt and pepper
• 3 Tbsp oil
• ⅓ cup water
• 1, 8 oz. can tomato sauce
• 1, 4 oz. can tomato paste
• 4 cloves garlic, crushed
• 2 Tbsp beef bouillon paste
• 1 tsp brown sugar
• 1 large yellow onion, chopped
• cilantro, to garnish
• chopped red onion to garnish
Curry Ingredients
• 2 tsp salt
• 1 tsp freshly ground black pepper
• 1 tsp turmeric, ground
• 1 Tbsp garam masala, ground
• ½ tsp cumin, ground
• ½ tsp coriander, ground
• ½ tsp cayenne pepper (optional)
• ½ tsp smoked paprika
Directions
1. Combine curry ingredients in a small bowl.
2. Heat the oil in a large Camp Chef cast-iron frying pan over medium-high heat. Season the meat pieces with salt and pepper and add them to the frying pan to keep the pieces spaced for browning. The meat will need to be done in 3 or 4 batches to prevent moisture build-up and ensure the meat will brown on all sides. Add more oil as necessary.
3. When all the meat is browned, place it in a crockpot and turn the heat on high.
4. While the frying pan is still hot, add the water, tomato sauce, garlic, beef bouillon, brown sugar, and curry spices. Stir until the mixture starts to simmer and the bouillon dissolves.
5. Pour the tomato-curry mixture over the meat in the crockpot and add the chopped onion before stirring together. Cook on low heat for 6 hours. Add the can of tomato paste and cook for an additional hour.
6. Serve the curried moose over coconut rice and garnish with chopped cilantro and red onion. Serve with naan bread if available.
*This recipe can also be made in an Instant Pot or on the stove in a Camp Chef cast-iron Dutch oven.
Coconut Rice Ingredients
• 1, 13.6 oz can coconut milk (light or regular)
• 1¾ cup water (enough liquid with the coconut milk to equal double the volume of rice)
• 2 tsp salt
• 2 cups jasmine or basmati rice
• ½ cup chopped cilantro
Directions
1. Add coconut milk, water, salt, and rice to a 3-quart pot, stir to blend, and place on high heat until the rice starts to boil. Place the lid on the pot and turn the heat low to simmer.
2. Simmer the rice for 15 minutes (or as directed on the package), turn off the heat and leave the pot on the burner. Leave the lid on for an additional 5 minutes and fluff the rice with a fork. If you prefer drier rice, let rest with the lid off.
3. Stir the cilantro into the rice.
*Weston Brands carries a variety of slow cookers. Get 20 percent off all food processing products at westonbrands.com by entering BFENSON21 at checkout.
For more delicious wild-game recipes, click here.