by
posted on October 29, 2022
Support NRA American Hunter
DONATE
Black bear meat is good for you, being high in protein and containing iron and omega-3 fatty acids. Bears have been the center of research for potential medical breakthroughs for arthritis and osteoporosis. How can a bruin hibernate for up to six months and not lose any bone density?
Besides being good for you, bear meat is delicious. A robust stew is considered comfort food in most circles, and you can kick it up a notch with a medley of peppers. Knowing your table guests well is essential to ensure that heat and flavor profiles will please all palates.
You can use sweet red, orange and yellow peppers, but this recipe shines with a mixture of hot peppers. We used poblano, serrano, jalapeño and Hungarian, but you can go crazy with habanero, ghost or Carolina reapers. It is wise to know the Scoville scale, which is a heat rating for peppers. Green bell pepper is zero, whereas a jalapeño is 5,000, a serrano 23,000, and a ghost pepper is 1,041,427. It is easy to see that the heat range can be severe, and the Scoville hotness you use in the stew will take on the flavor and heat of the peppers you choose.
The pepper flavors come through in this dish but do not overpower the meat. If you have too much heat, chances are you will not taste much at all.
Ingredients
• 2 lbs. hot peppers—choose to control heat and flavor
• 2 lbs. black bear roast, cut into ½-inch pieces
• 2 Tbsp olive oil
• 2 Tbsp chili powder
• 1 Tbsp smoked paprika
• 1 tsp cumin
• ½ tsp kosher salt
• ½ tsp black pepper
• 1 medium onion, chopped
• 6 cloves garlic, minced
• (1) 10-oz. can Rotel (mild, medium, serrano or hot)
• 1 lb. yellow potatoes, cubed
• 4 carrots peeled and cubed
• 6 cups chicken broth (½ cup reserved)
• (1) 12-oz. beer
• ¼ cup cornstarch
• ¼ cup cilantro, chopped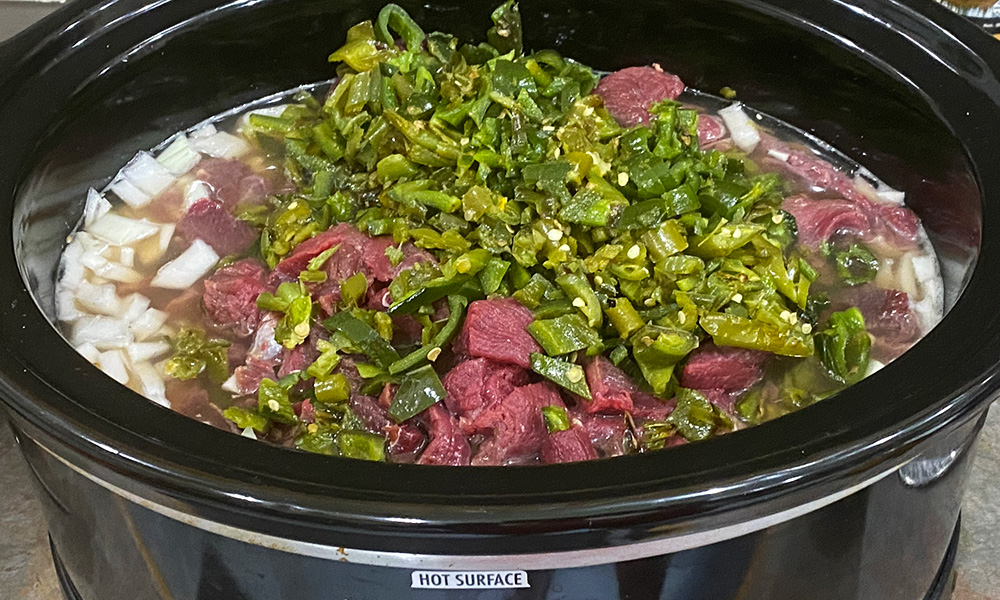 Directions
1. Cut peppers in half lengthwise, set them on a baking sheet, and brush with olive oil—bake or barbecue the peppers at 400°F for 20 minutes. The pepper skins will blister and can look burnt. Place the peppers in a plastic bag or container and seal them for two minutes to release the skins. Remove skin, then chop the roasted, skinned peppers.
2. Place the cubed meat into a plastic bag or container. Add olive oil, chili powder, paprika, cumin, salt and pepper.
3. Heat a large Camp Chef cast-iron frying pan to medium heat and add the seasoned meat. Brown the meat and set aside.
4. Add the peppers, meat, onion, garlic, potatoes and carrots to a crockpot. Pour the chicken broth and beer over the mixture and stir.
5. Set the crockpot on high for four to six hours (check the tenderness of the meat, and do not overcook potatoes and carrots.)
6. Mix the cornstarch and reserved chicken broth. Add to the stew slowly while stirring. The stew will thicken as the contents heat in about 10 minutes.
7. Serve the stew hot and garnish with chopped cilantro.
*Pepper ribs and seeds can be removed before roasting to reduce the intensity. If you are uncertain, start with jalapeños and work into hotter varieties.
For more delicious wild-game recipes, click here.