by
posted on April 14, 2016
Support NRA American Hunter
DONATE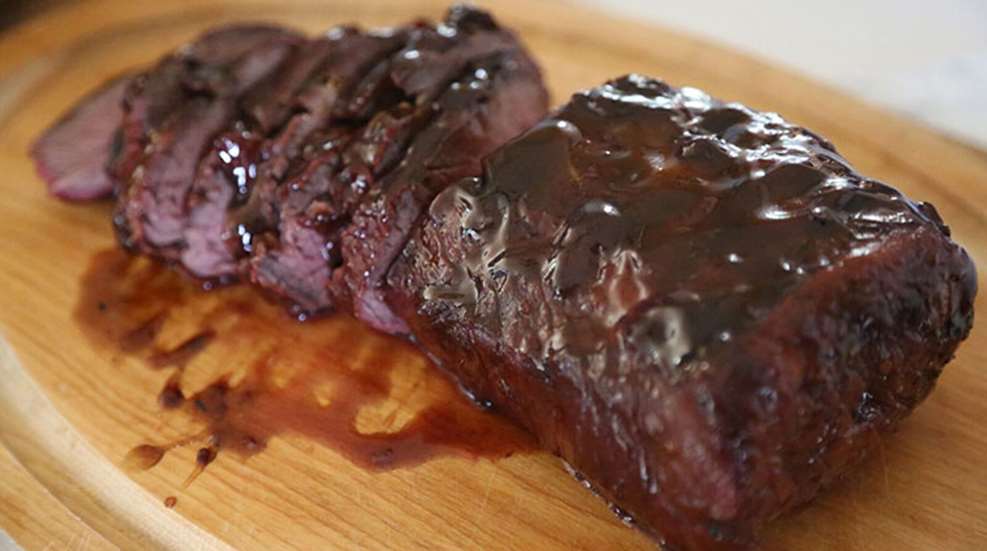 Black bear is one of the most overlooked red meats hunted in North America. Those who have given it an honest try, and cooked it properly, love it. There are some that have a mental block about eating bear and it may take a blindfold and special recipe to convince them otherwise. Here is a recipe that would make anyone want to go bear hunting just to fill the freezer.
Meat
• One bear loin roast, 3 to 4 pounds
Marinade
• ¼ cup soy sauce
• 1 cup Coca-Cola or Pepsi
• ½ cup dark brown sugar
• 2 Tbsp Dijon mustard
• ¼ cup tablespoons olive oil
• 2 Tbsp Worcestershire sauce
• 3 cloves garlic, minced
• 1 Tbsp dry mustard
• 2 Tbsp. balsamic vinegar
• 1 tsp ginger
• 1 tsp thyme, crushed
Glaze
• ½ cup brown sugar
• 1 Tbsp cornstarch
• ½ tsp dry mustard
• 1 Tbsp butter
• 2 Tbsp balsamic vinegar
• ½ cup Coca-Cola or Pepsi
• Salt and fresh ground pepper to taste
1. Combine all the ingredients for the marinade in a Ziploc bag and mix until completely blended. Set the bear roast in the marinade and seal the bag. Set the plastic bag in a bowl large enough to ensure the marinade covers all portions of the meat. Marinate at least 24 hours in the refrigerator.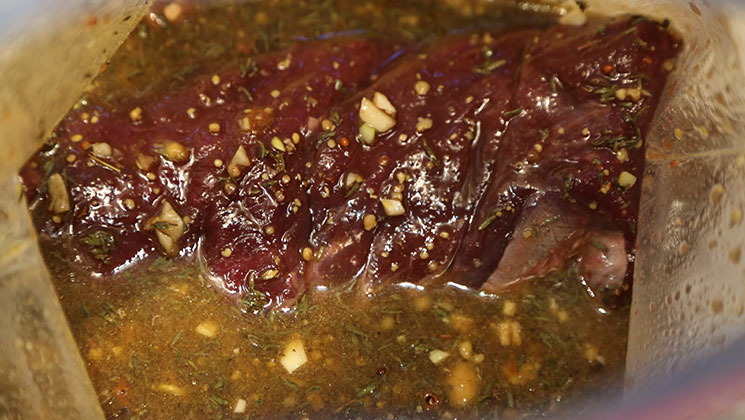 2. Mix all glaze ingredients together in sauce pan; simmer and stir to thicken. Bonus Tip: Serve any remaining glaze with sliced pork if you like.
3. Remove roast from marinade and discard the marinade. Place marinated meat in roasting pan or dish and insert a meat thermometer into the thickest part. Do not add water. Do not cover.
4. Roast in the oven at 300 degrees Fahrenheit until the internal temperature reaches 175 degrees (approximately 2 hours). During the last 30 minutes of cooking time, brush on the glaze. Bonus Tip: This recipe also works well with a Camp Chef Pellet Grill, where you can add some smoke flavor.
5. Remove from the oven or grill and place onto a platter and tent with tinfoil to capture and maintain the moisture in the meat. Let the meat rest for 15 minutes before slicing.
6. Enjoy!
Remember: Like pork, bear meat should always be cooked until well done to avoid the danger of trichinosis. The best protection is to make sure all meat parts are heated to at least 170 degrees Fahrenheit.