by
posted on June 8, 2019
Support NRA American Hunter
DONATE
Bear bangers are used as a deterrent on problem wildlife. Fired from a shotgun, the loud projectile whizzes through the air, goes off with a big bang, and offers a bit of a flash to quickly educate bears to stay out of areas where they shouldn't linger.
If you mention bangers to someone from Britain or Scotland, they immediately think of sausage. British sausages are called bangers because the links made during wartime sometimes exploded in the pan when cooked. Bangers is a slang term for sausages that were made with too much moisture or fat in the filler, causing the casing to shrink and contents to swell. I doubt there was an actual bang, but it's a good tale. Great Britain has a taste for sausage, but not just meat and seasoning—it must have filler for texture and taste.
Bangers are not well-known in North America, as breadcrumbs are often a main ingredient, and the crumbs cannot be used in commercial sausage made in the USA. While visiting the Yukon, I did have the opportunity to try black bear bangers made from a Scottish butcher. They were divine and made for a great breakfast treat that would be approved by British society. Here's how to make bangers and cook them successfully.
Ingredients
• 4 lbs. black bear trim
• 3 lbs. ground pork shoulder
• ¼ cup salt
• 2 teaspoons white pepper
• 1 teaspoon ground allspice
• 1 teaspoon ground nutmeg
• 2 teaspoons ground sage
• 2 teaspoons onion powder
• 2 teaspoons thyme
• 2 teaspoons ground ginger
• 2 cups breadcrumbs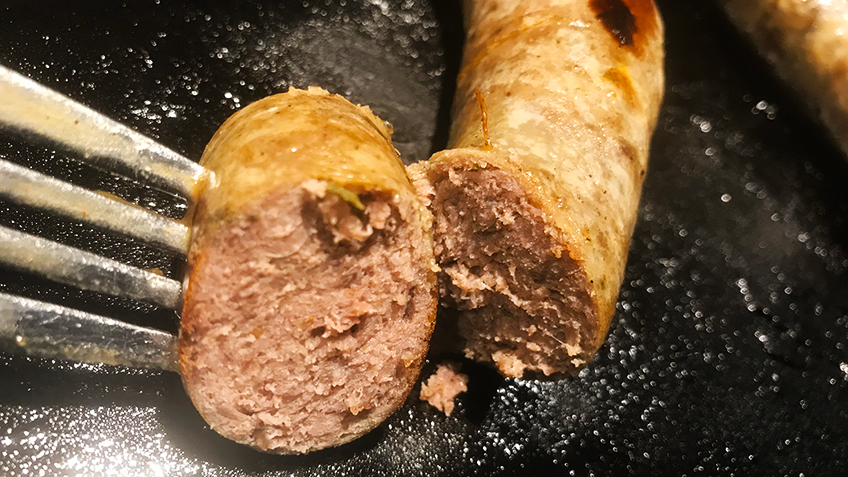 Directions
1. Mix spices with breadcrumbs and blend thoroughly in a bowl or sealed bag.
2. Grind the bear and pork together. For best results, make sure the meat is cold or even partially frozen.
3. Sprinkle the seasonings and breadcrumbs over the meat and use your hands to make sure it is thoroughly mixed. Grind the mixture one more time to mix the ingredients and create a fine, dense meat mixture.
4. Stuff the sausage mixture into 21 to 32mm casings (hog casing is traditional, but you can use collagen). The meat should fill the casing to create a firm link five to six inches long. The Brits roll the links in their hands to make each one uniform and firm.
5. Place the sausages in the fridge overnight to air dry. They are then ready to cook or package extras for freezing.
Cooking bangers correctly will prevent the casing from splitting and still offer a nicely browned sausage to serve. Fill a pan half full of water and bring to a boil. Add sausage and simmer for 15 minutes at 150°F. Remove sausages from the water and pat dry. Heat 3 tablespoons of canola oil in a frying pan and place the blanched links into the hot oil to brown on all sides.
If you want a traditional English breakfast, serve your bangers with a fried egg, mashed potato and onion gravy, which is better known as Bangers and Mash. With spring bear seasons just coming to an end in many jurisdictions, this recipe will have you planning your next bear hunt to make more bangers.