With spring turkey season only a few weeks away, now is the time to get out and locate a tom or two, so you have a game plan to put into action on opening day. If we were going to discuss NASCAR today, I would have contacted the Earnhart Team for advice. If computers were today's topic, I would be telling you what the staff at Microsoft has to say. So, when it comes to turkey hunting I decided to go to some true experts for their pre-season scouting tips. 
John LaGrand and Gary Williams are professional turkey hunters and callers. Both are extremely experienced turkey hunters, and gave me such valuable information on turkey scouting that I feel I must pass it along to you.
I met John LaGrand a few years ago at a deer show in Missouri.  It was quite evident, very quickly, that this guy is a real outdoorsman in the truest sense of the word—not to mention the owner/operator of Mountain Screamer Game Calls—so I decided to query him on early spring turkey scouting. This S.E. Missouri resident did not disappoint. 
LaGrand likes to look for early spring scratching as a quick turkey locator. Once he finds a used hillside, he investigates the area to determine whether hens or toms did the work. He looks for either the "popcorn" shaped droppings of the hen, or the "J" shape droppings of the gobbler. He also looks closely for feathers, knowing that black feathers with a distinctive black tip are those of a tom.
Listening to toms gobble from the roost and then fly down and move to their strut-zones is another method LaGrand uses to pattern his birds. "If you already know where a gobbler will end-up by mid-morning, be there first. Waiting for him where he wants to be is much better than chasing him all over the woods," LaGrand says.  He also advises wearing full camouflage, just like during a hunt, when scouting before the season.
Tracks are often a good sign of turkey activity as both John LaGrand, and as we'll see later, Gary Williams agree.  LaGrand studies the size of the tracks to tell hens from toms. He says a gobbler track will often measure four or more inches from the heel to the tip of the middle toe. The direction of the tracks can also give good data on where the birds might be headed, and what they are going there to find—like roosting sights or food sources.
The most important thing that John LaGrand left me with as far as early season turkey scouting, is to be very careful not to spook your birds. Observation should be done at a distance and very quietly. "They should never know you have been there, and should never know you are there until you squeeze the trigger," he ended.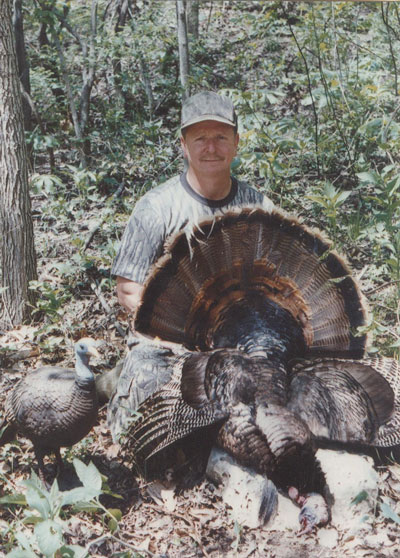 If you have ever watched a turkey hunt on video or TV, or ever read much at all about the sport, then the name Gary Williams is likely familiar to you. Williams, three-time Missouri State Turkey Calling Champion and former Missouri Grand Champion, is one of the most recognizable experts in the business. His pre-season scouting tactics should be a lesson to all of us.
"I like to use locator calls before the season to find toms," Williams told me. "When foliage is sparse and you can see for several hundred yards, so can the birds. I let the loud sounds of the calls cover lots of ground and watch from a distance with binoculars," he continued.
Williams says he enjoys combining pre-season turkey scouting with shed hunting. Like LaGrand, Williams also looks for lots of sign on the ground. This practice allows him to see lots of sign and find lots of sheds. Gary Williams also appreciates finding a good turkey track. "I get just as excited crossing a fresh gobbler track as I do hearing a gobble," he said. "The both say "opportunity" to me, just in a different tone."
"I still like hearing them gobble," Williams went on. "Hearing a turkey gobble boosts you mentally, builds excitement and makes you sharp. This is important and why we hunt," he said. "However," he added. "To be very successful throughout the season, knowing gobblers are in the area without hearing them and hunting them accordingly is equally important."
There is no doubt that these two expert turkey hunters know what they are talking about. Using their methods for pre-season scouting will help you have a better opening day than your hunting buddy, who thinks he already knows all there is to know about this most cautious of hunting trophies, the mature spring gobbler.