by
posted on September 16, 2009
Support NRA American Hunter
DONATE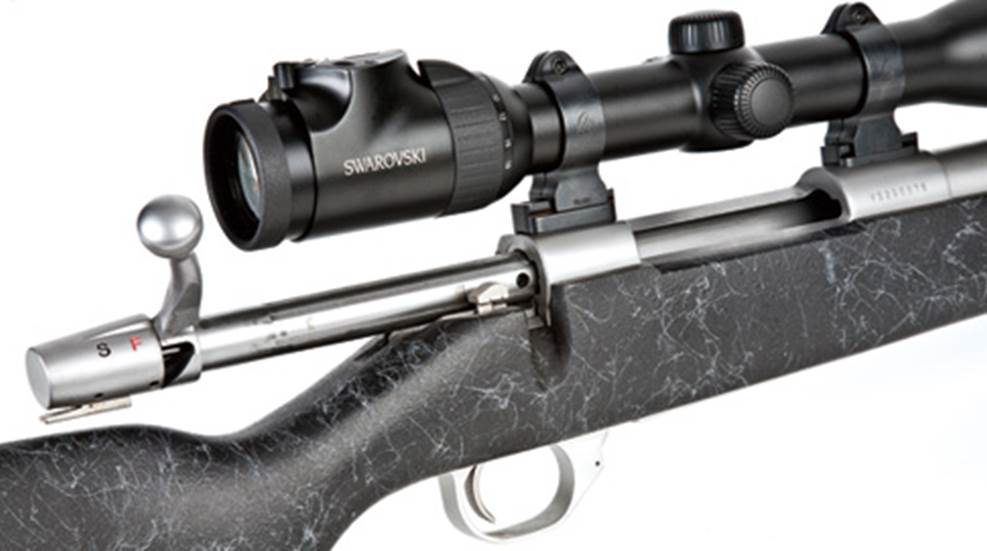 The Scenario
All my life I've dreamed of hunting elk in the hard-to-reach places of the Rocky Mountains. In reality, however, my desire is often tempered by costs. Twice I've hunted elk by purchasing over-the-counter archery tags and doing it myself in Colorado. And twice I've saved money on the taxidermy bill, or lack thereof. Both times I wished I had a rifle instead of a bow. But the reality is, had I a rifle, and an elk, I would've also had legal trouble.
So last year I finally managed a bona fide rifle hunt in Wyoming's famous Thorofare region, just south of Yellowstone. The quarry is as tough as this hemisphere produces, and oh, one other thing: This is the stronghold of the grizzly, which is largely unafraid of man.
We could debate it indefinitely, but at some point a hunter must choose the proper tool for the task. Considering the scenario, I determined it to be a lightweight rifle in .30-caliber magnum. With an accurate .300 mag., loaded with primo bullets that will stay together even if the shot is close, I believe I can take anything on this continent, even a snarling griz if I must. I chose Weatherby's new Back Country rifle in .300 Wby. Mag. loaded with 180-grain Barnes Triple-Shock X (TSX) bullets. Weatherby guarantees that its rifle is accurate—a fact I confirmed on the range— and I've used the TSX enough to be assured that if the hunter does his job, this bullet will do its.
The Rifle
The Back Country is a lighter, stainless-steel version of the Vanguard. To save a pound of weight over the $399 Vanguard Synthetic and the $720 Stainless, it wears a carbon-fiber stock that pillar-beds a 24-inch, No. 2-contour fluted barrel. Although company literature says its average weight is 6.75 pounds, my scales registered 6.65.
One significant reason I like the Back Country is that although it's available in five of my favorite standard and magnum calibers, it's one of the lightest and most affordable rifles that can be bought in the awesome .300 Wby. Mag. For years until the advent of the .300 RUM and Weatherby's scorching .30-378, the .300 Weatherby was the ballistic king of the .30 cals (3200 fps muzzle velocity;3,400 ft.-lbs. of energy at 100 yards with a 180-grain bullet). It is hugely respected among big-game hunters throughout the world. The cartridge is laser-like, accurate, wind-friendly, and it hits like, well, a .300 Weatherby Magnum. The only complaint I can muster about this cartridge is that it's an expensive round at about $75 per box with the TSX bullet compared to roughly $50 of the slightly less potent .300 Win Mag., according to Barnes' loaded ammunition shop at www.barnesbullets.com.
Then of course you have those who whine about recoil. Sometimes I'm one of them, but that's only when I don't have furry targets to shoot. Although I read it often, I've never felt much difference between a strait-line stock and the Monte Carlo design of the Weatherby-see if you can tell a difference. I certainly can argue for its eye-to-scope aligning properties.
As for the cartridge itself, shooting a 180-grain bullet from an 8-pound rifle/scope combo produces roughly 32 ft.-lbs. of free recoil energy. Certainly this is a significant ouch factor, especially for the young and recoil-sensitive shooters among us. But the reality is this: There is a real chance in the Rockies that you will be faced with the decision to take either a 400-yard shot or no shot at all. If you don't believe you can make it, don't think your cartridge has enough juice or your rifle isn't accurate enough, you best not take the shot. And when you do shoot at a bull, if you are still thinking about recoil something is wrong with you. I like a lightweight rifle for this type of hunt.
I only have a couple complaints about the Back Country. While its trigger is a vast improvement over the old Vanguard unit, it is not perfect. Mine had slight creep. Secondly, the rifle's price, $1,119, is in line with the company's SUB-MOA Vanguard model that's guaranteed to shoot less than an inch at 100 yards. If I could get a lightweight rifle with a 1-inch guarantee (we can all wish, can't we?) I wouldn't mind spending the extra money over the standard Stainless Vanguard with it's 1.5-inch accuracy pledge. But I do not discount the fact that, in my experience, most of Weatherby's non-SUB-MOA rifles such as the Back Country actually shoot better than 1.5 MOA. My test rifle shot 1.1 inches at 100 yards. If I can get a sub-7-pound, 1-inch rifle in .300 Wby. Mag. for around a thousand bucks, my yearning for the perfect elk rifle is fulfilled. And with it, all that remains is my quest for a big Rocky Mountain bull elk.
The Hunt
Although my horse, Leonard, looked as though he could carry a Napoleon 12-pound cannon, let alone me and a sporting rifle, I let him know with a whisper that I was saving him a pound of toil due to my lightweight rifle choice; I know he appreciated the gesture because he didn't ever get squirrelly, even when we blundered into one of the 13 grizzly bears at close range during the six-day hunt.
Then one day, during a noontime nap high on a mountain overlooking the southern boundary of Yellowstone, I looked up and spotted a huge, 380-class 7x7 bull quartering toward me in a hurry. He was bugling and salivating and unaware I was lying in ambush. I eased the rifle up, centered him in the scope and squeezed the ... nah, really I was only daydreaming. In reality, we never saw a bull in range of even a cannon. But I still felt confident in knowing the .300 Weatherby was in my saddle scabbard had a bull elk poked a nose over to the legal side of the line, or had a griz tried to eat me just because I am a slow and tender dreamer.
Type: bolt-action rifle
Caliber: .257 Wby. Mag.; .270 Win.; .30-06 Spfld.; .300 Win. Mag.; .300 Wby. Mag. (tested)
Barrel: 24"; fluted, hammer-forged
Trigger: fully adjustable, single-stage
Magazine: box; 5+1, standard calibers; 3+1, magnums
Sights: none; drilled and tapped
Safety: two-position
Stock: Monte Carlo; injection-molded composite; pillar bedding, LOP-13.625"
Overall Length: 44.5"
Weight: 6.75 lbs.
Metal Finish: stainless steel
MSRP: $1,119