Support NRA American Hunter
DONATE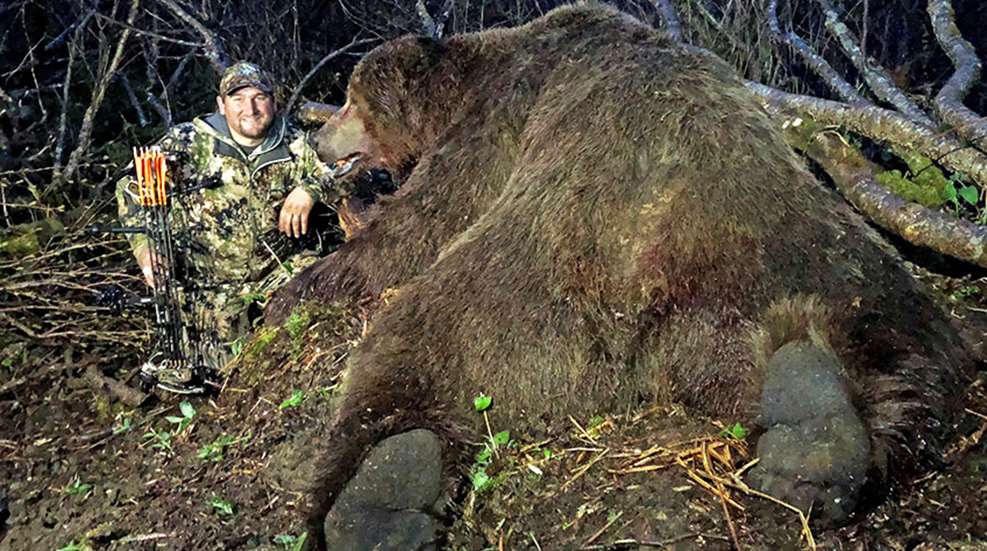 On September 24, the Pope and Young Club (P&Y) assembled a Special Panel in Windsor, Colorado, to officially measure a new potential World Record Alaskan brown bear shot by Chris Cammack on the Alaskan Peninsula in May 2018.
The bear's original score of 29-4/16 inches, was confirmed by the three-member panel of judges, exceeding the previous record (shot by Jack Brittingham in 2004) by only 1/16-inch. Cammack shot the bear at 14 yards using a Mathews bow and a 650-grain GrizzlyStik arrow and broadhead system recommended by his guide, Cole Kramer.
"It is still so surreal to me, the thought that I would have ever had the opportunity to hunt an Alaskan Brown bear with my bow, let alone honored enough to harvest the new P&Y World Record," said Chris Cammack. "Thank you to everyone that helped make this dream a reality. Special thanks to my friend and guide Cole Kramer, and especially my wife, Felicia for supporting me and allowing me to chase my dreams. Usually, Felicia is right beside me with her bow in hand, but this trip she stayed home and took care of our baby girl, Davoni. Coming home to them is a true blessing. Getting to spend two weeks with my friends in the bush of Alaska was the greatest adventure of my life, harvesting a new World Record Brown bear was a bonus."
The world-record will be formally awarded and the skull from Cammack's bear displayed during the Pope & Young Club 31st Biennial Convention and Awards Banquet in Omaha, Nebraska, April 10-13, 2019.
For more information, go to pope-young.org.