Support NRA American Hunter
DONATE
On Jan. 9, the Pope and Young Club assembled a special panel of judges in Regina, Saskatchewan, to confirm a new world record non-typical mule deer.
The new record buck, taken by Dennis Bennett on Oct. 1, 2018, near the Arm River sports a five-by-five typical frame with an additional 15 non-typical points per side. With a green-score 303-0/8 inches and a final score of 291-⅛ inches, Bennett's new world-record buck exceeded the score of the previous record non-typical mule deer (shot by Kenneth Plank in 1987) by 16-2/8 inches.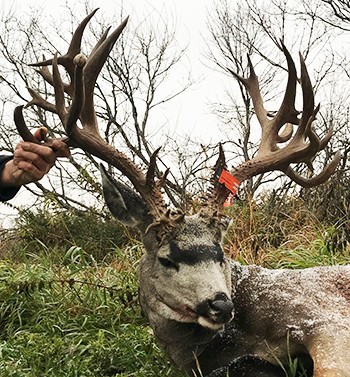 On the morning of his record-breaking hunt, Bennett got within 44 yards of the deer, but was left with no shot when the massive buck bolted after being surprised by a smaller buck bedded close by. Returning to the same area that afternoon, Bennett spotted the large buck again, this time bedded down over 300 yards away. After a long and careful stalk to get within bow range, the buck stood, and Bennett let his arrow fly at 37 yards, sinking a broadside hit and dropping the monster muley where it stood.
"It was a pleasure to be part of the panel recognizing this beautiful non-typical mule deer from Saskatchewan as a New World Record. The pictures of this deer do not do it justice," said Eli Randall, Records Director for the Pope and Young Club.
Bennett's non-typical mule deer will be on display at the Pope and Young Club's 31st Biennial Convention in Omaha Neb., April 10-13, 2019. It will accompany both the new world record Alaskan brown bear, which scored 29-4/16 inches, and the new world record bighorn sheep that had a final score of 209-⅛ inches.