Support NRA American Hunter
DONATE
Trijicon AccuPower riflescopes have just recently come on line at retailers, which meant our pre-4th of July axis deer hunt was perhaps the very first big-game hunt with the new optic. Anticipation has been building since Michigan-based Trijicon unveiled the line earlier this year. The respect earned by the unstoppable ACOG, RMR and other Trijicon sights serving with U.S. military and law enforcement ensures plenty of attention any time the company makes a major introduction.
Like me, many shooters have been wondering how the new AccuPowers would compare with the company's established AccuPoint scopes. One key differential is reduced price, which certainly is welcome since price tags on the high-end AccuPoints can range from around $800 up into four figures. Partly that's because of their unique illumination feature, dual-powered by fiber-optics and a tritium insert. That translates to round-the-clock illumination without batteries or an on/off switch. In addition, AccuPoints excel at image delivery as well as Trijicon's trademark ruggedness. With a slew of magnification and reticle options, it's a beast in tactical and hunting applications.
Could the new kid measure up? To see firsthand, I joined company VP Sales and Marketing Chuck Wahr and Driftwood Media's Eddie Stevenson for what might sound like a contrived substitute for a "real" deer hunt. Midsummer in the Texas Hill Country … private ranch … axis deer—what the … ?
I was in for a series of revelations. The weather was actually pretty mild, going from highs in the upper 80s to 25 degrees cooler overnight. The axis bucks had just shed velvet and were entering their rut, acting much like elk in the way they vocalized and tended big harems of does. They were rangier than most whitetails, sported stately antlers and spotted coats and were spooky as deerkind should be. Fortunately, herd numbers were high, and not because the axis and other animals on the ranch could not move on. In fact, we had left the high fences behind and were hunting strictly free-ranging game.
Typical of spot-and-stalk, it involved intense glassing, done with Trijicon HD binoculars, another notable 2015 introduction. We spotted lots of deer, both axis and whitetails (not in season), along with other kinds of exotic game. Abundant quarry, combined with rutting activity and a topnotch guide in Hunter Ross of Desert Safaris, made it possible for both Chuck and me to score on big, mature bucks, but not without some busted stalks along the way. Our equipment—AccuPower 3x9-40 mm scopes mounted on Weatherby rifles—performed beautifully. The hunt and resulting trophies both exceeded my expectations, and I'm now looking forward to dining on the coveted axis venison.
Lots of revelations came too from putting the AccuPower to work. American Hunter and other NRA magazines will soon run comprehensive T&E reports, but in the meantime here are highlights that should be useful for hunters, 3-gun shooters and tactical rifleman contemplating a scope purchase.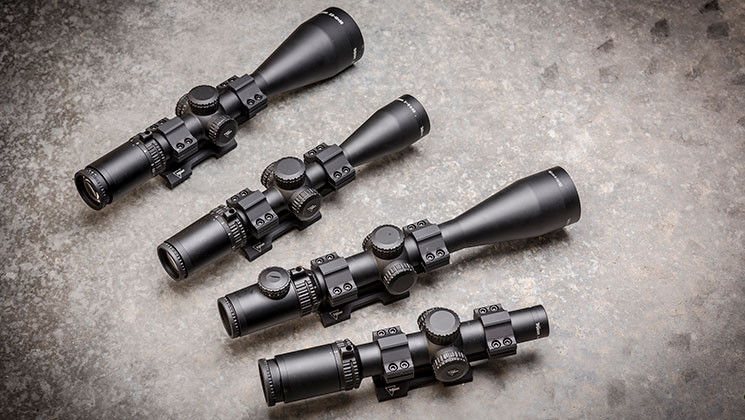 AccuPower—rugged mid-priced scopes from Trijicon, new for 2015.
• Models—1x4-24 mm; 3-9-40 mm; 2.5x10—56 mm; 4x16-50 mm; 30 mm main tubes, except 3x9 is 1";
• Illuminated reticles—red or green LED, located in second focal, powered by CR2032 battery; 11 brightness settings with "off" between each step; choices include MOA Crosshair, MIL-Square, Duplex and Segmented Circle w/BDC; ¼ MOA or 0.1 MIL click values
• Weight/length—1x4-24, 16.2 oz./10.2"; 3x9-40, 17 oz./12.3"; 2.5x10-56, 23.6 oz./13.8"; 4x16-50, 23.3 oz./14.2"
• Pros—Super sharp image transmission and bright well past daylight; wide field of view (3x9-40 is 35.5-11.8 ft. at 100 yds.; versatile range of reticle applications, from CQB to long-range precision; firm, tactile adjustments that proved to be very consistent with no  lateral drift; rugged aircraft aluminum housing, including turrets and mag adjustment ring (no plastic on this baby);
• Cons—battery life at max setting is 31 hours; limited free tube will require extension rings on some long-action and magnum hunting rifles;
• Best of all—In a survey of online sellers, we found pricing as low as—1x4-20 $765, 3x9-40 $595, 2.5x10-56 $680, 4x16-50 $850—but understand the market is fluid, and those numbers may quickly go up or go down, so shop around. It sounds like early shipments are going fast and that's understandable—AccuPower scopes are a great value.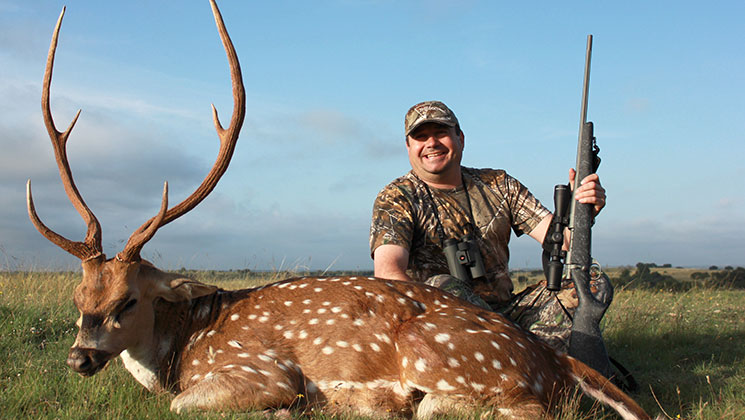 Trijicon VP Chuck Wahr waited until the hunt's last day to find an old buck with a heavy, high rack.