by
posted on January 17, 2023
Support NRA American Hunter
DONATE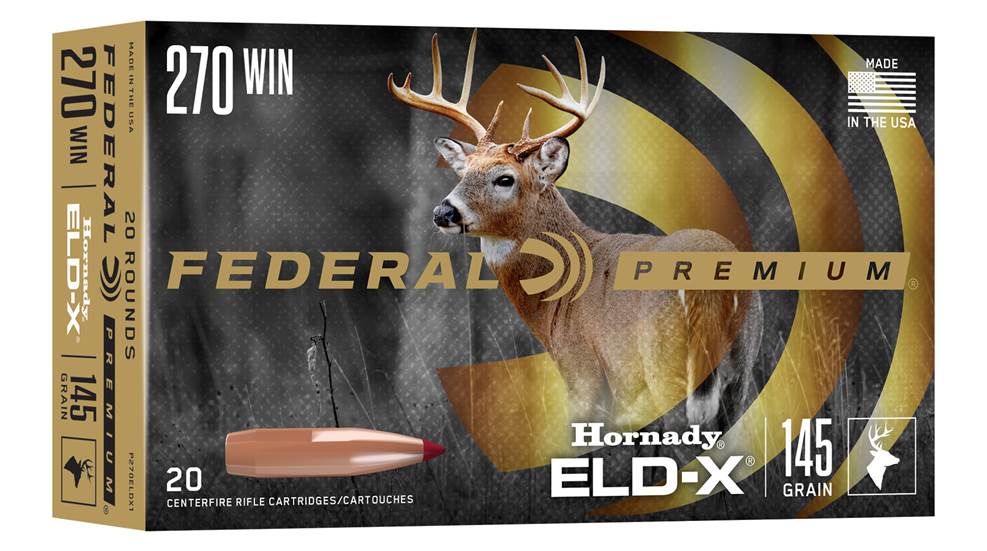 New for 2023, Federal Premium offers its new ELD-X line of centerfire rifle ammunition. Wait, what?!
Yes, you read that correctly, Federal is now loading the Hornady ELD-X projectiles in their ammunition line. If, for some reason, you are still unfamiliar with the ELD-X, what we're looking at is a match-grade cup-and-core hunting bullet. Built with Hornady's Heat Shield polymer tip, which will resist deformation from atmospheric drag in flight, and using a thick copper jacket, the ELD-X has taken a seat among the finest hunting bullets on the market. I've used it in one guise or another to take a wide range of game, from black bear to pronghorn antelope to mule deer, all with great results.

Federal is loading the ELD-X in their nickel-plated cases, using optimized propellants for each cartridge, and Federal's excellent primers. And while the ELD-X has been engineered for reliable and repeatable performance at longer ranges, the projectile performs just fine at more common hunting ranges. Whether it's a whitetail in the hardwoods, a pronghorn or muley out across the prairie, or a bear over bait, the ELD-X will get the job done, as they possess not only a secant ogive resulting in a high ballistic coefficient for flat trajectory, good performance in the wind, and high energy retention, but are made in weights sufficient to provide a good sectional density to give good penetration on the closer shots.
Federal offers the ELD-X in .243 Winchester at 90 grains, 6.5 Creedmoor and 6.5 PRC at 143 grains, .270 Winchester at 145 grains, 7mm Remington Magnum at 162 grains, .308 Winchester and .30-06 Springfield at 178 grains, and .300 WSM and .300 Winchester Magnum at 200 grains, all 20-round boxes.
For more information, visit federalpremium.com.