by
posted on February 21, 2019
Support NRA American Hunter
DONATE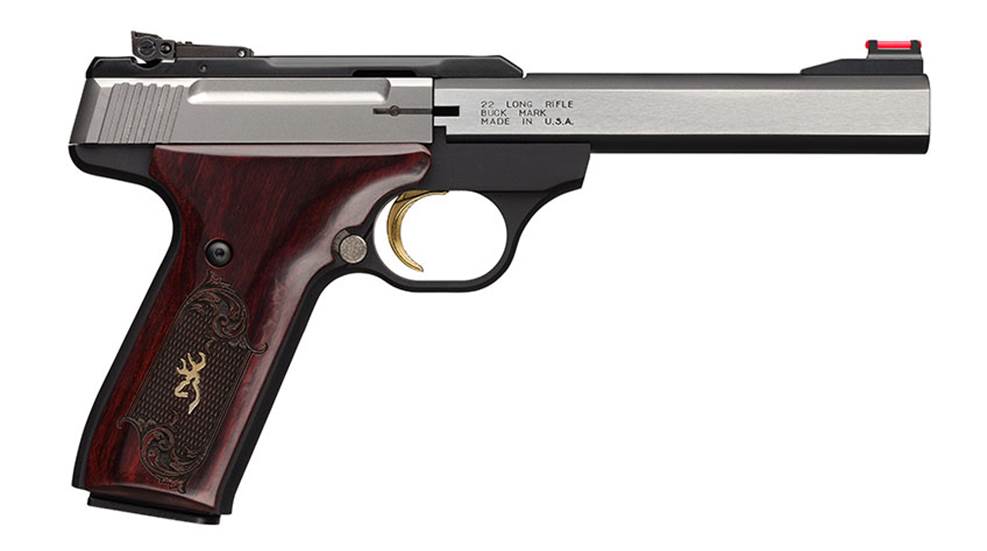 I never could shoot a handgun well as a kid. I struggled, flinched and fought to become a good shot without success. Then, one lovely summer day, I invested some hard-earned money in a .22 handgun and 5,000 rounds of .22 LR ammo. Fifty rounds per day and 100 days later, I was a good shot. The lessons learned from that old pistol are still with me.
Part of my mission at the 2019 SHOT Show was to ferret out suitable hunting and backcountry carry handguns. While this striking little .22 LR pistol might not be specifically designed for either, it dang sure would flourish in the rabbit and squirrel woods. And given a large appetite and 5,000 rounds of ammo, it could teach you or a new hunter how to shoot a pistol well.
Made in the United States, the brand-new Browning Buck Mark Medallion Rosewood features a 5½-inch blackened stainless steel barrel with polished flats and laminated rosewood grip panels that sport sport checkering, elegant scrollwork and a gold Buckmark logo. A TruGlo fiber-optic front sight and Pro-Target adjustable rear sight make those low-light shots at elusive cottontails doable. The single-stack magazine holds 10 rounds. Weight comes in at 34 ounces, and overall length is 9.5 inches.
The new Buck Mark Medallion Rosewood has an MSRP of $509.99. For more information, visit browning.com.