by
posted on August 3, 2015
Support NRA American Hunter
DONATE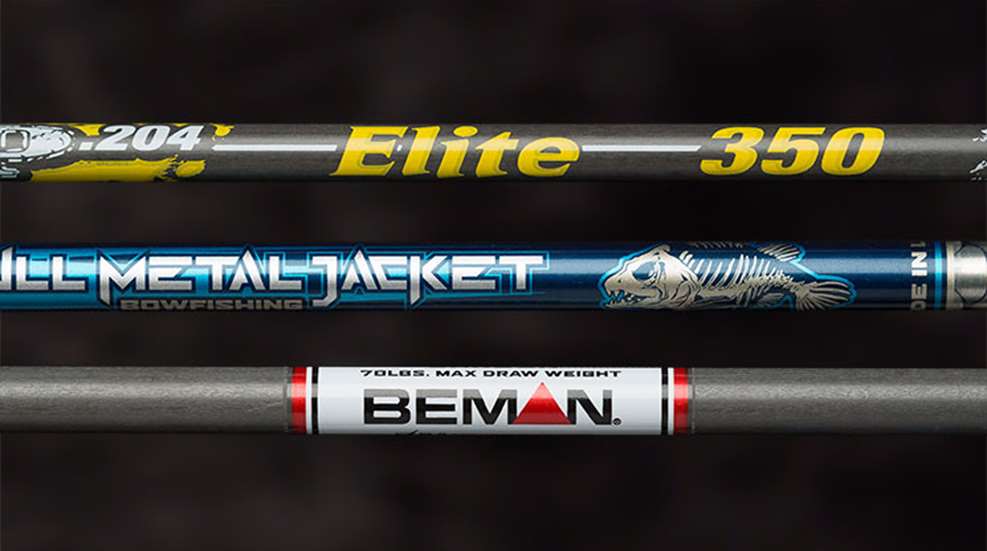 Victory Archery RIP
"Rest In Peace" is the message of Victory Archery's carbon-fiber RIP arrows with aerospace-grade components. A small-diameter shaft aids speed as FOC weight distribution, new alloy R nocks and a Nano Ceramic "ICE" coating aid penetration. Six-packs include: Elite (+/- 0.001-inch straightness), $99.99; Gamer (+/- 0.003), $79.99; and Sport (+/- 0.006), $74.99.
Easton FMJ Bowfishing Arrow
Easton's fully assembled FMJ Bowfishing Arrow makes a splash with a fiberglass shaft jacketed in 7075 aerospace-grade aluminum for deadly pass-throughs. AMS Mayhem double-barb steel points with patent-pending Cyclone tips slice through targets as barbs spread to 2.5 inches upon retrieval. $49.99.
Beman Grab, Go and Shoot Four-Packs
Happy 25th anniversary, Beman, as it debuts its Grab, Go and Shoot four-packs of assembled, pre-cut, 29.5-inch carbon arrows with nocks, vanes, inserts and points designed for all bows up to 70 pounds! The name says it all as Beman makes it easier for hunters to get into the game. $25 (4-pack).
Maxima BLU RZ
The Maxima BLU RZ from Carbon Express pairs the speed of its Maxima Blue Streak with the accuracy of its Maxima RED, which redirects flex from the front of the shaft to the RED ZONE. Broadheads impact like field points! Laser straightness is 1/10,000 of an inch. $89.99 (6-pack).
Gold Tip Kinetic Kaos
Gold Tip downsizes for penetration with its Kinetic Kaos small-diameter-shaft line. The new GTO nock bushing and Ballistic Collar aid nock and broadhead alignment, respectively, maximizing kinetic energy. $194.99 (per fletched dozen).
Easton Deep Six XD
After spearheading the ultra-micro-diameter-arrow charge with its Deep Six system in 2013, Easton rolls out the all-carbon Deep Six XD with stainless RPS inserts. The result: more thread engagement, energy retention and penetration, and a higher FOC balance. $79.99 (half dozen).