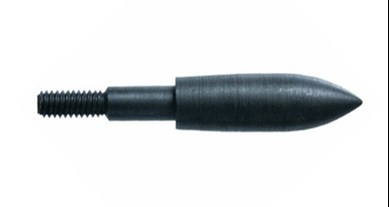 I put the cart before the horse Saturday when I made plans to meet a friend in Maryland and shoot our bows. I'd just fletched 12 new Easton Deep Six Axis FMJ arrows and was ready to go. I'd stop at my pro shop in Virginia on the way and get my special Deep Six 100-grain field points. The shop had multiple 100-grain field points--just no Deep Six, which are smaller in diameter with more threads per inch. Strike one. I stopped at Dick's Sporting Goods in Maryland, which carries them. "We'll get those in closer to summer," the sales person said. Strike two. Surely the pro shop in Maryland had them. Strike three. This wasn't a baseball game, but I was still out. So the Deep Six field points are on order now and will arrive this week.
Despite how the nice weather is spiking traffic at the local pro shop, don't make my mistake and figure your shop will have everything you need ready to go. Dig through your archery gear now. Make sure you have—or can readily get—anything you're missing so at the first opportunity you're flinging arrows downrange.
Of course, I'd forgotten to put a few of my old arrows in the trunk. It's amazing how common sense kicks in once you're already 50 miles away--and it's well after the fact!