by
posted on August 14, 2015
Support NRA American Hunter
DONATE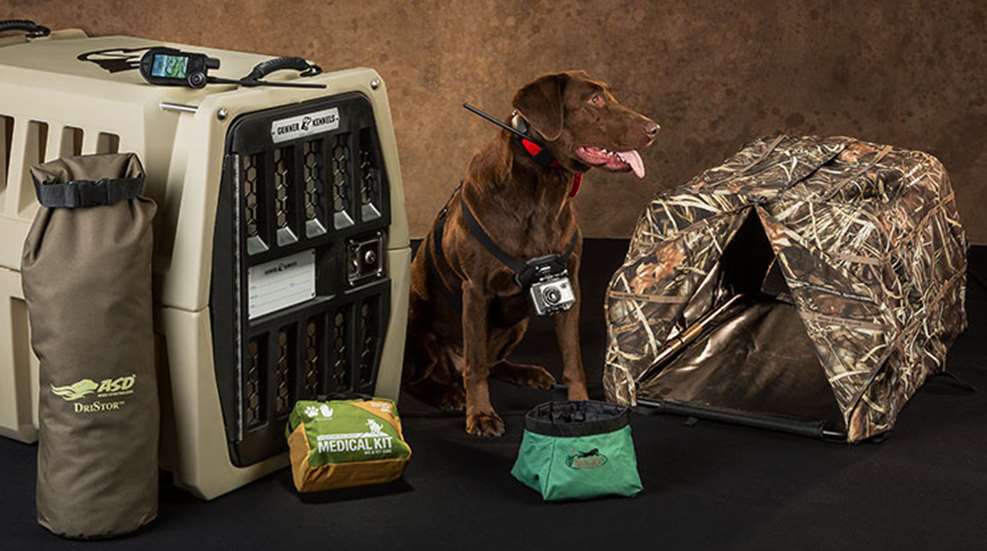 G1 Intermediate Dog Kennel
Gunner Kennels has thought of everything with this beefed-up dog crate. Double-walled, roto-molded construction is rated for 4,000 pounds and stood up to a 12-gauge shotgun in testing. Piano-hinged door is dog-proof and lockable. Rubber feet, tie-down pins and included straps secure it in the bed of the truck. Built-in drain plug makes for easy cleaning. Made in America. MSRP: $449.
DriStore Food Bag and EZ-Store Bowl
Whether it's a week-long trip in Stuttgart or a weekend field trial, you'll be able to keep Pup's food on hand, keep it dry, and keep it from spilling all over your truck with this heavy-duty food bag from Avery Sporting Dog. Made of durable nylon fabric with PVC-lined interior. Two sizes available. The bowl is collapsible and stuffs just about anywhere. MSRP: $14.99 (bag), $9.99 (bowl).
Adventure Dog Series Medical Kit
Because your kids' adhesive bandages don't do the trick on fur, the Me & My Dog first-aid kit from Adventure Medical Kits has the supplies to treat the most common injuries either of you might face on your next expedition. From tick removal, paw care and wound cleaning to even an emergency blanket, this packable kit could make all the difference. Field guide to canine first-aid included. MSRP: $50.
TEK 2.0 OLT GPS Tracking and E-Collar
With a 10-mile range, the ability to work up to 21 dogs on a single handheld screen, and up to 99 levels of shock stimulation along with vibration and tone, the TEK 2.0 OLT from SportDOG Brand is perhaps the most versatile and function-filled collar your bear- or bird-chasing pooch will ever wear. Complete with pre-loaded topo maps and a lifetime of unlimited map updates. MSRP: $804.
Fetch Dog Harness
Because they've made it so easy for us all to become amateur videographers, why not get a team together, or better yet, put that dog on double duty with this camera harness from GoPro. Attach your camera to the chest to get great shots of goose retrieval or to the back to catch that rising covey. Fully adjustable, padded where it counts and water friendly, this harness captures the hunt from a different point of view. MSRP: $59.99.
Hard Core Dog Cave
Keep Rex hidden from flying eyes in his own layout blind. Sets up in seconds with no tools required and folds flat for easy storage. With openings on either side of the blind, Rex can retrieve birds that fall out front and those that sail behind. Pack the stubble straps with native vegetation, and the Advantage Max-4 HD camo blends in to any surrounding. Snow cover available. MSRP: $129.