by
posted on February 12, 2020
Support NRA American Hunter
DONATE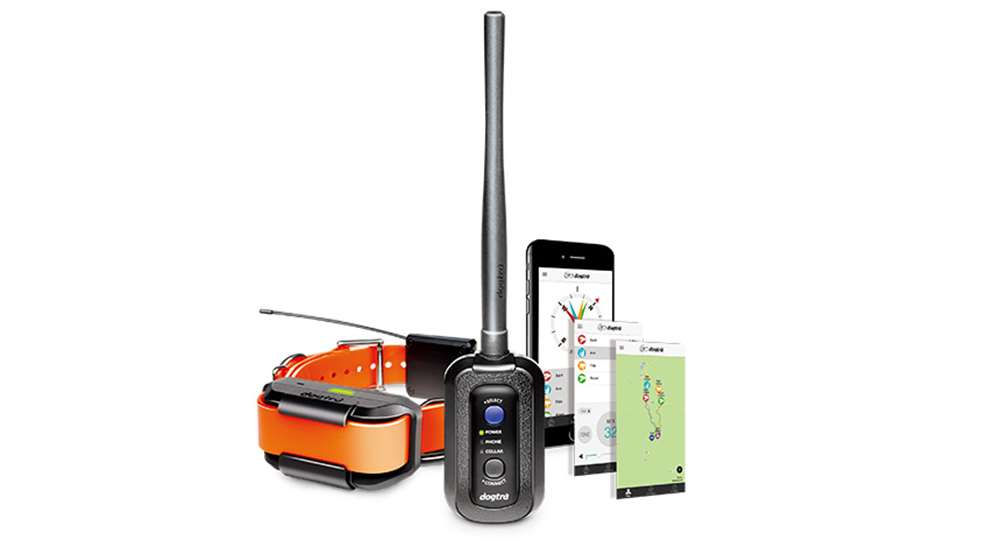 Before we dive deeper into this high-tech wonder, let's acknowledge that humans have been training and hunting successfully with a variety of dog breeds for at least a few thousand years. We don't need smartphones or stimulation collars. Stick to good, old fashioned training techniques if you prefer. But consider this: The Dogtra Pathfinder does make things easier! It uses a smartphone and app to both control the e-collar and record the action unfolding on the screen—a much larger screen than found on most GPS receivers. And its ability to keep tabs on a big running dog could spell the difference between "Load up, Spot" and "Where oh where has my little Spot gone?" Reason enough for me to embrace one.
Here, then, are the basics of this device. There are three parts:
1. The GPS collar the dog wears. This "talks" to geosynchronous positioning satellites.

2. The smartphone you use as your controller/sending unit/locator.

3. A pairing device (called GPS Connector) that links the smartphone to the GPS Collar, enabling them to "talk" to one another as far as 9 miles line-of-sight.
With everything fired up and connected (done via a typically confusing combination of button pushing and holding and flashing lights common to digital devices) you are set to "run" your dog with your smartphone screen. Toggle between mapping, e-collar and compass. The compass alone is high-tech cool. It shows directions, of course, but also the direction you're facing, plus each dog's location via color-matching arrows and their distance from you. Cricket is at 270 degrees, 157 yards out. Covey is at 11 degrees, 303 yards away.
Toggle to the map screen and you'll see on a topo or satellite map the trail your dog has run since starting plus her current position virtually in real time (there's an update every 2.5 seconds). Printed text lists total distance Dog has traveled, its current speed, its altitude and how much battery life is left in its collar.
Download Google Maps and run without cell service or costs for data usage. There are no extra navigation packages to buy. No cell service data is required after initial download, so you can hunt all day for weeks on end with no cell service as long as you have maps of your hunting areas already downloaded. But do this well ahead of season because Google allows only 2GB or two ZIP code areas to be downloaded per day. The trick is to download a fairly broad map, then pinch to zoom in as needed.  Alternately, you can load custom maps through Mobile Atlas Creator.
E-Collar
Switching to e-collar control requires just a touch of the e-collar icon on the phone. This brings up a half-screen panel with buttons for tone, nick, continuous and stimulation, with a sliding level power selector. There's a lock button to prevent accidental stimulation. All e-collar controls can be deactivated for field trialing, too.
Bonus Features
The waterproof Pathfinder does pretty much everything a more traditional GPS does, like mark locations and measure distances between points. You can set up geofences to keep Dog in or out of areas, and you can configure the app to map and control up to 21 dogs.
Pros and Cons
While a 76-page instruction manual comes with the unit, I found it often difficult to follow. Dogtra offers several video tutorials on its website and there are others on YouTube, but unless you're software-savvy, getting up and running will take some time. Once that's done, however, the Pathfinder's feature set is quite extensive and remarkable.
I really appreciate the large, high resolution viewing screen provided by my iPhone. The ability to download maps and run without cell service is cost effective and almost essential, considering there's no cell service at many hunting destinations. I struggled to operate the smartphone interface with one hand, leaving me wishing I had a sling for holding my gun. Operating the e-collar controls requires looking at the screen. There isn't the convenience of the distinct, separate, mechanical-button-feel of traditional controllers.
Houndsmen will probably appreciate the Pathfinder most, but anyone running bird dogs can also benefit from the mapping program and e-collar controls.
Learn more at dogtra.com.