by
posted on September 26, 2017
Support NRA American Hunter
DONATE
"Guys down here are proud of their squirrel dogs, but ask anybody who has the best dog and they will say Neil Patterson has a good one."
Tony Kinton went on to explain that in this highly competitive sport, that's about as high as praise gets from another hunter.
"Squirrel hunting is probably as big now in central Mississippi as it's ever been," Tony said, "and everybody is proud of their dogs, but Neil's dog is a bit of a local legend."
The hunt started out the way so many great ones do, in the pre-dawn parking lot of a fast-food joint. This time the place was named Ward's, and it was all Southern. A quick handshake with Neil and his 12-year-old son, Patrick, was followed by a long, dark drive while we gulped down delicious Southern food that would send my cardiologists into wild-eyed hissy fits.
We arrived at the gate to the Yockanookany Wildlife Management Area about the time I was brushing the last of the deep-fried crumbs from my beard. This is a 2,379-acre section of land in central Mississippi that follows the Yockanookany River and is open for all kinds of hunting. I was surprised to see it planted with greenfields for deer and turkeys as well as fields of dove food. It looked to this outsider like a well-managed private Southern hunting lease. Yet it is open to all hunters if they have the right permits and license.
Wildlife biologist Scott Baker told me, "The majority of the property was purchased in 1998, with additional property being acquired since then. Yockanookany WMA is mostly bottomland hardwoods with some upland habitat."
He continued, "The upland area is mostly open area that is planted as dove fields for public hunting. The bottomlands are mostly forested, with the exception of the Yockanookany River and the sloughs right off the river. The soil is very fertile and grows a variety of hardwood tree species. We manage the timber for a variety of wildlife species with no one wildlife species being more important than the others."
I was pretty sure Yockanookany translates into something like "a word we use so we can mock the Yankees trying to pronounce or spell it." I can say with honesty I had no luck with either, but I looked it up and apparently it is a Choctaw word meaning "catfish land."
I have been a squirrel hunter all my life and have never lost my enthusiasm. I have a buddy who can't understand how I still love to hunt them after I have been lucky enough to hunt exotic critters like elephant and Cape buffalo. I can't really explain, and if he were a squirrel hunter, I wouldn't have to. My usual approach is to find a good spot and sit down to wait. It works, but I am a type-A person and I much prefer any kind of proactive hunting to this passive approach.
I really love to hunt with dogs. Anything, anytime: If there are dogs involved I am in. For years I have been reading about hunting squirrels with dogs. I have always wanted to give it a try, but it hasn't caught on where I live, and the one trip I had booked down South a few years back fell through. So this was a big day for me: I was finally going to check off another hunt on my bucket list.
As we piled into Neil's side-by-side I met his dog. His name is Ringo, I presume after the drummer for the Beatles. Like most squirrel-hunting dogs, he is a feist, which is a small dog. Ringo doesn't seem to accept that and thinks he is a Rhodesian ridgeback bred for lion hunting.
He is compact with long legs and is best described as all wound springs, moving parts and perpetual energy. Ringo never holds still and moves in a frantic pattern that looks chaotic to most humans. I learned fast that he is relentless and capable of just about anything he wants to do. Later that day I was holding a squirrel up head-high and admiring it for a photo when Ringo bounced off the photographer's bent knee, ran up my hunting coat and dove off my shoulder to grab the squirrel out of my hand before he fell 5 feet to the ground. This happened so fast I wasn't even sure I saw it, except Ringo had the squirrel and I did not.
That's when I decided that I really liked this dog. It would make me crazy to own him, but we are kindred spirits. He is a hunter, dedicated and smart, and is pretty much a rebel who does what he wants. The good thing about that is what he wanted more than anything else in the world was to hunt squirrels.
According to Wikipedia, the feist is a small hunting dog, descended from the terriers brought over to the United States by English miners and other working-class immigrants. They likely included crosses between the smooth fox terrier, the Manchester terrier and the now-extinct white English terrier. They go back far enough in the U.S. that Washington wrote about them. So did Faulkner, who knew something of this country we were hunting.
There seems to be some latitude and a wide spectrum of what defines a feist. Some feist dogs have resulted from crosses with whippets or Italian greyhounds and even beagles. My cousin has a pet feist that clearly shows the long, fragile legs of a whippet or greyhound. Ringo is a bit more robust, with stouter legs and a more muscular build, which makes me think his ancestry went the beagle route, although I have never seen a beagle that can jump as high as this dog. When it comes to rock stars he is more Pete Townsend than Ringo Starr.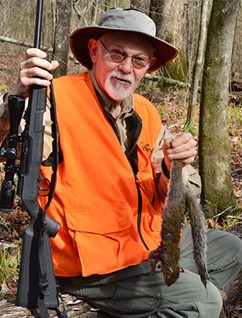 The way it works is, you turn the dog loose and wait for him to tree a squirrel. When the dog hits on a squirrel he chases it up a tree. It's said that a feist locates squirrels by scent, vision and sound, so the dog doesn't leave much to chance. Unlike a hound a feist runs the trail silently, barking only after the squirrel is treed. Once that happens the dog will stay at the base of the tree barking, sometimes circling to prevent the squirrel from running down the backside, until the hunters arrive.
The squirrel will run high up into the tree and freeze, depending on its natural camouflage to hide it. I don't know why they don't just run treetop-to-treetop to escape. That would ensure they survive, but they don't. At least most of them don't. They just hope we can't find them. I suppose it's a defect in the evolution of squirrels that assumed hawks are more dangerous than hunters. But I am glad they have it. This style of hunting wouldn't be much fun if they always ran away before we arrived at the tree.
We pointed Ringo down a woods road and followed with the side-by-side. We were hunting gray squirrels, which are the same species I hunt in Vermont about 1,400 miles north of Mississippi. These squirrels are a classic example of Bergmann's rule, which states that a given species will be larger in colder climates and smaller in warmer climates. In this situation an adult Southern squirrel is about the same size as our Northern yearling squirrels are in the fall of the year they're born.
Patrick is a great kid, very mature and clearly an experienced hunter, which is a fine tribute to Neil and how he has raised him. They take this active-hunting thing very seriously. They will look for the squirrel for a few minutes, but if it's not happening, they make it happen. There are vines in most of the trees that hang to the ground and run their tentacles to the very upper branches of the tree. If nobody sees the squirrel in the first few minutes, they start yanking on the vines to shake the trees all the way up to the squirrels.
I later learned this is a traditional way to hunt squirrels in this part of the South. Many hunters who don't use dogs just walk randomly though the woods, stopping often to pull on the vines and shake the trees. They stay ready for a fast shot with a shotgun when the squirrels lose their nerve and strike out for safety, running and jumping through the treetops.
Neil and Patrick use shotguns, too, and once they get the squirrel on the move they start shooting. This provides some very challenging "wingshooting" with squirrels ducking and diving, shucking and jiving as they zip through the trees.
On the ride out Neil had told me how many shotgun shells they go through a season, and it was stunning. Short of serious competitive shooters, I don't know many people who shoot that many shells. I know they hunt almost every day of the long season and they take a lot of squirrels, but still, it was a lot of ammo.
Then I saw that first squirrel break cover and make a run for it. They got him of course, but there were a lot of empty hulls on the ground by the time the squirrel hit the dirt. They are there to shoot and they don't spare the ammo! I will tell you without hesitation that if these guys can hit these squirrels on the run, they would be death rays in a quail field. Some of the shots they pulled off were nothing short of amazing.
It was all very exciting, the kind of fast-paced sport I enjoy, but I didn't do enough homework. I wished I had brought a shotgun, but I hadn't. My preferred squirrel-hunting tool is a rifle, and I had one of the new semi-auto Savage A-22 rifles with me. These little squirrels are incredibly quick and agile, so trying to hit them on the run with a rifle was about like winning the lottery. It could happen, but I wouldn't bet your retirement on it.
So we had a little talk and decided to try to locate the next few squirrels hiding in the trees and snipe them with the scoped rifle. I really enjoyed the challenge of finding them as they hugged the tree, often in the crotch of a branch high in the stratosphere.
This method proved to be a bit slower and far less noisy, but every bit as effective. With four of us looking it usually didn't take all that long to locate the squirrel. Often we could see only pieces and parts, and more than once I had just little bits of squirrel to shoot at, so this approach challenged my rifle shooting skills, too.
The rifle was a pre-production rimfire on loan from Savage. If you know the story of the company's A-series guns you know they started with the .17 HMR, then the .22 Magnum and finally the .22 LR, which was slated to be released at the 2017 SHOT Show a few months after my hunt. The guns are very accurate and are just about perfect for squirrel hunting.
I was shooting my favorite hunting load, the CCI Velocitor. This ammo has a 40-grain hollow-point bullet with a sizzling muzzle velocity of 1435 fps. The bullet uses Speer Gold Dot technology and is simply devastating on small game. A little too devastating according to Neil and Tony, but just right if you ask me. When it hits a squirrel, it's lights out. I always try to keep my shots to the head or front shoulder, so the best meat is untouched.
While shaking the bushes will make them run, it's amazing the nerve these squirrels often show in not breaking from their hiding places. The last one of the day took us a long time to find. Eventually Tony saw what he was sure was the squirrel, so high up that I think it was using an oxygen tank. The first shot missed, but not by much, and nothing moved. That led to a long discussion about whether it was a squirrel or a knot. By now we had been under the tree for 15 or 20 minutes and had placed at least one shot close enough to shave hair, but that little fella would have none of it. He stuck to his plan. Finally Tony spotted an eye blink and the next shot brought down the squirrel, right into the waiting jaws of Ringo!
Once Ringo was sure we understood this was his squirrel until he decided otherwise, he handed it over. I like a dog that knows his value and isn't afraid to show it.
By the end of the day we figured that tough little mutt had run more than 10 miles. He was ready to keep hunting, but the rest of us were whipped. We had a pile of squirrels, which we cleaned and took back to our campsite on Tony's land, where we were hunting deer the rest of the week.
I made a Brunswick stew, another Southern tradition, which we finished over the coals in a Camp Chef Dutch oven. We sat around the campfire the next evening, freezing in a wild cold front that had moved in and ingesting bowl after bowl of squirrel stew with frozen fingers and big grins. (Once word gets out I am in the state, all hell generally breaks loose. If you see on the news that Mississippi is setting a new record for cold weather or enduring a hurricane or tornado, be assured I am there trying to hunt something.)
When it comes to hunting adventure, I rate chasing squirrels with a good dog right up there with the best. That's the great thing about this sport of ours. It does not have to be a costly, extensive safari to an exotic location. Something as simple as chasing squirrels on public land can be a world-class hunt.