by
posted on June 4, 2009
Support NRA American Hunter
DONATE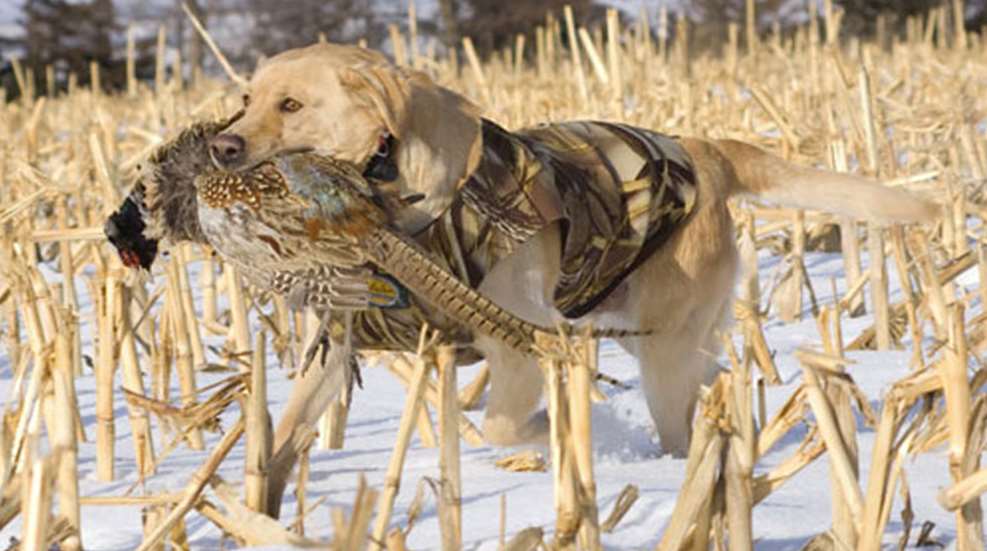 Our resident gun dog expert Kyle Wintersteen takes a look at the best tools (and friends) any hunter could have.
Gallery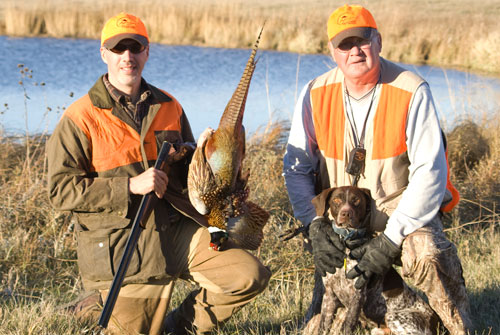 Versatile Pointing Breeds
In the 1800s, Germany opened hunting to the average person rather than just the wealthy elite. The new crop of German hunters couldn't afford a large fleet of bird dogs. Rather, they needed one dog that could perform many tasks, so they developed what's now referred to as the "versatile pointing breeds." These dogs do it all—hunt, point and retrieve. Of these, the German shorthaired pointer is one of the most popular with Americans. They are a product of English foxhounds, extinct German hounds and pointers from English and German lines.
Set In Stone
A prominent statue outside the National Bird Dog Museum features a quail hunter, English setter (left) and pointer (right).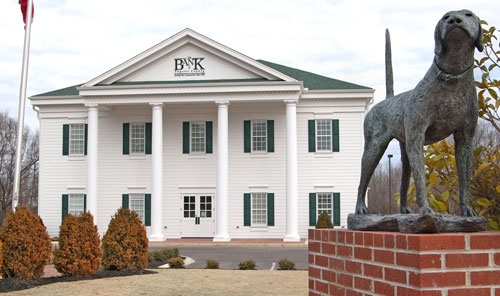 A Classic 12 O'clock
This pointer statue displays a classic 12 o'clock tail. Interestingly, the statue is outside "The Bank of Fayette County" in Grand Junction, Tenn. Considered the birthplace of America's pointing dog field trials, Grand Junction is the annual host of the Grand National, the national championship field trial for pointing breeds, and is also home to the National Bird Dog Museum and Field Trial Hall of Fame. The statue is modeled after Dunn's Fearless Bud, a Grand National winner and Field Trial Hall of Fame inductee owned by Grand Junction resident Wilson Dunn.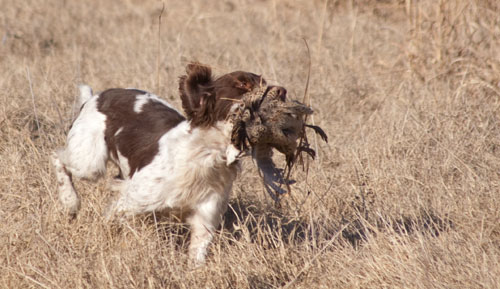 The Evolution of Springers
The English springer spaniel may have developed in Great Britain as early as the 16th or 17th century, but the name "springer" was not officially coined until 1902. Before the shotgun's invention, springers would chase furred and feathered game from thick brush, at which point hunters would release sight hounds or falcons to dispatch the quarry. Springers later became very adept at retrieving, as evidenced by this dog competing in a field trial.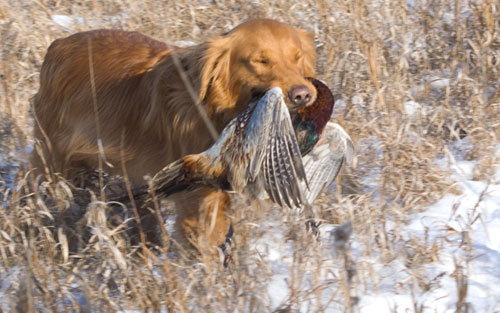 Golden Beauty
The golden retriever was developed in Scotland during the 1860s by Lord Tweedmouth, who crossed wavy and flat-coated retrievers with the now-extinct Tweed water spaniel. Its beauty has actually been detrimental—over-eager breeders have watered down the golden's hunting stock.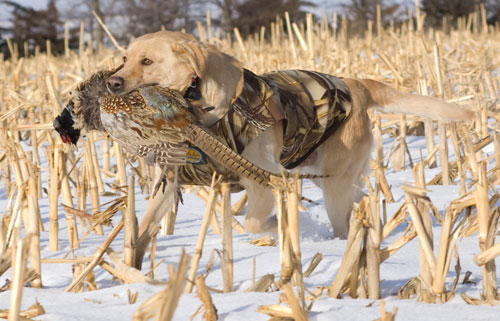 Go Fetch!
The Lab's primary role is fetching game, but it's also a favorite among upland hunters.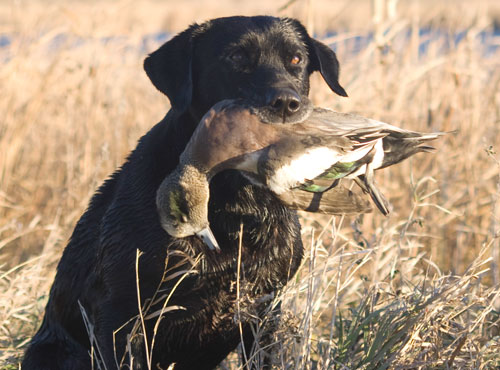 A History of Power
Note this Lab's broad, powerful shoulders, a favorable and historically common trait.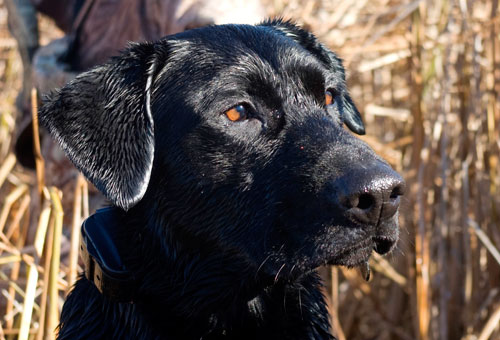 It's Hip to Be Square
Aesthetics are by nature subjective, but many traditionalists prefer a "block-shaped" head to this Lab's more slender profile.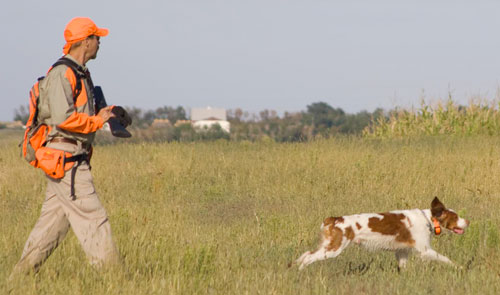 The Brittany
The Brittany, the best thing to ever come out of France, is easily trained and matures quickly. It's perhaps the oldest of the pointing breeds, with origins that may date to 150 A.D. The Brittany was used for the development of several versatile pointing breeds.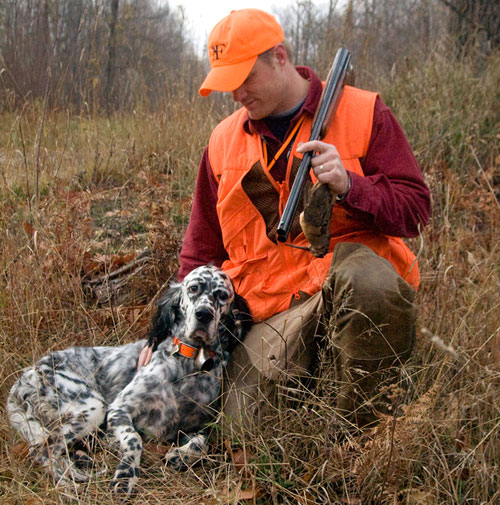 Another Successful Hunt for Butch
Butch, a handsome blue belton colored English setter, pointed a woodcock on average every 20 minutes for his owner, Jason Nash of Federal Premium Ammunition, and the author. Butch didn't give up until the hunt's conclusion, but is clearly exhausted.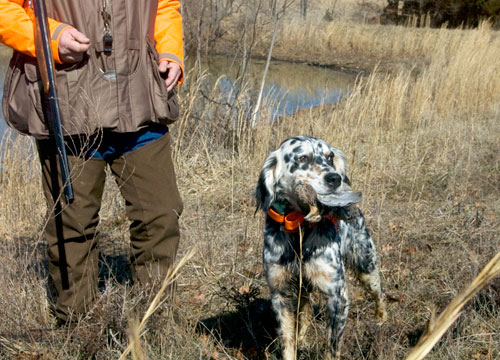 The Force-Fetch Technique
Setters are often trained to retrieve with some variation of the "force-fetch" technique.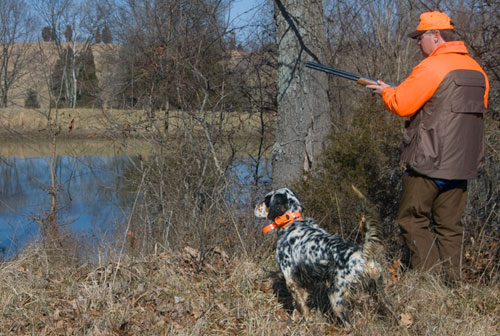 A Flashy Point
English setters are named for the "setting" or crouching posture they display upon finding birds. The dog in this photo has a rather flashy, nearly 12 o'clock point, but some setters still "set" and a 9 o'clock tail is acceptable.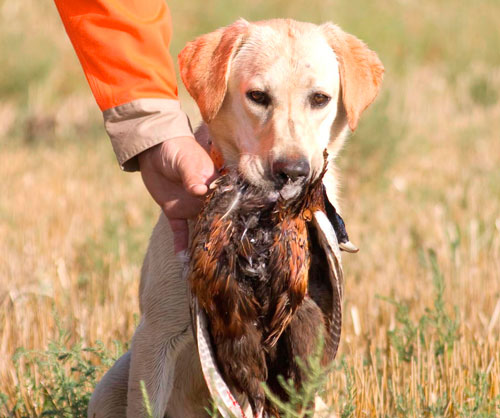 A Noteworthy Noble
Labs are available in three colors: yellow, black and chocolate. Some Labs are born with a silver-like coat, however, it is not a color recognized by the AKC.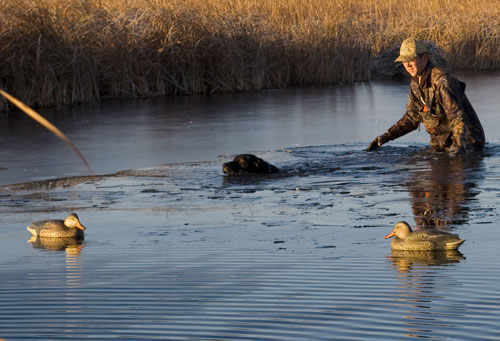 Jump In: The Water's Freezing!
A thick, water-resistant coat helps this Lab share ice-breaking duties with his owner.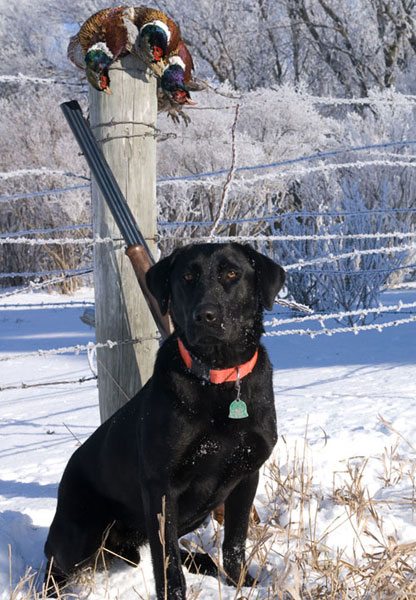 Pointing Labs
Within the last few decades, breeders have developed Labs with a strong pointing instinct. "Pointing Labs" have proven quite popular, but are disliked by many old-school purists.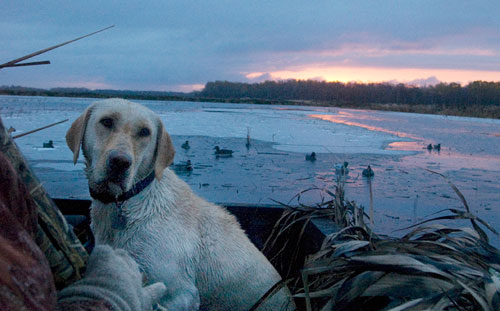 Water Dogs
Labs appeared in literature as early as 1662. Most people believe they can be traced to an early retriever, the St. John's water dog, which was used to fetch fishermen's nets off the coast of Newfoundland and elsewhere.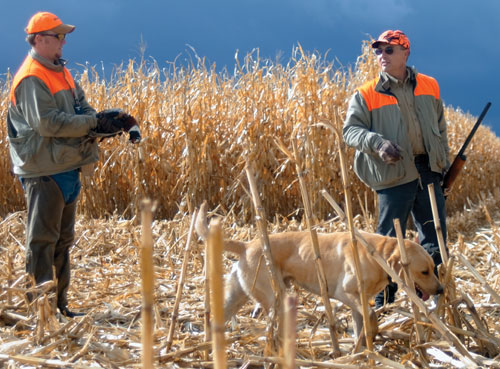 Most Popular
Intelligent, biddable and versatile, Labrador retrievers are consistently the most registered dog in the American Kennel Club (AKC).