by
posted on June 27, 2012
Support NRA American Hunter
DONATE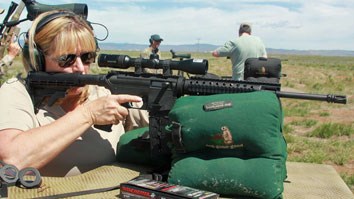 On an early June ground squirrel/coyote hunt in eastern Oregon, I had a chance to test one of the coolest rifles I have shot in a long time—the Mossberg 715T Tactical .22 rimfire. Like many gunmakers, Mossberg is trying to cash in on the AR craze sweeping the country.
The original 715T was introduced in 2010, featuring a carry handle and an MSRP under $300. The rifle was so popular that in 2012, a Flat Top version was introduced, which is what I got to try in Oregon. The difference between the two is that the early model has an AR-15-style fully adjustable rear sight mount/carry handle molded into the polymer outer and a Pyramid-style adjustable front sight. The Flat Top version has a Picatinny rail along with removable/adjustable front and rear sights, and looks more like the M4. In fact, it duplicates the look and feel of today's AR-platform center-fire carbines.
The Flat Top version features a 16 ¼-inch, button-rifled barrel and a quad-rail fore-end, which allows the addition of lights, lasers and other common AR-type accessories. It also has an A2-style flash hider. The version I shot also featured a six-position adjustable stock from ATI, making it quick and easy to fit shooters of all body types with little fuss. The gun comes with either a 10- or 25-shot magazine, depending on state and local laws. We had the 25-shot magazine, though 20 rounds that was about all I could get into it. The magazine has been designed with a large polymer lower housing that mates well with the rifle, while the slimmer steel upper portion slides quickly and easily into the receiver where it securely latches.
Operationally, I found this little rifle could take some abuse. We ran hundreds of rounds through it without a jam amid minimal barrel cleaning. The bolt locks open when the magazine has been run dry, a feature I like a lot, but the bolt catch is operated manually. This means that to drop an empty magazine the shooter must release the pressure of the bolt against the follower while operating the magazine release lever simultaneously. It takes getting used to, but is no biggie.
Accuracy was pretty good. Of course we were helped by topping the rifle with a superb Swarovski Z3 3-9X36 scope. Winchester Varmint HE ammunition, featuring a 37-grain bullet, seemed to be something this particular rifle liked, as it shot sub-1-inch clusters at 50 yards all day long.
MSRP on this rifle ranges from $344 to $408, depending on the configuration. The version I shot in Oregon has an MSRP of $353.