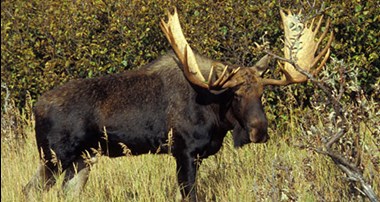 Game animals getting mistaken for other problems is something of the flavor of the week. First, there was the wood duck that had a homeowner convinced a home invasion was taking place ... and now we have the case of a moose clogging the pipes.
According to a report from The Hartford Courant, a Hartland, Conn., homeowner was forced to call for a plumber to check the pipes of their home this past weekend, after the water mysteriously stopped flowing. The plumber's diagnosis, upon checking the well site? There was a big ol' living thing stuck down there. Time to call animal control.
It's probably to safe to say that the plumber-in-question hadn't ever—and won't again—see a clog quite like this.
Upon responding, Jennifer Abalan, Hartland's animal control officer, was able to identify the wayward animal as a moose. From the looks of things, it had fallen through the wood that covered the top of the water line's open well structure. Abalan came to the conclusion that the young bull had tried to cross the rotten boards covering the well and fallen through in the effort.
A full-scale rescue effort was launched, and the moose was ultimately tranquilized and extracted from the well. Unfortunately, according to The Courant, the young bull (estimated to weigh 450 lbs.) was in rough shape.
It was impossible to determine how long the moose had been inside the well and, after standing vigil over the weakened animal for hours, Abalan was forced to consult the state's Department of Energy and Environmental Protection about potentially putting the animal down. After speaking to state officials, she had a state trooper dispatch the animal.
So this particular wayward animal story, at least, doesn't have a happy ending. It's how it goes sometimes, folks.
That said, I'll be thinking twice the next time my water pressure isn't what it's supposed to be.