Support NRA American Hunter
DONATE
Mission Archery spotlights its value-driven, new-for-2015 lineup!
Wait until my nephews, Andrew and Joey, hear Mission just unveiled four new bows.  I already call the boys "little Mission monsters" so here's more fuel for their fire, particularly as two of the models—the Menace II and the Craze II—are upgraded versions of the bows they shoot. Throw in the new Hype and Hype DT and the value-driven lineup offers something for everyone. 


Menace II: Perfect for growing boys, as they say—and girls—this bow offers adjustable draw lengths from 17 to 30 inches and draw weights from 15 to 52 pounds without having to use a bow press.  Its perimeter-weighted dual-cam system makes for balance and a smooth draw. Plus it only weighs 2.8 pounds, comes in multiple color options and has an MSRP starting at $299. Translation: considerable value for the money!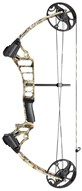 Craze II: Stepping things up a notch, this model is powered by Mission's new F.I.T. (Focused Inertia Technology) Cam System designed to diminish noise and felt recoil and offer sheer performance for shooters of all ages regardless of physical stature. Draw lengths adjust from 19 to 30 inches and draw weight options range from 13 to 70 pounds—again, without the need of a bow press. Check out its ergonomic grip and notably enhanced riser that aids strength and stability while reducing overall bow weight. Not to be shown up by the Menace, it's available in 10 color finishes and sports an MSRP starting at $319. Again, we've got considerable value built into a relatively low price tag.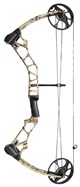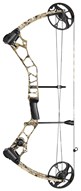 Hype and Hype DT:
In true Mission-by-Mathews style, this company has a knack for piling on the features while keeping costs down so expect some, well,
hype,
over the Hype and Hype DT (Dampening Technology). The new F.I.T. Cam System alone is something I would have expected to see in a higher-end bow, aiding in noise reduction and thwarting felt recoil. Draw lengths span from 19 to 30 inches with both models offering more than 55 pounds of draw-weight adjustment also without having to use a bow press. Ergonomic riser and grip designs ensure stable shooting platforms for these 31-inch axle-to-axle bows. Translation: enhanced accuracy! To seal the deal, the Hype and Hype HD are reasonably priced at $359 and $399, respectively, with the Hype HD also touting the Dead End String Stop and Mathews' Harmonic Stabilizer. At the risk of sounding like a broken record, from a value standpoint, these bows have features most would expect to see on higher-end models.

In a nutshell, if you're a newcomer to archery, here's the scoop on Mission, though it's no big secret:  Mathews' Mission line offers innovative models that, frankly, outperform their price points. Today's launch is no different—a good thing considering one can never overstate the benefits of new technology. For more good news, by the way, Mission bows are made in America and come with a Lifetime warranty.