by
posted on March 1, 2016
Support NRA American Hunter
DONATE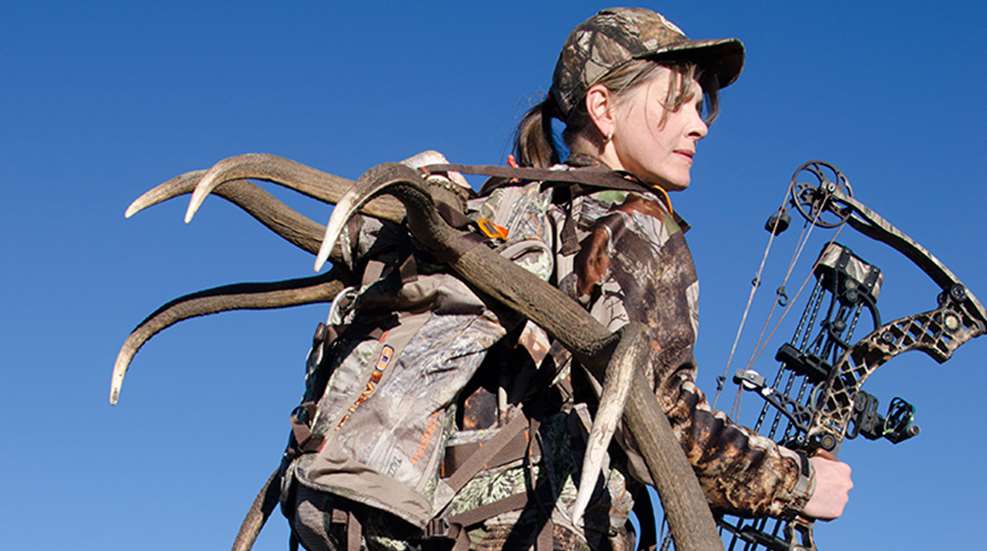 Bowhunters are in for a treat this season because the New Year's best new bows tout speed and bone-crushing power in the form of smooth, quiet tack-drivers steeped in forgiveness. And while some of the top-tier brands unveiled unprecedented new flagships sure to impress—as we've come to expect—you'll see a few of the newer up-and-comers are coming on strong as we look at offerings from these 14 companies.
As for why I'm touting 14 brands—and not some cool round number like 5 or 10—that's just how it worked out as I worked my way through the aisles at the 2016 Archery Trade Association (ATA) Show this year. Now if you want a "Trivial Pursuit"-style answer, did you know that in numerology No. 14 is the number that resonates with expression of personal freedom—including independence and self-determination? We bowhunters are nothing if not free, independent and determined—especially come opening day! 
Bear Archery
Bear Archery showcases a 350-fps speed bow dubbed the Escape that yields considerable forgiveness with a 6-inch brace height. It sports last year's new H15 Hybrid cam system unveiled in its Arena Series that creates an easier draw cycle and letdown, and rubber riser inserts that absorb vibration and sound. Bear's Hinge Guard reduces lateral torque as you shoot it, and the removable rubber grip provides for two grip options. The 32-inch axle-to-axle bow offers 75 percent let-off, draw lengths of 25.5-30 inches and draw weights of 60 and 70 pounds. Smaller-statured bowhunters can check out the short-draw version in lengths of 23.5-27.5 inches. (MSRP: $899). Long-draw hunters strike gold with Bear's new 33-inch BR33, delivering 330 fps, a forgiving 7-inch brace height, a silky smooth draw and 80 percent let-off powered by the H15 Hybrid cam system. Draw lengths run from 27-32 inches in draw weights of 60 and 70 pounds than can be lowered by up to 15 pounds. Bear says this hybrid-cam bow does not put speed over single-cam soul. (MSRP: $899) All models above are available in four color options.


Bowtech
Bowtech unveils a new flagship—the compact, 350-fps BT-X—featuring the company's new Micro Sync Dial that allows hunters to precision-time cams using10 micro settings for precise and easy tuning. Touted as its most compact, well-balanced bow ever produced, it features Bowtech's patent-pending PowerShift Technology launched in 2015 where a simple adjustment of the PowerShift customizes a hunter's draw cycle between three levels: Performance (sheer speed and power), Classic (power with a smooth draw) and Comfort (effortless draw). A new skeletal riser removes extra weight and aids balance while OverDrive Binary Cams ensure symmetry, synchronization and a smooth draw. Wider cam pockets and a wider bezel platform aid stability as you draw. The 31-inch-axle-to-axle bow is available in five color finishes (all with solid black limbs) and in two cam sets: the X28 cam for draw lengths from 25.5-28 inches with a 6-inch brace height, and the X31 cam for draw lengths from 27-31 inches with a 6.25-inch brace height. (MSRP: $1099). On the off-chance any target archers have stumbled onto this story, I suggest you takea peek at the Fanatic 2.0. 

Darton Archery
Darton Archery overhauled its flagship DS-3800 launched in 2010 to debut the smooth, quiet, more compact and even faster DS-3900. Hitting speeds of 355 fps, the 33-7/8-inch-axle-to-axle model uses the same cams yet drops the brace height from 6 to 5.5 inches, which creates a more aggressive draw cycle, but still feels balanced in your hand unlike some other short-brace bows. The grip is improved for a better fit and feel, and P.P.L. (Pivoting, Positive Locating) limb pockets locate the E.E.T. (Efficient Energy Transfer) laminated split limbs with precise alignment for enhanced accuracy. The P.T.R. (Progressive Torque Reduction) cable rod curves inward to move the cables toward centershot of the bow at full draw to reduce torque. Short draw-length hunters are covered with draw lengths of 25-20 inches. Draw weights span 40-70 inches with 80 percent let-off. Eight color options include three in camo. (MSRP: $949). Women and youth shooters may appreciate the new Exciter. Far from a "kid's bow," the design cherry-picks features from the DS-3800 but on a smaller scale with a Dual Sync Cam system tailored to the bow's 22-27.5-inch draw length. (MSRP: $599).

Diamond Archery
Diamond Archery by Bowtech deploys maximum impact with the aptly-named 330-fps Deploy SB. As Diamond's most technologically advanced bow to date, it's the first to feature Bowtech's Binary Cam system where cams rotate in perfect synchronization. Its aerospace-inspired Bowtech Carbon Knight Riser keeps weight to 3.2 pounds at far below the cost of a Carbon Knight. Options include the R.A.K. (Ready, Aim, Kill) system featuring factory-installed accessories designed to get you on paper at 20 yards—right out of the box. The bow's rotating module means hunters don't need a new cam or module to reset draw length as a good 6 inches of adjustment is available by removing the module screws and rotating and retightening the module. The 31.5-inch axle-to-axle bow has a forgiving 6.75-inch brace height and offers draw lengths of 26-30.5 inches and draw weights of 50, 60 and 70 pounds. Colors are Black Ops and Mossy Oak Break Up Country. (MSRP: $599; $699 with R.A.K. package).


Elite Archery
Elite Archery delivers "shootability accelerated" as it unveils its2016 Impulse Series: the Impulse 31 and Impulse 34. A blend of speed, shootability and stability in quite a smooth-shooting package, these models are the company's most advanced bows to date. Elite's new Perfect Alignment Limb System limb pocket makes for a super-strong platform while last year's new chip resistant, non-reflective Pro Kote finish covers the cams, modules, cable rods and limb pockets to ensure durability while absorbing light. If you're not familiar with Elites bows, their risers sport a "Riser Cage" design engineered to deliver true and balanced energy distribution. As you'd guess, the Impulse 31 and Impulse 34 measure 31 and 34 inches, respectively, with respective draw lengths of 26-30 and 27-31 inches. Bow weight is just over 4 pounds with 6.5-inch brace heights. Hunters will appreciate speed without sacrifice with the Impulse 31 generating speeds up to 343 fps and the Impulse 34 registering at 340 fps. (MSRP: $999).


Prime Archery
G5's Prime Archery brand rolls out the Rize—I love the sound of that—a sharp-shooting, zero-hand-shock bow showcasing the new 82X aluminum riser—the company's lightest and stiffest to date. Designed to trounce noise and vibration, the 4.3-pound bow offers strength, balance and control for the longest open-country shots, and is so smooth it foregoes limb dampers. Prime's Parallel Cam technology balances the load throughout the draw cycle. The 33-inch axle-to-axle bow has a 6.75-inch brace height, features the Flexis AR adjustable roller guard and hits up to 335 fps. Draw lengths run 26-30 inches with draw weights from 40-70 pounds. Prime's new Sherpa-Attached Mounting System allows hunters to mount everything from a quiver to a camera. (MSRP: $1,049). Longer-draw hunters should check out the new, premium 35-inch axle-to-axle Rival PR. Prime took the 2015 Rival, added longer limbs and increased the brace height to a forgiving 7.25 inches. Draw lengths span 27-31 inches at speeds up to 340 fps with draw weights of 40, 50, 60, 65 and 70 pounds. (MSRP: $1,049). Though we're  talking hunting bows here, if you're also in it to win it—literally—ask about Prime's fast, new tournament series of bows. The ONE STX 36 and ONE MX 36 permit precise adjustments to the draw cycle and back wall for shooter customization. At 36 inches axle-to-axle, the length cuts torque and caters to shooters who prefer a sharper string angle. (MSRP: $1,499).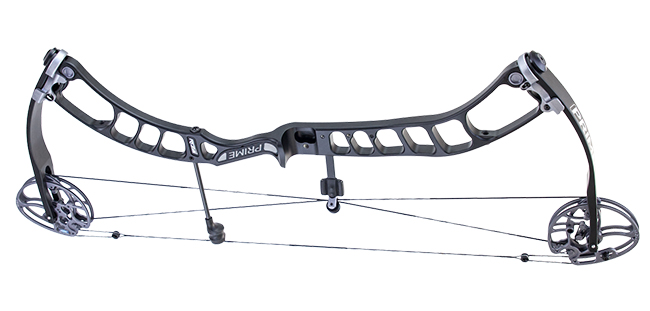 Hoyt
Hoyt kicks off its 85th anniversary with a super-smooth new flagship—the Carbon Defiant—touting a redesigned carbon riser, new UltraFlex limbs and the aggressive DFX Cam and 1/2. The riser has more than 50 individually hand-laid carbon components for ultimate stiffness and strength, including three woven hollow-carbon tubes, yet the bow's weight is only 3.6 pounds. The new limbs and cam system raise the axle-to-axle length 3.5 inches at full draw to create a less severe string angle so the 30.5-inch axle-to-axle bow shoots like a 34-incher. The 31-fps bow has a forgiving 7-inch brace height and comes with a new Pro-Lock limb pocket system and an optional limb stop. Draw weights are from 24-30 inches with draw weights as low as 30 and as high as 80 pounds so young shooters, helping young hunters get into the game. Also in the mix are the 350-fps Carbon Defiant Turbo and 325-fps Carbon Defiant 34 (MSRP: $1,499). While Hoyt says its thermoset carbon endures more force without bending or twisting compared to aluminum, aluminum fans are covered with Hoyt's Defiant Series of aluminum bows. Pushing past last year's Nitrum Series, the Defiant showcases an all-new machined aluminum riser with the same cam system and UltraFlex limbs a the Carbon Defiant and is also available in Turbo and 34-inch models. (MSRP: $1,099).


Martin Archery
Martin Archery is on a roll after reviving its brand last year with more than a dozen new lightweight hunting and target models. Headlining offerings for 2016 is the ultra-quiet 326-fps Hellfire 35 touted as the quietest bow on the market. Dubbed "the last thing your deer never heard," the bow is designed to be vibration-free—thanks to an all-new Bridged Variant Wide Riser that drives vibration away from your hand—new Symmetry M4 Cams and patented zero-lean cam technology showcasing a first-ever four-ring cam system set to prevent cam lean. Translation: target-bow accuracy. The 35-inch axle-to-axle bow has a 6.5-inch brace height, 80 percent let-off, draw weights of 50, 60 and 70 pounds, and draw lengths of 27.5-31 inches. Martin says the bow was tested by an independent sound lab against bows from four other leading manufacturers (check its website for details). For the finishing touch, the bow comes in two finishes—the increasingly popular kryptek camo and black smoke—and simply feels good in the hand. (MSRP: $949). Hunters seeking a smooth, compact, rugged option will gravitate to the Inferno 33 labeled "the ultimate hunting bow." Sporting the same new cam system, riser, brace height, let-off, finishes and peak draw weights as the Hellfire 35, the 33-inch bow is available in draw lengths of 26.5-30 inches. The super-smooth smooth-drawing bow easily transitions to peak weight while launching arrows at 333 fps. (MSRP: $899). Short-draw hunters can check out the Carbon Mist with the all-new featherweight carbon riser ideal for trekking through thick woods. (MSRP: $499).


Mathews
Mathews knows silence is golden as it makes more sheer performance strides with the smooth, ultra-quiet Halon. Inspired by last year's NO-CAM technology, the new flagship's Crosscentric cam makes good use of a partially concentric string payout that results in a smooth draw and accuracy. Its AVS (Advanced Vectoring System) technology forces the bow to maintain cam synchronization as you draw, aiding energy storage and efficiency, making it Mathews' hardest hitter to date. A True Center nocking point delivers straight, level nock travel and the new Bridged Riser screams strength. The new Flatback grip deserves a mention, too, because it provides a level point of contact between your hand and the grip, which you may find translates to more stability as you take aim. Saving the most obvious feature for last, you can't miss the super-wide limbs designed to pair with the bow's powerful cam system. At 30 inches axle-to-axle, the Halon is available in five finishes and spans 5-, 6- and 7-inch brace heights with the latter offering up to a 32-inch draw. By the way, if you ask for it your local bow shop, Halon is pronounced "hay-lon." I'd said the name incorrectly several times before my husband pointed that out. (MSRP: $1,099) Fans of last year's innovative, super-smooth, easy-tuning NO CAM will like the new NO CAM HTX which offers a few new bells and whistles that specifically aid stability, including a new bridged riser and Flatback grip as showcased in the Halon. (MSRP: $999).


Mission Archery
Mission by Mathews hits the sweet spot between performance and price with the 330-fps dual-cam Ballistic 2.0. Ideal for maneuverability in thick woods, treestands and smaller ground blinds, the more compact 28.5-inch axle-to-axle model now includes a Harmonic Stabilizer Lite to cut noise and vibration. The bow is built around the AVS cam (Advanced Vectoring Cam System) that optimizes draw force for energy storage and efficiency, which Mission says is thanks to synchronized cams that move the force vector of the anchored cable from one side of the cam axle to the opposite side of the axle. The result? Hunters will note a smooth draw, high let-off (80 percent) and speed. Available in three finishes, draw lengths and weights are 26-30 inches and 50-70 pounds, respectively. (MSRP: $599). If you need more versatility—or a bow the entire family can enjoy regardless of physical stature—the new Hype DT sports Mission's F.I.T. (Focused Inertia Technology) Cam and covers draw lengths of 19-30 inches and draw weights of 13-70 pounds—all adjustable without a bow press. It's powerful, delivering speeds up to 310 fps, sports five finishes and measures 31 inches axle-to-axle. (MSRP: $599).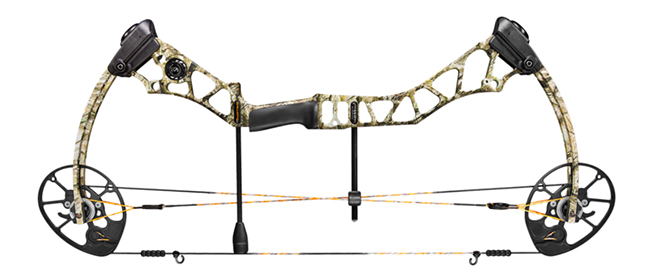 New Breed Archery
New Breed Archery makes strides as it introduces the 335-fps GX2. Powered by the new Bionix 2.5 Modular Cam system, the bow has a smooth draw and limb stops that present a solid back wall for a consistent anchor point. The fluted riser features aircraft-grade aluminum to deliver strength without adding weight. An extra rear stabilizer insert allows hunters to custom-balance the bow. Measuring 32 inches axle-to-axle with a 7-inch brace height, the GX2 sports New Breed's new hybrid cable slide system and a new two-piece limb pocket engineered to enhance limb stabilization and alignment. Shorter-draw hunters will like that draw lengths span 24.5-30.5 inches. The bow is available in five finishes with draw weights of 50, 60, 65 and 70 pounds and features the same titanium and stainless steel corrosion-proof hardware New Breed fans have come to expect. (MSRP: $949). Though it was retired in 2012, the sub-compact Nemesis is relaunched and redesigned for 2016 and built with women and other smaller-stature hunters in mind. The 30-inch axle-to-axle bow offers a 6-inch brace height, draw lengths of 23.5-29 inches, draw weights from 40-70 pounds and sports limb stops for a solid back wall to create a consistent anchor point. (MSRP: $749).

Obsession Bows
Obsession Bows certainly fuels ourbowhunting obsession as it churns out 10 new bows this year, including its most technologically advanced bow to date—the 360-fps Def-Con 6—hailed as "the smoothest, most vibration-free bow you'll ever shoot." Here's a speedster that Obsession promises does not feel like one because of its smooth draw cycle, the fact you barely feel the shot, and a gracious valley that allows you to take a more relaxed shot once you hit full draw. The vibration-free, 32.5-inch axle-to-axle bow features a 6-inch brace height and Obsession's FX 1 DS two-track cam—available in black, red and orange—with Obsession's PerFX system that offers interchangeable draw length mods in half-inch increments. For another big upgrade, check out its Anti Torque Roller Guard designed to trounce cam lean as you draw for maximized power and bow speed. Its redesigned riser sports a whole new look. This forgiving bow delivers 80 percent let-off, a gracious valley, draw lengths from 23.5-30 inches and peak draw weights of 40-80 pounds. (MSRP: $959). The devil is in the details of Obsession's new women's bow—the 336-fps Huntress LX—a 7-inch-brace, shooter-friendly bow featuring the two-track KC Cam with the PerFX  System offering interchangeable draw-length mods in half-inch increments from 23-29.5 inches. It feels good at full draw, partly because of the grips, and offers draw weights from 30-70 pounds and 80 percent let-off. As with other bows in the line, screws and hardware sport an anti-rust coating. (MSRP: $869). With new 2016 bows spanning 30-37 inches between axles, Obsession Bows has something for everyone this year, including the mention the K32 and K34 hunting bows? By the way, Obsession covers tournament shooters, too, with the Final Cut competition bow highlighting a patented "shoot thru" system. (MSRP: $1,599).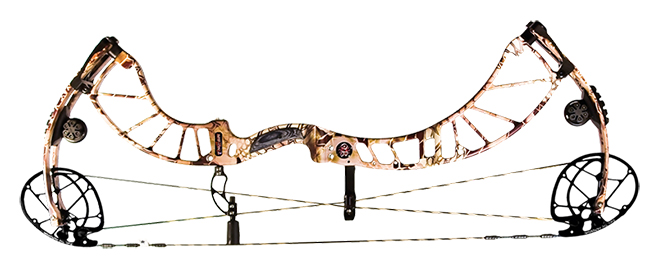 PSE Archery
PSE Archery makes industry headlines with a new crowned jewel: the revolutionary Carbon Air. At just over 3 pounds, not only is the new 340-fps Pro Series flagship as lightweight as the name implies, it marks the world's first monocoque ("mono-coke") carbon high-performance bow. Based on the construction method used in the aerospace, automotive and cycling industries to create a strong, light one-piece carbon shell—think of Lockheed Martin's F22 Raptor tactical fighter aircraft—PSE's new TrueCarbon Technology hollow-riser design has a Structural, Rigid Acoustic Core (S-RAC) suppressing noise and vibration at its core. Translation: You're not quite sure if you felt the arrow leave the bow. Unlike carbon bows made of fused hollow-carbon tubes, PSE molds the carbon around the core while the riser's "arch bridge" design carries the weightload out and along the curve of the arch to the supports at each end to offset stress. Features include X-Force parallel split limbs, an HD Hybrid cam, a FlexSlide 2-cable containment system, a Backstop 4-String Suppressor with an integrated carbon backstop rod, SHOCK MODZ limb dampers and titanium hardware. At 32 inches axle-to-axle, it has a 6 1/8-inch brace height, 80 percent let-off and is available in three finishes. Draw lengths are 24.5-30.5 inches and draw weights are 50, 60, 65 and 70 pounds.If you want this bow, order it ASAP as PSE rang in the New Year with 2,000 already on back order. (MSRP: $1,499) Also unveiled are new features and a new look for the 370-fps Full Throttle, the addition of titanium hardware to the Dream Season Decree and Decree HD, and the  new Inertia that offers Pro-Series performance at a lower price. Measuring 31.25 inches, it launches arrows at 348 fps while delivering a smooth draw, a solid back wall and a 6-inch brace height. Draw lengths and weights are 24.5-30 inches and 50-70 pounds, respectively. (MSRP: $799). The best "arrow bang" for the Pro-Series buck is the new, smooth, 336-fps Drive R with a 6.75-inch brace height, 75 percent let-off and draw-length adjustability of 25-30.5 inches. (MSRP: $499.99). Long-draw Pro Series fans can check out the Beast EXT in lengths of 28-33 inches and weights of 60-80 pounds. (MSRP: $999). New in the Mainline Bow lineup is the Brute Force—a name that certainly inspires confidence—sporting Madness Hybrid Cam technology at 332 fps with a 7-inch brace height. (MSRP: $449).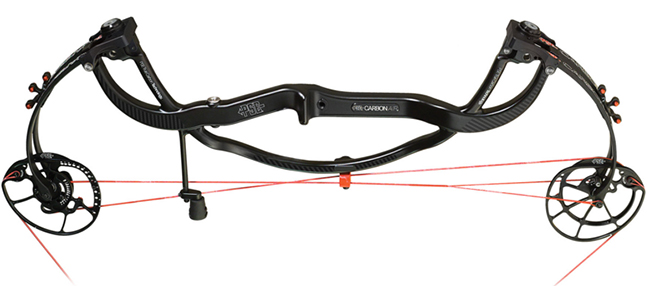 Xpedition
Xpedition turns the heads of single-cam hunters with a smooth operator titled the Xception. An "Xception to the rule,"the bow's "no-compromise" design means it offers performance, tuning ease and an easy draw cycle, thanks to the new 3-piece XP-1 cam that is a clear testament to Xpedition's aerospace engineering background. The cam's limb stop enables a solid back wall and precise draw-length adjustment—with no impact on performance or shot consistency. Measuring just over 32 inches between axles, the 328-fps bow has a 7.25-inch brace height with modular draw length adjustments from 26.5-31 inches—without needing a bow press—draw weights from 45-70 pounds and 80 percent let-off. The riser is available in three finishes with four options for the.limbs. (MSRP: $1049).