by
posted on December 10, 2022
Support NRA American Hunter
DONATE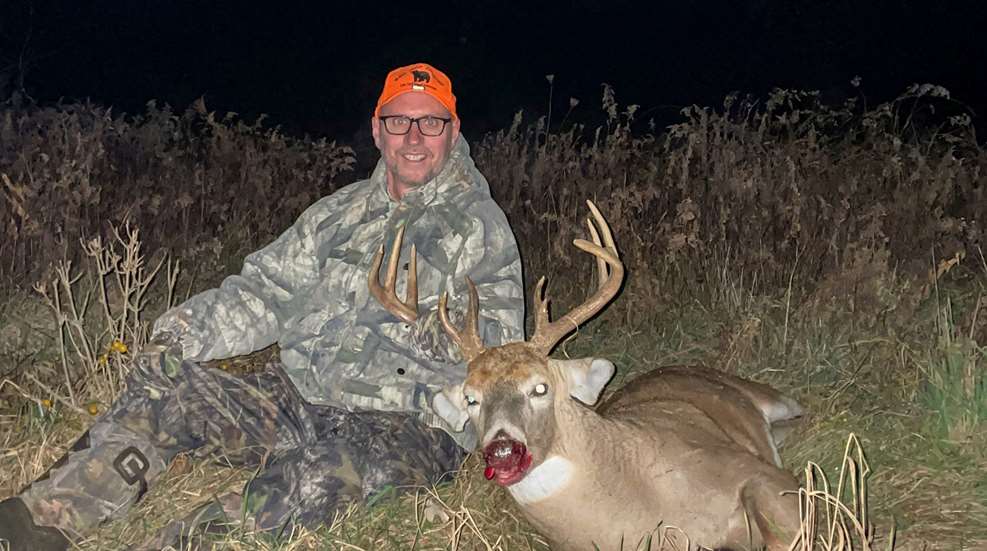 My Michigan man-card reads southern boy. Let me explain: I live in the southern region of the Lower Peninsula. The Great Lake State is full of historic hunting lore about "hunting up north," but in modern times the state's biggest bucks live in the southern third of the mitten—what the Michigan Department of Natural Resources refers to as Zone 3, the limited firearm zone. I live in this region, and for most of my life it was a limited-firearms "shotgun only" zone.
I became quite proficient with my 12-gauge Remington 1100, equipped with a rifled barrel. Shooting Lightfield sabot slugs, my gun was highly accurate out to 120 yards. On one pre-hunt day on the range, I was able to cover up my three-shot group with my thumb. For a shotgun, it was a tack driver.
In 2014, Michigan changed its regulations to allow straight-walled cartridges .35-caliber or larger. Most friends and family purchased 450 Bushmasters and immediately made the change. I held out because I already had a highly accurate gun. Besides, who shoots beyond 120 yards in southern Michigan?
In 2020, my brother Jeff shot a 150-class buck at a distance of 220 yards with his 450 Bushmaster while hunting from an elevated blind overlooking a large marsh. I realized if I was sitting in that stand with my 12-gauge shotgun I would not have had the capability to take that deer, and shot opportunities at bucks of that size are too rare to not be adequately equipped. The rifle was literally a game changer.
At this point in time, the 350 Legend was becoming popular, and after much research I determined I couldn't go wrong with either the 350 or the 450, so I picked the gun with less recoil. I was really impressed that the zero on the 350 Legend was the same at 50 yards as it was at 150 yards. Range time proved this to be true.
On Nov. 19, 2021, I was hunting on property that I purchased in 1997. I was in one of my favorite deer stands that carried a lot of big buck history. This stand is 20 yards off a creek, facing west, and provides a spectacular view of a natural funnel deer like to use when traversing north to south or vice versa.
As I sat waiting for the deer to start moving, my mind quickly recalled a wide 9-point that I took after watching it court a doe for over an hour. Then there was the late-morning hunt when I sat in a snowstorm until a wide 8-point appeared along the creek 115 yards to the north. The Remington 12-gauge proved lethal that day, and I was rewarded with "one for the wall." Then there was the 10-pointer that slowly followed a doe from the south, eventually giving me an 80-yard shot as it walked tight against a stand of spruces I had planted the year I bought the property.
But all of those bucks were shot with a shotgun and now I was sitting with an unproven rifle. After all, this country boy had survived by being "raised on shotgun."
At 5 p.m. I saw my first deer. A doe and her fawn stepped out of a thick piece of cover that I'd named "the sanctuary." They were only 50 yards away, surveying the landscape for danger. Eventually the mother deer slowly led her offspring to the creek for a drink. Suddenly, the deer lifted their heads to survey the area they had just left.
Sure enough, another deer was exiting the sanctuary on the same trail the other two had taken. This deer lifted its head and I could clearly see a tall, thick rack sporting many points. He then turned his head towards the does and stepped in their direction. At that point I said to myself, "This is going to happen."
When the big buck cleared the brush, he was quartering towards me, and I lined up my sights and pulled the trigger. The bullet slammed into him. He lurched forward, and before I could work the bolt to chamber another round he stumbled and fell to the ground.
Recovery revealed a handsome 10-point buck shot through the heart. The Savage 350 Legend had delivered. The rifle will accompany me on my next deer hunt and very possibly my next bear hunt. I may have been "raised on shotgun," but I am now a southern Michigan rifleman! 
---
Do you have an exciting, unusual or humorous hunting experience to share? 
Send your story (800 words or less) to [email protected] or to American Hunter, Dept. MH, 11250 Waples Mill Road, Fairfax, VA, 22030-9400. Please include your NRA ID number. Good quality photos are welcome. Make sure you have permission to use the material. Authors will not be paid, and manuscripts and photos will not be returned. All material becomes the property of NRA.