by
posted on May 14, 2022
Support NRA American Hunter
DONATE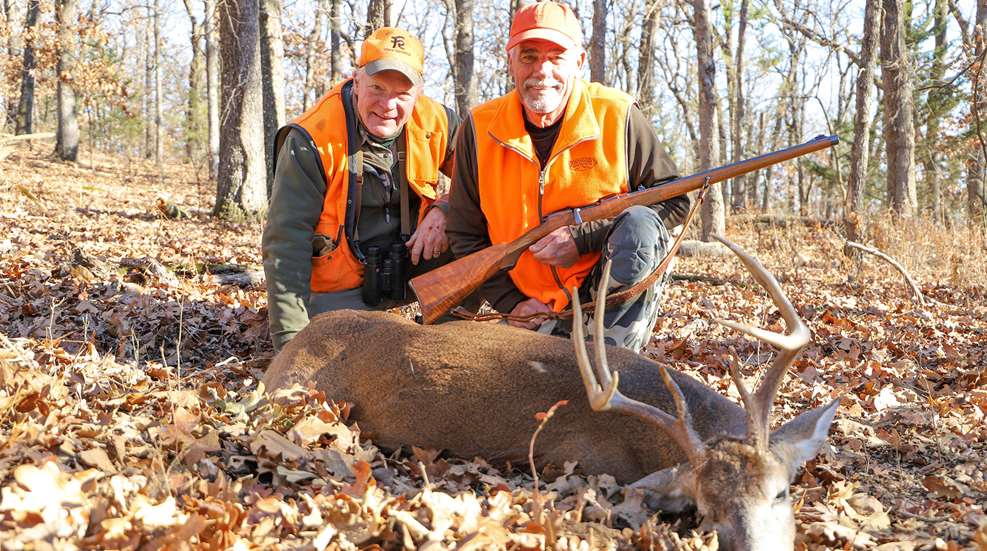 By Timothy Baugh, Bridgeport, Calif.
A couple of years ago, I accidently discovered an opportunity to hunt whitetail deer in Kansas with the noted writer and celebrated hunter Craig Boddington. He had joined resources with a neighbor to be able to offer a whitetail hunt to the public on a first come, first served basis. It took a couple of years, but luckily a spot became available for last year's fall hunt.
Five other hunters arrived the seventh day of December raring to go and excited about being able to spend time with Craig. The hunt began by checking rifle zeros. Our group of hunters brought some interesting rifles ranging from custom to unusual and chambered in calibers not so much the over-the-counter variety. I brought my dad's open sighted Model 1903 Mannlicher-Schoenauer deer rifle in 6.5x54. And although it is old, it can hardly be described as such since it is in pristine condition, reliable and accurate. Everyone proved to be a good shot and with barrels fouled, the stage was set for a great hunt. Generally, stand hunting was new to me except for one other whitetail hunt in Montana a couple of years ago.
After spending a day in an elevated box blind, Craig encouraged me to sit in a ladder stand he had selected based on the best opportunity for a close shot. Although I had brought along a scoped rifle, it seemed he wanted me to be successful with my dad's Mannlicher about as much as I wanted to be. It was my third day in the stand, but I was up for it and certainly had become familiar with the close encounters it had offered. The stand was nestled inconspicuously at the edge of tall oaks and a few cedars where a hunter could see and possibly shoot out to about 50 yards if everything went his way.
I was in the stand and comfortably quiet about an hour before shooting light. With my rifle ready and in hand, I watched the beautiful sunrise unfold. The entertainment began with birds awakening and chirping their good mornings while the red squirrels started running up and down tree trunks, jumping from branch to branch and across dried leaves adding to the sounds of a new day. It was about 8 a.m. when from behind me in the thick forest of trees I heard the distinct sound of an animal walking on leaves. I figured it was a deer and close, so I tried to sneak a peek behind me very slowly. I'm not sure what happened, but with a ruckus of noise in the leaves, a series of powerful blows came in succession. The deer had winded or seen something he didn't like and was probably trying to get a clear scent that would warn him. Then, in the stillness of the morning, the deer took off through the trees behind and away from me. The sober realization of a blown opportunity encompassed the moment, so I just sat there in a funk hoping for another chance.
Not 10 minutes passed when all of a sudden, the rambunctious sound of a deer heading my way from higher up the ridge gave me hope. I still didn't know whether I was dealing with a buck, but aggressive behavior and wishful thinking said it was. He was coming fast and making all of the right moves to give me a look and a shot. When an image appeared in my peripheral vision, I carefully took a secretive look through the tree branches and got a peek at mature deer antlers. At that point, I carefully released the safety then set the rear trigger, which was something I'd never had to do before. I had a small, open window below and all the buck had to do was take a step forward. He didn't disappoint and made the move I'd hoped for. With no hesitation, I touched the front trigger ever so gently when the sight picture was right.
Utter surprise slapped me in the face when the buck took off seemingly unscathed. I couldn't believe I had missed, but convinced that I had, I threw up the binocular and followed the buck on his course through the woods. About 80 yards he traveled with his flag up and prancing as he went, then, just seconds later, he listed to the side and rolled over dead on the ground.
I will not lie, it was an emotional ending to a great whitetail hunt for a man who wanted to walk in the footsteps of his dad just one more time—all orchestrated by one of the best hunters this country has ever known. 
---
Do you have an exciting, unusual or humorous hunting experience to share? 
Send your story (800 words or less) to [email protected] or to American Hunter, Dept. MH, 11250 Waples Mill Road, Fairfax, VA. 22030-9400. Please include your NRA ID number. Good quality photos are welcome. Make sure you have permission to use the material. Authors will not be paid, and manuscripts and photos will not be returned. All material becomes the property of NRA.