Support NRA American Hunter
DONATE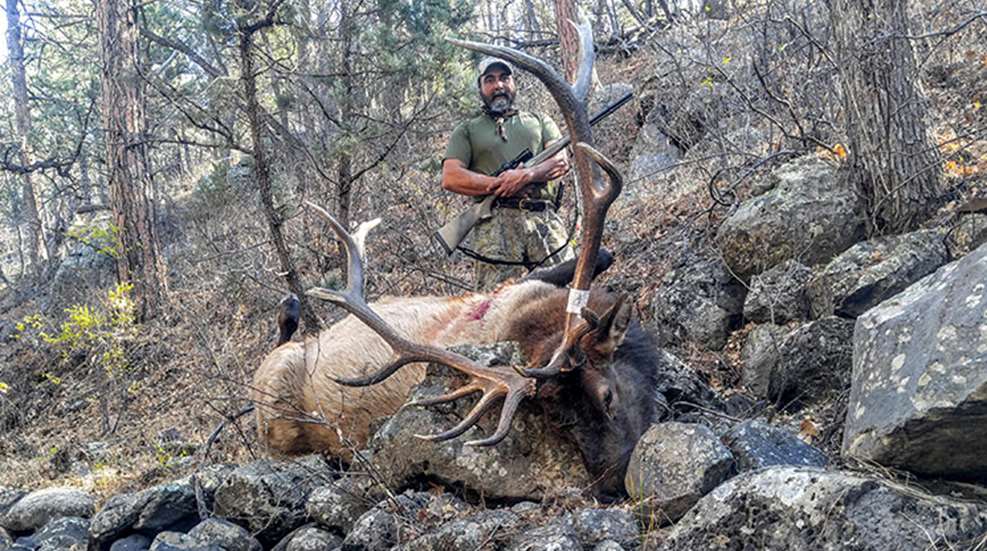 By Ruben Conde Jr., Wellton, Ariz.
It was mid-November and I'd been planning our 2017 Arizona muzzleloader elk hunt since May. My wife had been sick for more than a week, and now it was looking like she wouldn't make it on the trip.
"You two all packed up and ready to go?" my dad asked over the phone.
"I am," I said. "But Wendy's still sick."
"Oh," he replied. "So, you're going alone? Have a good trip."
Thirty minutes later, my phone rang again.
"Hey, I'd like to go with you if you don't mind," my dad stated. I was relieved! I anticipated he'd be a big help, since he has been hunting elk since the 1970s.
November rolled around, and on opening day, the thermometer read minus 1. I'd taken five bulls from this unit since 2005, four of them with a muzzleloader. We always found elk sign. I don't mind spending a few days "ground truthing" the sign myself. I'm old school that way.
"Have any rain gear?" my dad asked as we were waiting for it to get light enough to start into the woods.
"Yeah," I said, pointing at the Ranger.
"Taking it with you?" he inquired.
"No, why? It's not going to rain," I replied. I checked the forecast. No rain was going to be here for a week. My dad isn't into weather apps and such. He takes a look at the sky and makes an educated guess. That's his old-school quirk.
Around 7:30 a.m., an elk quartered toward me about 100 yards out, and that's when a small 4x4 stepped into the clearing I was standing in! I stood frozen as he stopped and realized I was something. After several seconds, the bull continued on. Then a second elk, a spike, stepped out. He stopped at 50 yards and stared at me a few moments. Satisfied in his assumption that I was harmless, he, too, went on his way.
At 8:30 it started raining. The rest of the morning, I was forced to hunt from one juniper tree to the next, trying to keep my powder dry. Note to self: Dad apparently has better instincts than my weather app!
About 2:30 p.m., the rains finally let up, and I didn't hear a word along the lines of, "I told you so …" from my dad.
The next day only turned up 11 coyotes. After I met up with Dad once more, he told me he glassed up a large bull on a nearby knoll. We drove to a good vantage point and continued to glass, but to no avail.
On the third day of the hunt, I was on a mountain overlooking a small canyon. It was dark and full of beds. I slowly worked down to the canyon's edge and back while I looked under each tree for telltale signs of an ear flicking or sunlight glinting off an antler tine. My third trip to the edge of the canyon proved fruitful. There he was, barely 60 yards below me, facing down the canyon. I raised my .50-caliber Remington 700ML, aimed a few inches forward on his left shoulder and squeezed.
Through the white cloud of smoke, I saw the bull bolt forward. He looked back toward me and then toppled over. Now I had time to get the shakes. As I looked down this little canyon, I realized how rugged it was, narrow and paved with boulders. I worked my way down to the bull and found he was a fine 6x7.
"I've got a bull down!" I exclaimed over the radio to my dad. It was 1:30 p.m.
As I watched my dad hike up the canyon, I realized this 79-year-old man was tough, but I couldn't see him helping pack this bull out. It was going to be a long day!
By 5 p.m. we had quartered and boned out the bull, and hung the pieces in a giant oak. My dad helped where and when he could, but he mostly offered moral support.
"You know I'm not going to be able to help you pack any of this out, right?" he asked.
"I know," I said.
It took seven trips out of the small canyon to pack out all the pieces. Loading the last piece in the Ranger, my dad looked at me.
"I can't believe you packed all that out," he said. "You're the man!" I couldn't remember ever getting a compliment like that from him in my 52 years.
"So how many does this make for you?" my dad asked on the drive home.
"Six for six," I said proudly.
"How about me?" he asked.
"Three for four," I said.
"Oh, thought it was more," he replied.
There's always next year, I thought to myself. Hopefully, I'll go seven for seven.
Do you have an exciting, unusual or humorous hunting experience to share? 
Send your story (800 words or less) to [email protected] or to American Hunter, Dept. MH, 11250 Waples Mill Road, Fairfax, VA. 22030-9400. Please include your NRA ID number. Good quality photos are welcome. Make sure you have permission to use the material. Authors will not be paid, and manuscripts and photos will not be returned. All material becomes the property of NRA.