Support NRA American Hunter
DONATE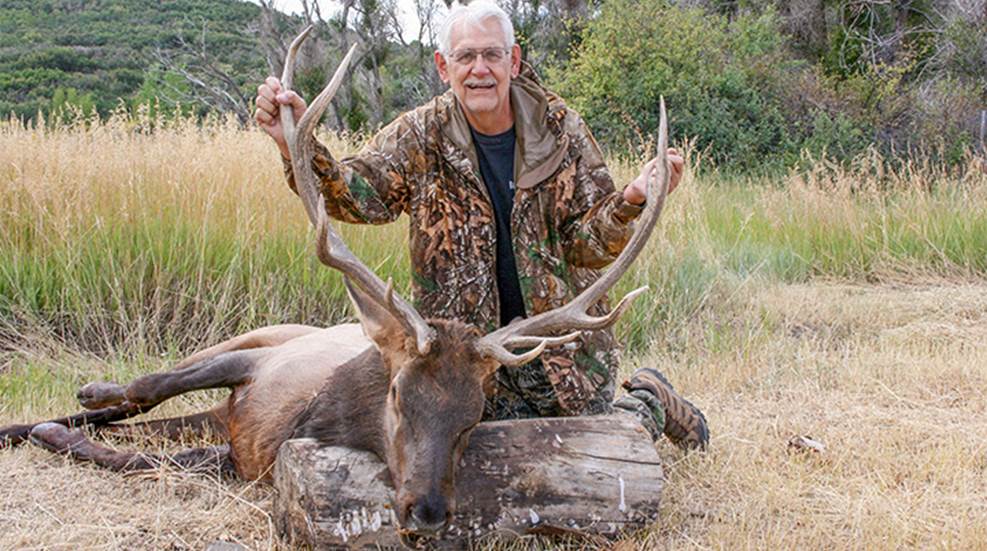 By Eric Pettine, Windsor, Colo.
At 78 years of age, cancer has pretty much taken away my ability to climb mountains in search of elk. Don't feel sorry for me, I have killed plenty of elk, mostly cows for the good eating. The good Lord has allowed me more than a charmed life. I have a wonderful family with great kids, grandkids and great grandkids and I have fly fished (my main sport) all over the world, sometimes in places I never dreamed I would go.
My youngest son, Stefan, and I decided to do something we had never done before. We planned to go on a guided elk hunt. I work for the International Sportsmen's Expositions telling fly-fishing tales and doing fly tying demonstrations. In my spare time I began to canvas the floor, down in Denver, looking for a suitable elk-hunting outfit. QRS Outfitters out of Meeker, Colo., was particularly attractive, and they thought an early season muzzleloader hunt would fit the bill for what we were looking for, so we booked our hunt.
Neither of us has owned a muzzleloader, nor had we ever fired one. Not to be deterred, we purchased our guns.
On the appointed day, we arrived in Meeker and were directed to the lodge. The next morning we set out to hunt out of separate blinds for bull elk. While traveling to his blind, Stefan and his guide spotted a large 6-point bull, and with a little cow calling Stefan shot his bull barely an hour into his hunt. They had not even reached their blind! Like a lot of fathers, I get more excited about the success of my children than my own success. I couldn't believe the size of Stefan's bull, a great mossy-horned animal.
I spent the day in my blind and saw only a few cows. At dinner that night our outfitter said to Stefan and me: "Be ready to go tomorrow at 5 a.m." The next morning we were sitting in a blind overlooking a small pond. I sat there from 5 a.m. until just about dusk. We saw a few deer but no elk. I have hunted long enough to know that hunting requires unlimited patience. I have always been an outdoor guy, and I felt content to just be out in the mountains again.
Quentin, our outfitter, was with us part of the time. He came back in the late afternoon and said: "When the elk come in to the pond they will be running."
In a short time a herd of cows and calves charged into the pond with two of the cows rearing up and fighting. It was like a National Geographic program. Last came the bull, and he was closest to me, and facing me with his head down drinking. I thought of waiting until I got a side shot, but experience told me waiting might be a fool's errand as anything could spook the elk out of the pond. With his head down, I tried a shot into his spine where his shoulders and neck meet.  The elk turned and ran out of the pond. Quentin charged out of the blind yelling: "Reload, reload, reload!" I had no idea I would have to reload on the run. The bull stopped on the edge of a steep hill and Quentin said: "170 yards." I had practiced at 100 yards but had no idea what the gun would do at 170 yards. But I tried a shot. Unfortunately, the shot was too low to kill the bull.
---
Quentin charged out of the blind yelling: "Reload, reload, reload!" I had no idea I would have to reload on the run.
---
The bull went up a very steep hill and went into heavy scrub oak. I knew I could not climb the hill very quickly, so I gave my gun to my son and told him to go finish off that bull. Stefan and Quentin set out and I saw them go into a scrub oak tunnel … and then Stefan and Quentin came running out of the tunnel with the bull just behind them! Quentin threw his $1,000 binocular downhill figuring they would be less damaged than in a fight with the bull. Before he could reach them, the bull caught its horns on a tree and fell over dead. Stefan and Quentin were a little white-faced but I was thrilled to get my bull.
Surprisingly, those old bull elk were great eating. We were sorry we made most of the meat into hamburgers. 
---
Do you have an exciting, unusual or humorous hunting experience to share? 
Send your story (800 words or less) to [email protected] or to American Hunter, Dept. MH, 11250 Waples Mill Road, Fairfax, VA. 22030-9400. Please include your NRA ID number. Good quality photos are welcome. Make sure you have permission to use the material. Authors will not be paid, and manuscripts and photos will not be returned. All material becomes the property of NRA.