Support NRA American Hunter
DONATE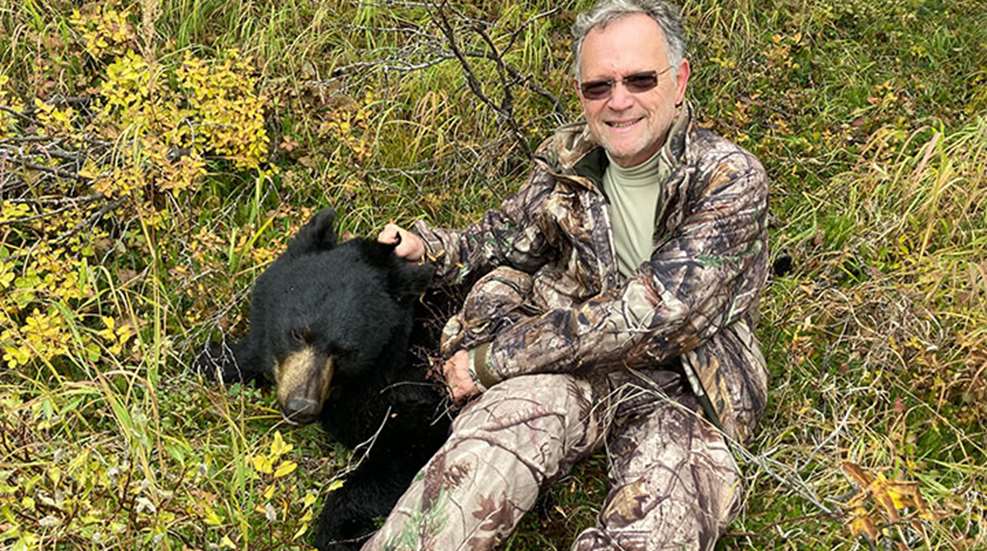 By Conrado E. Navarro, Cibolo, Texas
I've been hunting for 18 years, having had a late start. With an existing love for the outdoors and wildlife, when I started hunting it was love at first try. My hunting resumé consists mainly of deer in Texas, but I've always wanted to hunt something that bites back. So, about 10 years ago, I went on a Lower 48 bear hunt, but the only bear I saw was a sow with a cub. My hunt ended without a bear. Having served in the military for 40 years with four deployments, taking time out for extended hunts was always difficult for me. Needless to say, my dream of a successful bear hunt never came to fruition, until now.
My son-in-law, who recently moved to Alaska, asked me if I wanted to hunt there and if so, what animal. I immediately said, "Yes. Bear!" This would not be just any bear hunt. It was going to be a four-day, self-guided black bear hunt in the Talkeetna area mountains. We flew in to camp in a Cessna 185 and landed on a grassy "runway." Each of us had a black bear and wolf tag (both animals bite back). The base camp, High Lake Lodge, is a picturesque camp adjacent to a pristine lake.
The staff said, "When you're out there, be bear aware." Taking that advice to heart, off we went the next day to the surrounding mountains to glass and find a bear. The terrain was spongy and there were rocks, brush, trees and waterways which we had to navigate as we stalked. This made the hunt both challenging and exciting. Knowing we were on a self-guided hunt in bear country, my son-in-law graciously said, "The first bear is yours. Besides, I have to make sure I bring you back alive to your daughter with a bear."
I was happy to have him there! After glassing for what seemed only minutes we spotted our first bear high on a mountainside eating blueberries. During our four days we saw multiple "black spots" in the mountains moving side-to-side.  This area was full of black bears and wild blueberries.
It was time to go after our first bear. We carefully steered ourselves through the natural obstacles as quietly as possible—and ate wild blueberries on our way. Bears have good taste! We lost sight of the bear, found him again and got within 273 yards according to our rangefinder. My son-in-law asked me if I wanted to get closer, and I said, "Yes." Big mistake! The minute we got up to try our luck at silently stalking through the brush the bear heard us and immediately disappeared up the mountain. Bears are fast. Be bear aware!
Day one was over with no bear, and we hiked back to camp. The landscape was the same everywhere we looked and we never found our way back the same way we went out (next year I'm not forgetting my GPS). To make things more difficult, my right boot came apart on the way back. I informed my son-in-law of my dilemma in the hopes that he would slow down, but no such luck. He simply said, "Yes, I know, I can hear it." Apparently he and bears have the same keen sense of hearing.
The second day started early, and after another mouthwatering and generous breakfast by Michelle, camp owner and chef, off we were again to the mountains to glass. We saw a bear on a ridgeline off to our left and started our careful ascent to the ridge. On our way up we lost sight of the bear, so we decided to make the hike to the next ridge. No bear. One more ridge and still no bear. We started to glass again and there he was! He was on the first ridge feasting on a breakfast of blueberries. We started our descent and, as usual, we lost and found him again and again. Once we finally spotted him within range, I settled into a comfortable sitting position. It was a double-lung shot at 113 yards. The bear twirled and ran no more than 25 yards.
It took us over three hours to skin and quarter the bear and find our way back to camp. Incredibly enough, on the way back the right boot on my spare pair of boots came apart—and these were not inexpensive boots! Unfortunately, my son-in-law never got his bear, nor did we get any wolves. However, we've already booked next year's hunt. Next year he goes first. I'll make sure he comes back to my daughter alive and with a bear.
At 65, I finally achieved my dream hunt while also indulging in wild blueberries. My bear may not be a trophy bear, but it's my trophy bear.
---
Do you have an exciting, unusual or humorous hunting experience to share? 
Send your story (800 words or less) to [email protected] or to American Hunter, Dept. MH, 11250 Waples Mill Road, Fairfax, VA. 22030-9400. Please include your NRA ID number. Good quality photos are welcome. Make sure you have permission to use the material. Authors will not be paid, and manuscripts and photos will not be returned. All material becomes the property of NRA.