Support NRA American Hunter
DONATE
Alaska Air flight 143 broke through the cloud deck a bit south of Anchorage at 11:15 p.m., revealing two startling images: more than enough daylight to read by and mountain ranges like nothing I'd ever seen before. I've been privileged to see a bit of the world, but the Chugach Mountains are one heck of an impressive sight from the air.
I was landing in Alaska for the first time to hunt with my pal Bob Jewett of Top Gun Treks. Bob is a registered Alaska guide who hunts many different locations around the state. He happens to be a good friend of Doug Warren, who set up this whole affair for me; we'd be hunting at Tyonek, right on the north shore of Cook Inlet. Tyonek is native land, and Bob has a unique arrangement with the good folks there.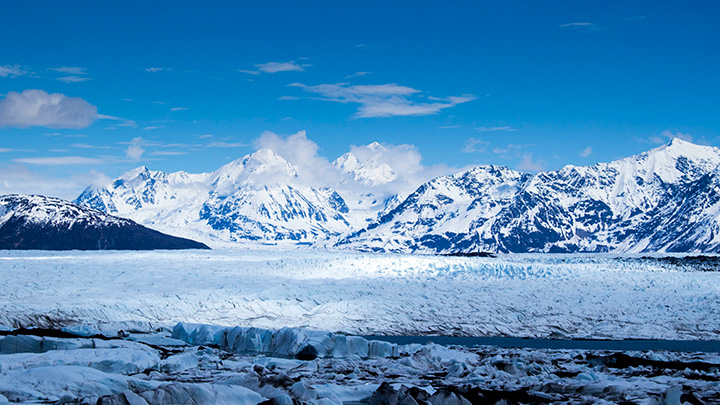 This hunt would be a rare and treasured opportunity for me. It was the last week of May 2018, and the bears were out of hibernation—in spite of some heavy late-spring snows—and they were ravenous.
Tyonek has black and brown bears—yes, the big, coastal browns—and we'd be hunting both species. But first, my wife and I had a couple of days to take in some of the sights and sounds of Alaska with some good friends. We were staying with my buddy Dan McDowell, a brilliant fishing guide better known as the "Last Frontiersman," and his wonderful girlfriend, Katy, and they drove Suzie and me around a bit to experience the area surrounding Anchorage. The Matanuska Glacier alone would prove to be worth the long trek from Upstate New York, not to mention the sighting of moose, bear, Dall sheep and mountain goats, all a short car ride from Dan's Wasilla home. The stark contrast of spring-green buds and young leaves at the lower elevations with the pristine white of the snow-covered peaks of the surrounding mountains made for one of the most idyllic settings on the planet; I was content just to sit on a roadside pull-off to soak it all in, and do my best with the camera to document it for family back home. We were later treated to the efforts of Dan's fishing experience, eating freshly caught halibut prepared as "halibut Olympia," honestly, the best fish I've ever eaten.
Parked on a Sandbar
Bob had sent a text message in the afternoon asking if my wife and I would like to take a plane ride over the Knik Glacier. Suzie's eyes lit up like a kid on Christmas morning, and before long I met Bob's assistant guide and our pilot du jour, Mr. Pat Donelson. Pat is a veteran Alaska hunter and a helluva good pilot, as we'd soon learn.
"Piper 6024 Delta, setting down on the Picnic Strip," Pat's voice crackled over the radio, notifying surrounding air-craft of our flight plan. He'd just asked us whether we'd like to get a closer look at the majestic Knik Glacier we'd flown over: "We can set it down on that sandbar just on the lake's edge if you guys are game," he said. Soon, the balloon tires of the Piper Cub made the signature scratching sound as we landed.
We were positioned on the edge of the glacier. The remnants of the calved icebergs washed up on the shore, making for as foreign a landscape as I'd ever seen. There are few times where this author is at a loss for words, but this was certainly one of them. We sat for a while, just soaking it all in. Donelson broke the silence: "I never tire of this place, or this view."
I completely understand why. We had spotted numerous black bears, sheep and moose from the air, and in spite of my terrible fear of flying it was one of the most wonderful experiences of my life. In the same way that recorded sound cannot adequately reproduce a lion's roar or a turkey's gobble, photographs cannot capture the majesty of the Matanuska and Knik glaciers, and the river valleys that are their homes.
On to Bear Camp
Tyonek residents refer to themselves as the Tebughna, which translates to the "Beach People." They are a close-knit community, and friendly. The terrain around Tyonek is a series of low, rolling hills, with river courses making their way to Cook Inlet, covered in a mixture of evergreens, alders, cottonwoods and the low-growing willow all interspersed with the lovely devil's club. It was reminiscent of the vegetation of my native Catskills and Adirondacks, with the damp, moldy smell of rotting logs and vegetation, mixed with the fresh smell of new leaves and grasses.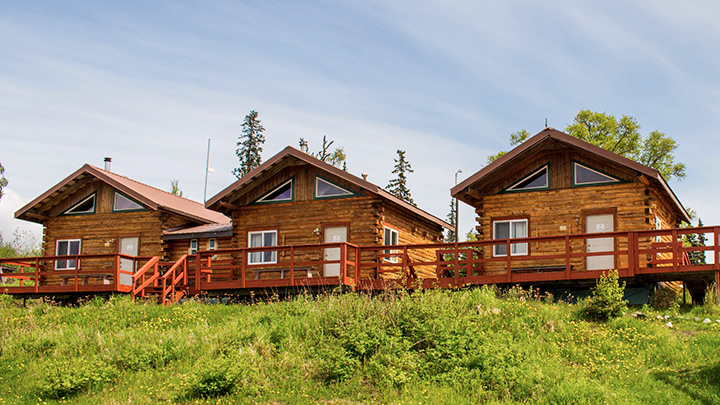 Bob drove us to Tyonek Lodge, a series of rustic cabins set on the south edge of a picturesque lake with a stellar view of the Alaska Range. Equipped with hot and cold running water, flush toilets and electric lighting, the knotty-pine-finished cabins make any hunter feel at home. There were two bedrooms on the lower floor of our cabin and a third in the loft. We all congregated in the main dining hall, with its full commercial kitchen, and made a plan for the evening hunt.
"There's a ton of activity on the stand we call 'Handicap,'" Bob informed me. Bob Jewett and Doug Warren used to host paralyzed veterans at Tyonek, and this particular stand had a wheelchair ramp to the top; we planned to sit there for the evening. When you sit on a bear bait for an "evening," you should be prepared to sit from roughly 6 p.m. until at least midnight—and it stays light enough to shoot even later than that. "We've seen both black and brown bears on that stand over the years," said Bob, "and we should plan to stay put as long as it takes."
On Stand
With brown bears in the mix, I'd decided to bring a .404 Jeffery, a Mark Bansner custom with one of his excellent synthetic stocks. I'd shoot Norma's African PH ammunition, loaded with 450-grain Woodleigh Weldcore softpoints. Bob had showed me some of the bears that had come to bait (he runs trail cameras on all of his bait stations), and we filled out the appropriate paperwork for me to use this bait station. We got comfy, and soon a marten came in to dine on the selection of dainties Bob and Pat mix up for bait. Its chattering and inquisitive nature was humorous; it bobbed and weaved around the bait, eating a bit then retiring. It was when it darted off—apparently for no reason—that the real action began. Pat uttered one monosyllabic word in a most commanding tone: "Bear."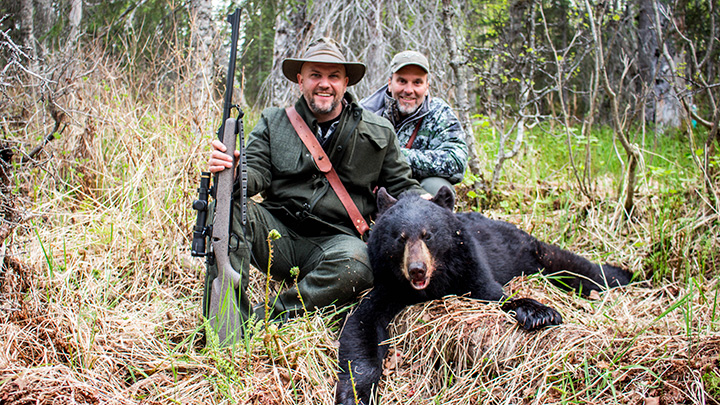 Sixty yards away, through the spruce limbs, just on the edge of vision, I saw what Pat had seen moments earlier. The dark shape was moving right-to-left, like a darker shadow among the deepening shadows, circling the bait to make sure all was right before settling to feed. With my heart rate increasing with every step, Bob extended his palm and gently lowered it, telling me to be calm. "Plenty of time," he mouthed. The black bear approached silently, in that manner that bears have, and settled down at the bait just 25 yards away. We had a thorough opportunity to evaluate this bear (I consider that to be one of the best benefits of baiting bears), and after some mouthed, silent discussion, decided this was a bear worth taking. I placed the crosshairs on the bear's vitals, and broke the Timney trigger. Just moments later, I found myself standing over a handsome boar, with a thick, luxuriant hide, with only a small rubbed patch on his shoulder. As I'm certain you can imagine, the .404 Jeffery was more than adequate for a black bear weighing just shy of 300 pounds.
We took photos and a bit of video then Bob and Pat made quick and accurate work of skinning the bear for a rug and neatly taking the meat. Bob is also a fine taxidermist; it's always a pleasure to watch someone so skilled with a knife. The man was like a surgeon—it would've taken me four times as long.
On to the Browns
With the meat and hide secured, and all the necessary tags and paperwork filled out, we could now concentrate on brown bear. Brown bears can and have been baited, but with the numerous water courses and open spaces surrounding them, we took full advantage of the opportunity to glass for them as well.
While searching for the brownies, we were afforded the opportunity to watch numerous black bears, moose, bald eagles, ravens and other Alaska wildlife, and I slowly and certainly felt a bond with the country. Here, I felt as if I had a new best friend, with no competition for affection and attention—one that filled a different void that I was unaware existed. I hadn't seen even a small percentage of the country, yet felt I understood the cry of "North to Alaska!" Its wildlife, its people, the humbling effect of a distant mountain range or magnificent glacier, the sense of being among the most grandiose of God's works—all combine to give a man who yearns for the wild places an equal feeling of insignificance and awakening. Simply put, one wishes to rise to Alaska's challenges, and to be measured against what she has to offer.
I didn't get a brown bear. Coming home with that locking tag in my possession was a disappointment, not because I didn't kill, but because I wish desperately to have the experience of being among them. When you are hunting in the alder thickets, carefully approaching a bait site, with the possibility of a dangerous encounter at close range, things get very exciting, very quickly. I love hunting dangerous game, and I learned early in my hunting career there are instances when a land leaves you wanting more for a reason. I will return to the 49th. I am eager to learn more about her, to greedily take in the vistas, and to make those memories we hunters hold most dear.