Support NRA American Hunter
DONATE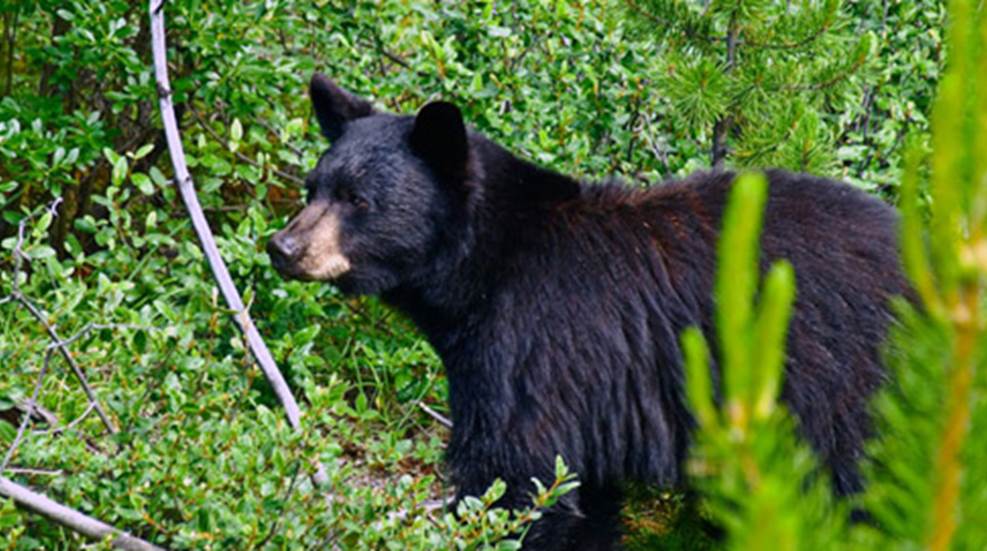 Spring black bear hunting is one of my favorite of all big-game hunts. I took my first bear back in the mid-1980s in the steep mountains of western Oregon following a pack of well-trained hounds. The hunt was run by Dave Handrich and his family, who relocated to Nevada when Oregon, for some reason that escapes me still, made hound hunting illegal. Since then I have hunted bears all over, and was, for a short time an assistant guide in Alaska helping clients kill big bears. Believe me when I tell you it is all good!
So, this spring, while I will be chasing turkeys hither and yon, I'll also be bear hunting with a couple of outfitters. Below are six outfitters with comfortable camps, good equipment and outstanding bear hunting with high success rates. And one of the cool things about spring bear hunts is they will not break the bank. All prices listed do not include any required hunting licenses and tags.
1) Don Fowler has been guiding hunters out of his home-based camp in Golden, British Columbia, for a long time. His specialties are mountain goat and elk, but he also has good hunting for mule deer and whitetails. The thing that impressed me most about this area is the abundance of big black bears. Don hunts via the spot-and-stalk method, basically driving old logging roads and glassing bears up. Both archers and riflemen do well here. Fowler also has a very few permits each year for mountain grizzly. Cost: approximately $1,850. Contact Crosshair Consulting at 925-679-9232 for more information.
2) Alaska Adventure: Supercub flyer extraordinaire Phil Byrd hunts several areas in Alaska, including Game Management Unit 16, the Brooks Range,and near King Salmon. His specialties are mountain grizzlies, coastal brown bear, caribou and Dall sheep, but he also hunts some big black bears. His Cook Inlet black bear hunts cost $2,750 and are highly successful. I like Phil so much I booked a Dall sheep/grizzly combination hunt with him for this fall. Contact Crosshair Consulting at 925-679-9232 for more information.
3) Idaho's Mountain Bears: Talk about a real-life cowboy! I elk hunted with Chris Korell of Emmett, Idaho, a few years ago and was very impressed with all aspects of the gig. Chris hunts black bears any way you want-over bait, via spot and stalk or behind his trained pack of hounds. Bear hunts are available both spring and fall. I am going to be following Korrell's hounds this May and cannot wait! Cost is $2,750. Contact Crosshair Consulting at 925-679-9232 for more information.
4) Western Canada's Color Phase Bears: Jason Lambley of Interlake Safaris lives in Fisher Branch, Manitoba, and hunts in both Manitoba and Alberta for whopper whitetails, moose, waterfowl and wolves. He does two types of baited spring black bear hunts, one based off the road system and one where you must fly in-which, of course, is a bit more expensive. His track record on really big bears is excellent for both bowhunters and riflemen. I'll be hunting in Manitoba with Jason this May. Cost is $2,700.
5) California, Utah Whoppers: Corey Kincross is a houndsman, pure and simple. He uses his dogs to catch big bears for clients during the spring in Utah and during the fall in California, where black bears weighing over 500 pounds are taken annually. He has a solid track record and his hunts are highly successful. Cost is $2,500. Contact Crosshair Consulting at 925-679-9232 for more information.
6) Quebec Magic: I have hunted at Domaine Shannon, located about four hours north of Montreal, the past two springs, taking a nice bear each time, once with my bow, and once with an old .30-'06. It's a family-run operation with excellent accommodations, good food and the guarantee that if you do not get a shot at a good bear, you come back free the next spring. Also available is outstanding fishing for walleye and northern pike. Cost is $1,995, all inclusive, plus tax and tags.