posted on November 2, 2015
Support NRA American Hunter
DONATE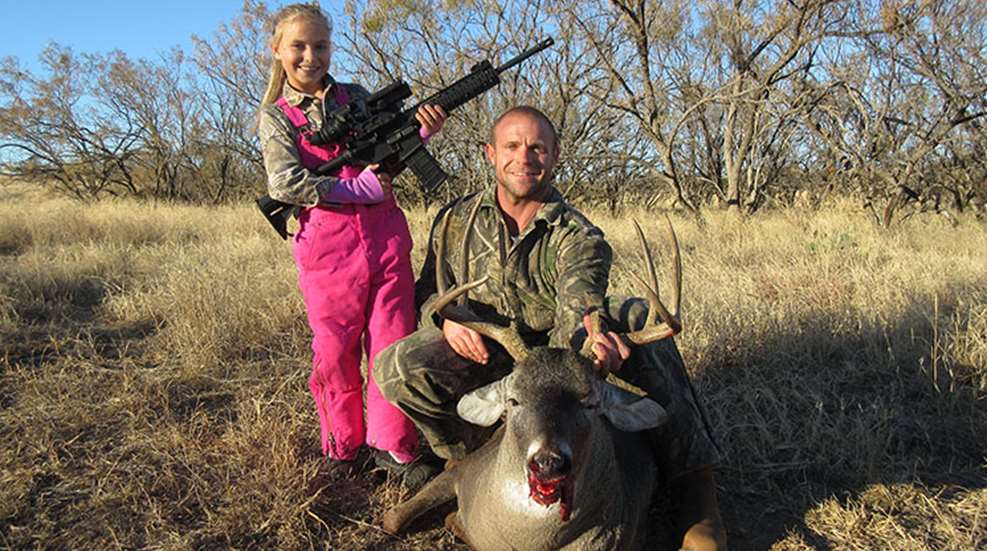 By Jason Terrell, Burnett, Texas
As the father of two daughters, one of my goals is to provide the best for my girls. Not necessarily the best clothes, the best house or the best toys, but the best memories. Children's memories shape their personality and guide them into the future. As we age we recount the story of our lives through a series of memories. My goal is to fill my daughters' memory banks with the best life has to offer. For my 10-year-old, Kylie, and I, the 2014 deer season was one we'll never forget.
My family lives on rural acreage in the Texas hill country. As the 2014 fall season arrived, Kylie began taking a keen interest in photos from the trail cameras scattered throughout our property. She began asking random questions about deer hunting and then she finally asked, "Dad, can I shoot a deer this year?"
I responded by immediately setting up a blind in the front yard.
We sat in the blind together almost every day for a month. To pass the time we had thumb wars, hosted paper-rock-scissor tournaments, played checkers and hangman on the iPhone and communicated via text message to remain in stealth mode. As the weeks passed we saw a few small 8-points and one young 10-point. Kylie may have been ready to hunt, but she wasn't ready to settle for anything less than a B&C 170-plus-class trophy. Of course, I knew she wouldn't find that in our front yard. I kept that knowledge to myself and treasured every second we spent looking in vain. Plus, I knew we'd find some big boys on the family ranch when we returned home to West Texas for Thanksgiving.
The first morning of our Thanksgiving visit with my parents, Kylie and I were in the blind by 6 a.m. We spent the next 30 minutes watching the dark silhouettes of deer grazing in the field. As the sun began to rise, a mature 8-point emerged from the tree line. He was by far the biggest buck Kylie had seen all season, and she wasted no time.
"Can I shoot him?" she asked.  
"Just be patient," I advised.  "We'll be here for several days, and he's not going anywhere.  You never know, an even bigger buck might walk out any second."  
Kylie reluctantly conceded and continued to scan the field with her binocular. About an hour later I saw him. A big-bodied buck with a massive rack was cautiously working his way out of the tree line. I kept quiet and waited for Kylie to make the discovery. Just then her gaze shifted left toward the buck. Her jaw dropped and eyes widened. She leaned forward, blinking repeatedly, while giving a fleeting headshake as to confirm what she was seeing was indeed real. She then slowly turned and looked at me with the cliché "deer in the headlights" facial expression. 
I smiled confidently and gave an affirmative head nod. "Are you ready?" I whispered.
"Not yet, Dad," she replied in panicked hesitation. "My hands are shaking. I'm breathing too fast, and I can feel my heart beating in my chest."  
I calmly reassured her that what she was feeling was quite normal. "It's okay. It's called buck fever. This is what you've been waiting for. Put the red dot just behind his shoulder like we practiced and watch him for a few minutes. Try to calm down and let me know when you're ready."  The next 30 seconds seemed like an eternity.  
"Okay, I'm ready," she finally whispered.  
"3-2-1-shoot."  
The buck buckled, attempted to flee and fell still after taking only a few steps.
"I got him!" she shouted in triumph. 
I honestly have no words to express the emotions I felt at that point. I knew with confidence we both would remember this moment forever. A memory we would carry with us for the remainder of our lives had just occurred. It was special on a level I cannot describe. 
After high-fives and hugs we sprang from the blind and raced toward her buck as she chattered with excitement. As we approached the buck her face beamed with anticipation. She was ecstatic as she straddled her trophy and struggled to lift the antlers to pose for the first picture. The deer's head and neck weighed more than she did, but I was more than happy to step in and help.
On that Thanksgiving I had one more thing to be thankful for: a father-daughter experience and a memory that will last forever. As far as Kylie's childhood memories go, it will be among the best. ah
Do you have an exciting, unusual or humorous hunting experience to share?
Send your story (800 words or less) to [email protected] or to American Hunter, Dept. MH, 11250 Waples Mill Road, Fairfax, VA. 22030-9400. Please include your NRA ID number. Good quality photos are welcome. Make sure you have permission to use the material. Authors will not be paid, and manuscripts and photos will not be returned. All material becomes the property of NRA.