by
posted on June 1, 2020
Support NRA American Hunter
DONATE
In 1982 there were 17 million hunters in the United States. In 2016, there were 11.5 million. The reasons for the decline include problems with access to hunting lands and free time, but according to one study, 56 percent of hunters say they have been confronted by anti-hunters.
A national effort is underway to reverse the decline of hunting. It's called R3, which stands for recruiting, retaining and reactivating hunters and sport shooters. R3 certainly is now part of the monthly mission of American Hunter. Individual programs sponsored by non-governmental organizations or state fish-and-game departments primarily are instructional workshops for and participation in special outings. That helps, but the average person now spends seven hours a day indoors looking at electronic screens. And the news on those screens is generally 10-17 times more negative and sensational than objective. This results in what sociologist Barry Glassner describes as The Culture of Fear, where media compete by reporting crises and catastrophes, and anxiety levels go up.
To blunt some of this negativity, we need to focus attention on positive outcomes when we find them.
For instance, while the number of hunters may be declining, since 1980 the number of U.S. archers has gone from 3 million to more than 23 million, and about 33 percent of them are women. Why? The National Archery in the Schools Program (NASP) is one very important factor. NASP currently involves more than 2 million archers in grades 4-12 in the U.S. and 11 other countries. Other youth archery programs like Junior Olympic Archery Development (JOAD) and Scholastic 3-D Archery (S3da) also help recruit and retain archers, some of which become bowhunters.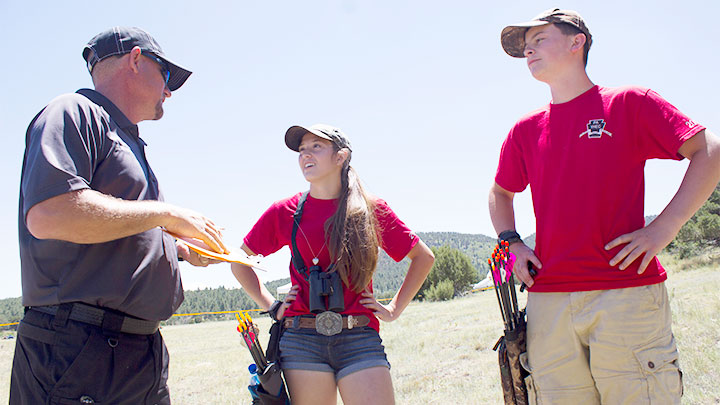 If you ask the Archery Trade Association to explain the dramatic increase in archers, the organization will say that in addition to NASP and other programs, a big boost for archery came in 1999 when actress Geena Davis became a semi-finalist for making the U.S. Olympic archery team. Davis was inspired to take up archery by watching Olympic archers on TV.
A second major media force for increasing archers occurred when "The Hunger Games," "The Lord of the Rings" and "Brave" appeared on the big screen and "Arrow" was on television. All these motion pictures and TV shows featured archers as heroes.
Mainstream media can be very powerful in influencing attitudes and behavior.
One good example is Robert Redford's motion picture "A River Runs Through It," a well-told story about a family of heroic fly-fishermen that features fabulous cinematography. A year after the film appeared in theaters there were more than 100,000 new fly-fishermen in the streams, the days spent fly-fishing doubled and the fly-fishing industry's business doubled.
What about films and TV shows featuring hunting heroes? Decades ago, "The Snows of Kilimanjaro," "Davy Crockett: King of The Wild Frontier" and "Jeremiah Johnson" showed hunters as heroes. Many media celebrities appeared on ABC's "The American Sportsman" throughout its heyday in the 1960s and '70s. But in the 1990s, only three major films were about hunter heroes: "The Ghost and The Darkness," "Dances With Wolves" and "In The Blood."
These days, mainstream movies and TV programs showing hunters as heroes are virtually non-existent. Instead, three recent feature films feature young boys accidentally shooting someone while learning to hunt: "Hunt for the Wilderpeople" (2016), "Walking Out" (2017) and, most recently, "The Legacy of a Whitetail Deer Hunter" (2018). To be fair, "Hunt for the Wilderpeople" is a heartwarming story about a foster child and his "uncle" in New Zealand that features hunting in a positive light. The boy indeed accidently shoots the man; however, the wound is not bad and in the end the pair walks off into the wilds with their guns. The other two movies are not very good at all. In any case, there is no indication in any of these movies that the boys took a hunter education course.
To counter this negativity, we need to support when we find them films and TV shows telling stories that support ethical hunting and help people see the beauty in the hunt. Supporting hunting celebs definitely helps.
Comedians who hunt include Jeff Foxworthy, Bill Engvall and Joe Rogan; among others, they openly talk about hunting. Musicians include country singer Tracy Byrd, who has fronted a "Hunting the Country" tour complete with camouflage T-shirts. His song "Pass It On," about hunters passing on hunting to their kids, could be the R3 theme song. Still other country singers who stand up for hunting on and off the stage include Aaron Tippin, Blake Shelton, Craig Morgan, Dave Watson and the Mandrel sisters, and let's not forget rockers Ted Nugent and James Hetfield. Actors include Michael Keaton, Gerald McRaney, Joe Mantegna, Tim Abell and Marshall Teague; they all have appeared on TV hunting shows. Kurt Russell has produced several celebrity elk hunts, donating the meat to the needy. Eva Longoria Parker says she learned to hunt deer, turkeys, quail and wild pigs on her family's Texas ranch.
While filming "Winter's Bone," Jennifer Lawrence learned to hunt and skin squirrels. She learned how to shoot archery to play Katniss Everdeen in "Hunger Games." Lawrence says she wants to own a ranch where she can shoot a shotgun and have a bird dog. In response to anti-hunters who decried a scene depicted in "Winter's Bone," Jennifer replied, "Screw PETA!"
Chris Pratt openly talks about shooting archery and being a passionate hunter.
Jeff Daniels has starred in and produced a hilarious feature film comedy, "Escanaba In Da Moonlight," about deer hunting Michigan's Upper Peninsula.
Celebrities behind the camera include George Butler whose documentaries include "Pumping Iron" and "The Endurance," who in 1989 produced "In The Blood," a docu-drama retracing Teddy Roosevelt's 1909 African safari with Theodore Roosevelt IV and V, and Butler's son Tyssen. With guidance from professional hunter Robin Hurt, Tyssen takes his first big-game animal, a Cape buffalo, using Roosevelt's rifle. Werner Herzog produced: "Happy People: A Year in the Taiga," about native hunters in the Arctic; "Grizzly Man," about an animal-rightist who is killed by the bears he purports to protect and claims on camera are tame (incidentally, he also succeeds in getting his camping partner and a bear killed); and "Cave of Forgotten Dreams," about a prehistoric hunting cave in France.
Hollywood follows the money—we all know this. Who knows what might happen if we support stars of the big screen and television when they produce something the hunting community likes?