by
posted on June 1, 2009
Support NRA American Hunter
DONATE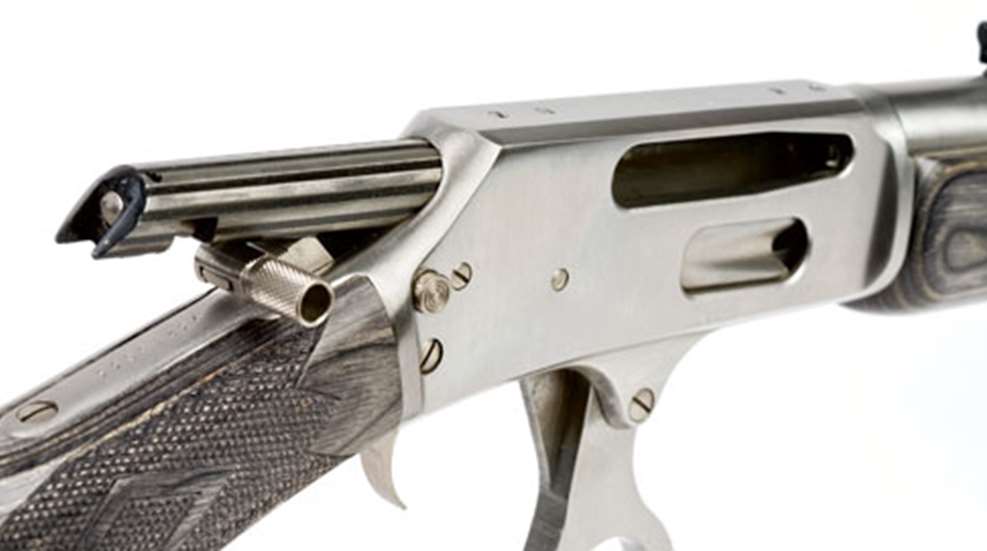 John Mahlon Marlin began manufacturing pistols in 1863. It was 1881 before he tapped into the vast market appeal of the repeating rifle that Winchester discovered a few years earlier. Marlin's version of a tubular-magazine, lever-action rifle would soon cannibalize his company's single-shot Ballard rifle and, after Colt and Winchester, become a symbol of the Wild West and those mustachioed tough guys who tamed it. But while Colt's single-action revolvers and Winchester's lever-actions rode their John Wayne images into the 20th century, Marlin went another direction with its lever-guns by churning out solid repeating rifles targeted to rank-and-file hunters. Without a doubt, Winchester's lever-actions influenced Marlin's styling, but nevertheless Marlin carved out a niche of its own from the mesquite of Texas to the piney woods of Maine. Today vintage Marlin rifles don't fetch the premium prices of Winchesters, but then again, Marlin's lever-action mill is still in business.
Marlin's latest line of lever-actions begins with an existing model number followed by the letters XLR. The LR denotes Long Range, a product of designing the rifles to fire Hornady's new Leverevolution ammunition, which, with a polymer tip that allows pointed bullets with higher ballistic coefficients to function safely in tubular magazines, increases the range of traditional lever-action rounds. The XLR's magazine follower was modified slightly to accommodate these new bullets. (The rifles also shoot other brands of ammunition just fine.)
The XLR series is offered in the following models and chamberings: 336XLR (.30-30 Win. and 35. Rem.); 444XLR (.444 Marlin); 1895XLR (.45-70 Gov't.); 1895MXLR (.450 Marlin); and .308MXLR (.308 Marlin). The .308 Marlin is a brand new cartridge co-designed and manufactured by Hornady (see page 48) that looks and behaves like the .308 Win. Why would a company create a new cartridge when one already exists? I suppose it's the same pride that causes many people to have and name children of their own.
X

LR rifles hold four or five rounds in the tubular magazine, depending on caliber. The XLR features a hammer-block safety located on the receiver and an offset hammer spur for accessing the hammer under the eyepiece of a riflescope. All models feature a 24-inch stainless steel barrel, a departure from the 336's 22-inch barrel. A scan of Marlin's website reveals that the barrels contain "Ballard-style" rifling. While the manufacturing technique used in the company's classic old single-shot rifles of the mid-19th century rings of nostalgia, the rifling itself (unlike the company's Micro-Groove rifling) represents no apparent advantage. The extra couple inches of barrel, however, certainly allow Hornady's new loads to launch with peak efficiency, helping to maximize range.
The "X" of the XLR refers to the rifle's resistance to "extreme" conditions via a stainless-steel finish and laminated-wood stock. This is not Marlin's first stainless lever-gun-a stainless 336 was introduced a few years ago-but evidently the company had enough success to warrant making more of them. Teddy Roosevelt's son, Theodore Jr., preferred lever-action guns and was a busy-body just like his father. But with such an active life, he loathed taking timeout for gun cleaning. "Altogether, there is nothing so exasperating as cleaning firearms," wrote Roosevelt Jr. "I know of one man who cared for it, and he came to a bad end." Stainless steel, despite its flashy, non-nostalgic look, allows us to carry and shoot more and worry about cleaning less. This isn't to say you shouldn't clean your stainless rifle; it just means a fit of forgetfulness after a rain shower might not cause you to cry. The rifle's stock is made of impervious grey/black laminated hardwood and is fitted with sling studs. The XLR's buttstock now carries a pistol grip, a fluted comb and an inch-thick rubber recoil pad. Sticking true to its heritage, Marlin continues to market toward the modern hunter with these new features.
On top of all the new-for-'07 features that update Marlin's old workhorse, the XLR series retains one feature that is a big reason why these guns sell-and the main reason for the success of cowboy-action shooting: Quite simply, lever-actions are fun to shoot. Who can deny the joy of working a lever-action like John Wayne in Stagecoach? If you've been shooting one shot here and there with your bolt-action magnum for the last eon, try taking a lever-gun on a pig hunt. I did recently and I'll tell you it's great fun, and effective!