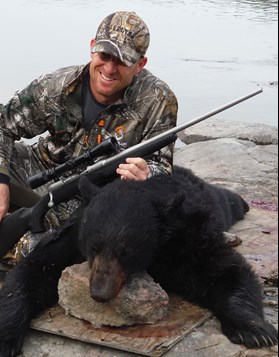 And so the sun has set on my fly-in bear hunt to Manitoba. Maybe it's not fair to say that the bears won. We did harvest four of them. They beat me, though. After no less than seven different sits in a tree stand, I remained bear-free, and had to begin my trip back to the States accepting that I'd come to Manitoba and been shutout. But, hey, that's hunting.
All in all, I'd guess I'd have to call the series a split. Four of our eight hunters were checking frozen bears alongside their baggage as we boarded our respective planes home in Winnipeg on Thursday evening. The largest that we collectively harvested belong to Kevin Jarnagin of Blue Herron Communications, pictured here. The folks at Eagle Nest Resort estimated that, in life, the boar weighed around 325 pounds. Not a bad haul for Kevin. He took his bear on Sunday evening, the second day of the hunt.
Sunday was also the only day that I'd see a bear. Just shy of 9 p.m., a below average bruin came barreling into my sights, and proceeded to hang out for about a half an hour. Given what I'd see of other bears on the trip, I'd estimate that the bear in question probably topped out in the 150-160 pound range, at most. I probably should have taken the shot. I'll regret not taking it for some time. It would have made for a very fine first bear. But on night two of a week-long hunt, it was hard to squeeze the trigger on a below-average sized bear. I got in my own head, and, as such, still have my tag. But, again, that's hunting.
I expected to see more bears as the week went on. Man, was I wrong.
As to what happened, I don't know. But after Sunday evening, the switch was flipped. Granted, we had fewer hunters entering the woods, as they tagged out. But in a cumulative 15 stand sits from Monday evening through Thursday morning, only three bears were spotted, total. Things had gone very quiet. And, naturally, the largest of those three was witnessed by a guy who wasn't allowed to shoot it. The fates were playing with us, for sure.
That said, my first blast n' cast was an amazing trip. The fishing was great, the bear hunting thrilling, the people as classy as they come.
Below were some of the tools of the trade that I put to work over the course of my stay: an Ugly Stik Elite, a Savage Arms Model 11 Hog Hunter and Federal Premium's Fusion brand ammunition. I'll have more coverage in the coming weeks.