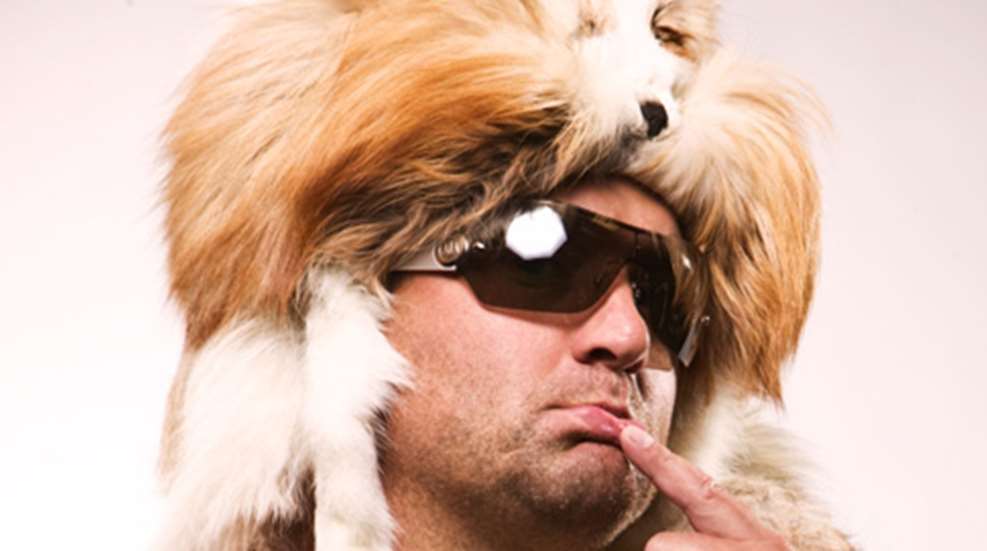 Some viewers don't understand "Jimmy Big Time," a show that has been christened as The Outdoor Channel's first comedy about hunting and fishing. They just don't get it, because they've never seen anything like it.
This scripted comedy, which debuted in 2009, is the brainchild of two brothers from Minnesota, Jeff and Jon Bergmann. It's a behind-the-scenes, fictional look at the world of outdoor television. Its sole purpose is to make people laugh.
The show is shot in a documentary style with fake filmmaker, Charles Ivenheimer (played by Jeff Bergmann), following and documenting the life and times of Jimmy "Big Time" Miller (played by Jon Bergmann) who is a self-proclaimed hunting and fishing guru. Miller believes he is the most expertly-talented, most-successful, best sportsman in the entire world.
The self-described "Father of Outdoor Television" says that if Ghandi, Mike Tyson, Mother Teresa and Abraham Lincoln had a child that was pretty good with a shotgun, that child would be—Jimmy "Big Time" Miller. He claims to be "an enigma, wrapped in a mystery and tied together with a bow of awesomeness."
Though it's known to most as a hunting spoof, there's a lot of reasons to respect "Jimmy Big Time." Creating a scripted comedy is more complex and requires a lot more creativity than filming a reality based, real-life hunting show.
It's often a struggle to get a full season completed because all of the cast members have full-time day jobs. Jeff owns and operates a marketing consulting company that works primarily within the archery and hunting industry. Jon, Chad Spokely and James Grandy are all partners in Big Time Entertainment, a television production company. They produce Rocky Mountain Elk Foundation's new show "RMEF Team Elk" on Outdoor Channel, as well as significant freelance and subcontract work.
"We are hopeful that scripted comedies will really catch on. We'd love it if more and more viewers tuned in, and more advertisers embrace this unique style of programming," Jeff said.
The group started the show for fun and laughs. Now it's going into its third season (and is backed by sponsors such as Dead Down Wind, Quest Bowhunting, G5 Outdoors, Scent-Lok and several others), and there seems to be a future in their brand of TV.
I caught up with Jeff to get an inside look at the outdoor spectacle.
J.J. Reich: How did you come up with the idea for the show?
Jeff Bergman: Both Jon and I have worked in the outdoor industry for many years. We have worked closely with, for and been in contact with numerous other outdoor personalities––most are wonderful people, but a few have huge egos. We thought it would be entertaining to amplify such a personality in a humorous way.
J.J.: How would you best describe your show?
JB: The show is a documentary-style comedy about a self-described, hunting and fishing expert. It's a comedy. So if you don't like it, relax…It's meant to be a humorous look at the making of outdoor television––nothing more, nothing less.
J.J.: What is it like making and producing this show?
JB: It's like being a kid again. We are very fortunate that our crew gets along so well. I look forward to every trip, because we laugh and joke the entire time. The days can get to be very long, and trying to come up with skits and one-liners can be difficult, but we thoroughly enjoy it.
J.J.: Do you actually hunt and fish on the show, or is the game that you get staged?
JB: We really do hunt and fish on the show, and that is what makes it difficult. Because we all love to hunt and fish, it can sometimes be hard to stop hunting and start working on the actual show. Some of the game is staged, but most of the time we are chasing game like any other show.
J.J.: When it comes to getting real game, which episode was the best?

JB: Jimmy's first ice fishing trip for walleye in Canada. We caught some big ones It was fun. (As seen on: Season 2, Episode 3—Walter Big Time.)
J.J.: What is the show's funniest moment?
JB: The first episode will always be the most memorable. After watching the clips from Jon's first interview––I was literally on the floor, in tears, laughing. We all knew we were on to something. We didn't know how far it would go, but we knew we had something.
J.J.: What is your favorite episode?
JB: I really like the one where Jimmy goes to jail. It has a great storyline that is well developed and involved. (As seen on: Season 1, Episode 3—Jail Birds.)
J.J.: Who does the stunts?
JB: We all do our own stunts. The fish house fire was a good one! That old shanty went up in flames a lot faster than we expected, it's a good thing we got it in one take. (As seen on: Season 1, Episode 4—Ice, Ice, Jimmy.)
J.J.:Is the guy who plays "Jimmy" really a jerk in real life?
JB: No. If Jon was in a room full of people, he would be the one in the corner helping to hold up the wall. He is very reserved around people he does not know. He's just a good-humored family man, like the guys you probably spend time with at deer camp. Jon loves to hunt, but he is by no means (and he does not consider himself) an expert.
J.J.: In the upcoming season, what are you most excited about?
JB: Lackey marries Tiffany Lakosky, Jimmy fights the "Heartbreak Kid", Chuck goes off and starts his own show, Lackey falls of a 70-foot rock cliff, Jimmy loses three pints of blood, Chuck almost kills Jimmy (by accident) and Jimmy zip-lines from one treestand to another…there's just too many funny happenings to be excited about!