I retired from the U.S. Navy as a chief petty officer in 2012. Retirement has given me more time to do the things I enjoy—like hunt. Ironically, hunting has enabled me to see quite a bit more patriotism, too; I have learned America will never retire from making sure its veterans know how grateful it is for the sacrifices we have made.
Trust me when I say when veterans enjoy anything we do not take it for granted.
As a hunter, I am proud to say one of the most prolific displays of gratitude for veterans occurs in the outdoor community as most states offer disabled military veterans special access to what I consider to be our greatest treasure: our natural resources. One program played a key role in making my dream and the dream of my very best friend, retired Navy chief petty officer Bart Bauer, come true. We both love to hunt, and we learned we could hunt for practically nothing in one of the greatest hunting destinations on Earth: Idaho.
Bart is a resident of Montana. I'm a resident of Virginia. Both states offer terrific hunting opportunities, and their own forms of military-related hunting discount programs, but Idaho's disabled veteran program allowed us to drive down from Bart's home in Missoula to neighboring Salmon, Idaho, to hunt black bears as nonresidents; including the license and the black bear tag, our total cost was less than the gas we burned in Bart's truck to get to Salmon. Not surprisingly, we have hunted Idaho routinely ever since.
Idaho's disabled veteran hunting program enables veterans with a VA-rated disability of 40 percent or greater special pricing on their licenses and tags for many game animals, including mule deer, elk and black bear.
I learned about Idaho's disabled-veteran program when I made a mistake online while applying for a nonresident hunting license there a few years ago as I planned my first mule deer hunt. Frustrated, I called Idaho Fish and Game and talked to Sally Rose, who, by the way, easily qualifies as the nicest and most helpful fish-and-game employee I have dealt with in my life. I told her who I was and that I was traveling across the country after I retired from the military. She asked if I had a disability rating, and since I did she taught me how to apply for eligibility for their disabled-veterans program. She saved me hundreds of dollars, which I insisted she donate to an Idaho Fish and Game youth program. We still talk to this day because she is so nice; she was the first person I emailed after finally getting my Idaho black bear.
Idaho is far from the only state to offer disabled military veterans some sort of discount or other special access to hunting and fishing. Virginia, Montana, Alabama, Texas, California, Alaska, Idaho, Ohio and New York all offer discounts to disabled veterans. In fact, nearly all states offer some sort of program either for active duty service members, retirees, disabled veterans or a combination of all of them.
For Bart and me, Idaho's program worked best because it was an easy drive from Missoula, and offered the thing we wanted most of all: color-phase black bears. The problem for us was spot-and-stalk black bear hunting is harder than it looks; we simply weren't very good at it. Still, we tried to go every year. In 2018, thanks to Idaho's veteran program, and the good folks at CZ-USA, we went from not-quite-successful DIY hunters to guided hunters with outfitter Brooks Murphy of Salmon River Lodge Resorts. Murphy is as patriotic as they come; he jumped at the chance to help two veterans live their dreams.
"I am proud to work in a state that has some respect for our veterans," said Murphy. "It's great that Idaho is able to allow for better prices allowing more of our veterans great opportunities. It opens up more affordable areas for these great Americans to get out and enjoy the American grounds and the traditions from years past."
We hunted in the wild and wonderful Frank Church-River of No Return Wilderness. I used a newly acquired CZ 557 in 6.5x55 Swede, and Bart used my CZ Safari Grade .300 H&H Mag. Both rifles wore Swarovski Z8i 1.7X-13.3X-42mm scopes, and Swarovski let us borrow binoculars as well. On top of paying the bill for the hunt, CZ-USA also sent Zach Hein, who works in the marketing department for CZ-USA. He used a CZ Ultimate Hunting Rifle (UHR) in .300 Win. Mag., also topped with a Swarovski. Zach's rifle and mine also wore CZ's new 7.62 Ti Reflex suppressors. Norma Precision donated ammunition for my 6.5x55, and Hornady donated ammunition for the .300 H&H and Zach's .300 Winchester.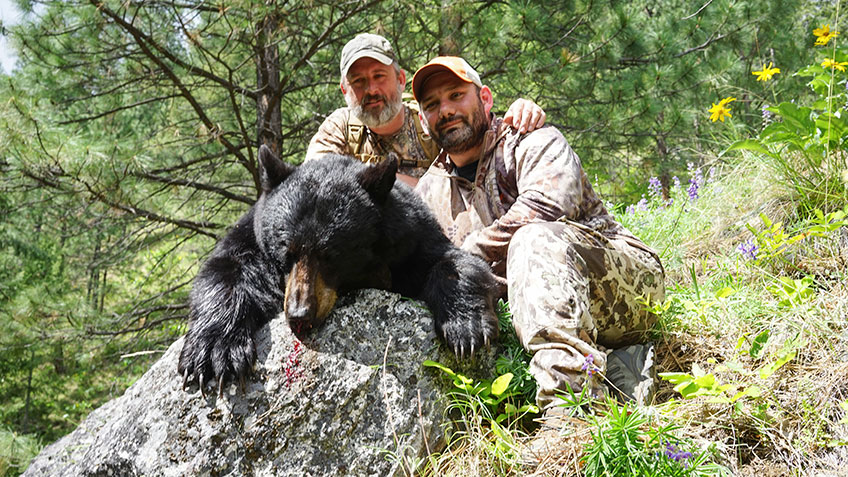 After several years trying to spot and stalk black bears on our own, watching Brooks Murphy draw in the big Idaho bruins with his clever baiting techniques looked like magic. We arrived on a Saturday afternoon, and within four hours of our first day hunting on Sunday we were skinning the first bear after I took a mature boar at 90 yards. It was my third black bear—I shot my first in Maine and another in Virginia—and my most special because I took it with my very best friend, Bart, sitting about 300 yards away from me.
Two days later, I sat next to him as he squeezed the trigger to take his first black bear 50 yards from our perch. As great as it was to take a bear in Idaho with my 6.5x55 Swede, suppressed no less, it will never compare to the feelings I had watching my best friend take his first bear. Moments later, I handed over my .300 H&H and told him to keep it. It was the least I could do to thank him for being there for me over the years. I love that rifle, which is of course why I gave it to him. I knew it was deadly on black bears before Bart ever touched it, because it was the gun I used to take my first spot-and-stalk bear in Virginia.
Bart and I each served 20 years in the Navy. We met at the military's advanced photojournalism program at Syracuse University in 2002. Since then we have lost shipmates to war, and we have made good and bad memories during tours to places where we were welcome and most certainly not welcome. We have made rank together, survived divorces and traveled the world, but no matter how far apart we may ever be we always find a way to stay close. The military ties aren't our only bond, just our strongest.
What has kept us chatting year after year is our love for hunting. Programs like Idaho's go a long way to keep that conversation going.
"As military veterans, one of the sacrifices we make is the prime years of our lives," said Bart. "We usually didn't have the time to hunt or fish while we served in the military, so now that we're retired it's great that states like Idaho make it a lot easier for us to enjoy the freedoms we served to protect by offering us discounts on hunting licenses and tags." 
Disabled American Veterans (DAV) may find new hunting adventures every year they can afford because so many states have decided DAVs should pay a little less after paying so much already. State game regulations evolve; contact your local game-and-fish department to learn whether it offers a DAV program. Here are a few states that do.
• Alabama: Resident DAV licenses: 50 percent or more disabled $13.85; 100 percent $3.10. (outdooralabama.com)
• Alaska: Resident hunting and fishing licenses free if DAV is 50 percent disabled. (adfg.alaska.gov)
• Idaho: Resident DAV license $5; deer $10.75; elk $16.50; bear $6.75; turkey $10.75. Nonresident DAV hunting license with three-day fishing license $31.75; deer $23.75; elk $39.75; bear $23.75; turkey $19.75. (idfg.idaho.gov)
• Montana: DAV fishing or fishing/general hunting license $5; deer $10.75; elk $16.50; bear $6.75; turkey $10.75. (fwp.mt.gov)
• New York: Resident DAV hunting, trapping or fishing license $5; if one license is purchased the other two are free; free bowhunting and muzzleloader hunting (general license required); preference on Deer Management Permit selection. (dec.ny.gov)
• Texas: Resident, nonresident DAV Super Combo license free; cannot be purchased online. (tpwd.texas.gov)
• Virginia: Resident DAVs may qualify for lifetime hunting and fishing licenses free of charge. (dgif.virginia.gov)