Support NRA American Hunter
DONATE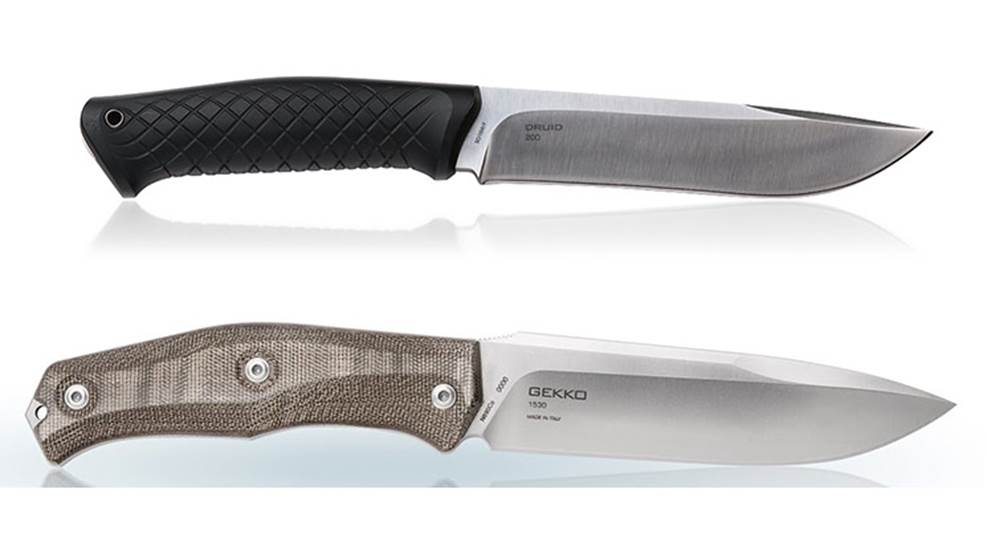 Some hunts take hours, others days or even weeks. No matter how long or how grueling a hunt may be, if you make the shot, one thing you must have to finish the job is a proper hunting knife. The folks at Steel Will think they make a few. I recently had the opportunity to review two of Steel Will's offerings from their Outdoor line with the 1530 Gekko and 200 Druid series knives.
Who is Steel Will Knives? They're the newest division of Sport Manufacturing Group, Inc. (SMG), which started with Gletcher air guns, makers of fine replica air guns and pistols. According to SMG, prior to launching Steel Will, they started an internal knife project with one of their designers and released them under the "Gletcher" brand. Happy with the results, SMG pushed forward with establishing Steel Will Knives in 2014.
"Due to our initial success and our love for knives, we decided to spin off an entirely new brand and get the resources and talent necessary to design and produce knives we could truly be proud of," SMG said.
Pride can do a lot for a hunter, but it won't quarter out an elk at 10,000 feet. For hunters, a knife is far more than a ceremonial conversation piece. It's a vital tool which must perform and may be called upon for other duties likes opening lunch, cutting line, rendering first aid or even emergency first aid. If a knife fails during its moment of truth, it's usually the victim of a hunter's most prolific anger. I'm pretty sure one Maine guide is still cursing the blade I used to carry.
I doubt Steel Will Knives will leave you feeling the same way. When I unboxed both the Gekko and Druid, the first thing I cut was a big grin—I knew I was in for a treat. The quality control in their craftsmanship was evident for both the Italian-built Gekko and the Chinese-built Druid in the presentation, fit and finish. Take note, if Asian geography provokes quality prejudice in you, the Druid may just be the knife to cure you of your woes. SMG took their design for the Druid to China, they said, to keep the knife affordable.
"The factory used to make the Druid allows for mass production of an excellent final product at reasonable prices," said SMG.
Regardless, the key to a well-made knife isn't its' zip code, but its' quality control, and according to SMG, Steel Will Knives takes quality control seriously.
"Quality control is carried out at different stages of production," SMG said. "The first control takes place in the factory where specific instruction are given for each knife model. After we receive the first batch of production models, they are closely inspected, disassembled, and undergo strength tests. When adjustment becomes necessary or if problems are found, these units are sent back to the factory to ensure this issue is remedied for the remainder of the production run. In addition, all of our knives once again undergo a quality control check at the packaging stage. They are closely examined and folding knives are tested for fluid and stable mechanical performance."
A closer look at the Druid revealed the kind of knife everyone ought to have handy because its simple, sharp blade and utilitarian handle allow it to do so many things. SMG said the Druid was designed for a wide range of users including hunters, fishermen, and campers—everyone who likes to spend time and pursue activities in nature. According to SMG, the idea behind the entire Druid series was conceived after prolonged use of numerous types of blades in various field conditions.
The heart of any knife is its blade metal, and for that Steel Will called upon 9Cr18MoV, which is one of China's higher grades of stainless steel. SMG said it chose 9Cr18MoV metal because it is very similar to 440C, meaning it is very good for large steel knives.
SMG said the Druid line of knives was designed to appeal to a wide range of outdoor users and a lot more thought went into the design of the blade than just its metal.
That said, no matter how well made a blade is, if the handle doesn't enable the user, it's not much of a tool. For the Druid series, the designers used Thermoplastic Elastomer, otherwise known as TPE. SMG said after testing multiple hand-made prototype handles, the material and textured pattern of the Druid handle was chosen due to its comfort and slip-resistance. The handle further increases control of the knife and its aesthetics compliment the shape of the knife blade. The black molded handle acts like a cross between plastic and rubber.
"TPE is a material that excels in any weather conditions," SMG said. "It is unpretentious and durable. It also absorbs vibration, which is an important factor for a knife. In addition, due to the mold casting of the TPE, we were able to enclose the full tang within the handle."
While this knife is designed to appeal to just about everyone, it still isn't at the price point of many knives we find in the box stores, and it shows. If you're in the market for a knife, which can get just about any job done, the Druid deserves a look. The final stats on the Druid 200 gives us a solid and affordable (MSRP $109.99) knife which measures nearly a foot at 11.61 inches with just over 6 inches (6.1) being dedicated to the blade and weighing just a tad more than half a pound at 9.31 oz.
The Gekko line is found in a higher rent district than the Druid series in Steel Will's neighborhood of cutting tools. SMG said the Gekko was designed for a wide demographic of end-users: hunters, anglers and outdoorsmen and women—everyone who likes to spend time in nature. "It is a knife for those who appreciate quality materials and know how to skillfully wield a cutting tool. The Gekko is a knife for more discerning buyers."
Like the utilitarian Druid, the heart of the Gekko is indeed its blade metal. Steel Will traveled north to Austria to upgrade Gekko owners by carving blades from N690CO, a stainless steel hardened to the high Rc50 range.
Connecting the user to the tool, Steel Will saw fit to equip Gekko owners with a handle made from Micarta.
Virginia's moody winter gave me ample opportunity to try the Gekko in dry, wet and even icy conditions. The knife was sharp, stayed sharp and its handle hugged my hand regardless of the weather. The knife never seemed heavy or unbalanced and while it is just over 10 inches long, it never felt as if it would be too long for detail work up and in on a deer or elk where field dressing cuts are made from feel and not sight. I think the best way to describe its feel in my hand is as instinctive.
"The Gekko's have an extremely unique design and features," said SMG. "These knives reflect our desire to create not only functional but also beautiful knives, knives with impeccable workmanship. The design of the Gekko will bring satisfaction even to an experienced user or collector, both in outdoor applications and more common day to day tasks."
Steel Will Knives is headquartered in New York and carries a wide variety of knife choices in three major categories: Tactical, Outdoor and Urban. SMG said their 2015 lineup has 61 models for just about any type of knife buyer.
Technical Specifications
Gekko Model 1530
• Steel: N690CO
• Handle Material: Micarta
• Blade Hardness: HRC 58-60
• Finish: Satin
• Sheath: Leather
• Knife Overall Length: 10.12 inches
• Blade Length: 5.12 inches
• Weight: 7.37 oz
• MSRP: $249.99
Druid Model 200
• Steel: 9Cr18MoV
• Handle Material: TPE
• Blade Hardness: HRC 58-59
• Finish: Satin
• Sheath: Leather
• Knife Overall Length: 11.61 inches
• Blade Length: 6.1 inches
• Weight: 9.31 oz
• MSRP: $109.99