by
posted on February 7, 2014
Support NRA American Hunter
DONATE
My nephew Joey turned 8 years old today and though he still doesn't meet Maryland's minimum age requirement to go hunting, that's about all he talks about—outside of football or baseball. As I walked around the SCI convention this morning, I was thinking about what I'd bring back for him when I bumped into Purdey's Nicky Valentine. She was excited to say James Purdey & Sons is celebrating its 200th anniversary this year and had just unveiled the Purdey Bicentenary Trio—a set of two commemorative shotguns and a double rifle modeled after one produced for King George VI. Unfortunately for Joey, anything marked Purdy tends to be out of my budget, but if money were no object...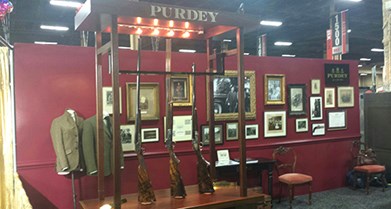 As I admired the collection at the Purdey booth, Nicky said the SCI convention attendees are the first hunters to see these beautiful guns, which debuted here yesterday—quite fitting considering the SCI motto is "First for Hunters." Each historic model represents key design, innovation and craftsmanship milestones in the company's 200-year history, features engraving representing the era in which it was made and includes the Purdey bicentenary logo and a special serial number.
"Our Bicentenary Trio is a unique set aimed at an individual collector, featuring three guns made in the modern era of Purdey gun making from the late Victorian era to modern day," said Nigel Beaumont, James Purdey & Sons chairman. "The set, cased in an exceptional commissioned gun cabinet, will be on display in our historic Long Room at Audley House in Mayfair throughout our anniversary year of 2014."
For more details, the first shotgun is the "12 bore" side-by-side game gun, which has been in continuous production since 1880 and features Purdey's self-opening Beesley action (designed by Frederick Beesley to speed up reloading time). The "20-bore" Damascus over-under gun sports Damasteel, a specialized steel that lacks impurities and is three times stronger than standard steel used for gunmaking. The gun's design was first launched in 1950 and has been progressively refined over the past 64 years. Completing the mix is the .470 Express Rifle designed in 1865. The name came from Purdy's son, "James the Younger," who named it based on the new express trains of the era that were traveling at speeds greater than anyone ever imagined.
No, Joey won't be getting a Purdey, but with countless other exhibitor booths featuring an array of great artwork and collectibles, I have no doubt I'll find something special that will make Joey smile!