Support NRA American Hunter
DONATE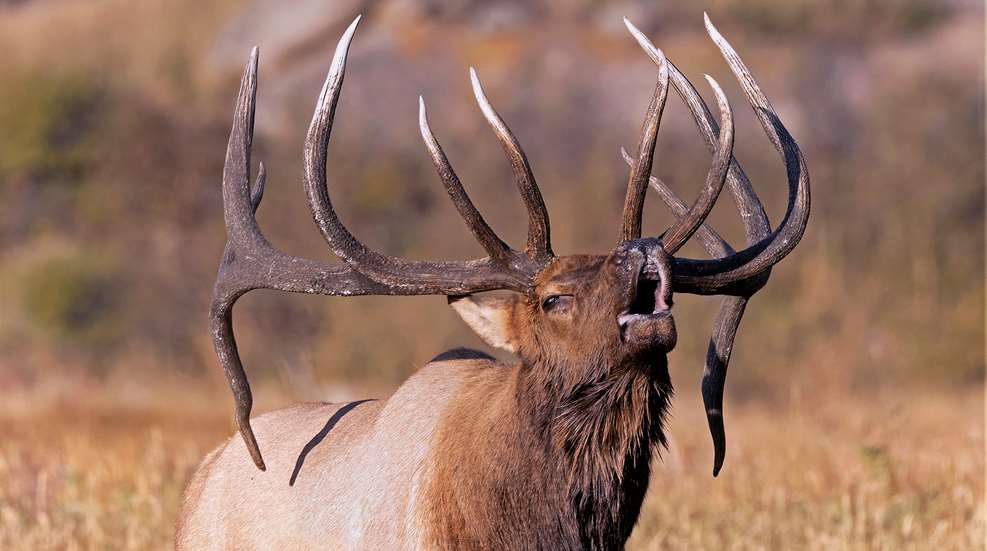 As the thick timber slowly began giving out to the peak of a ridge leading to a rocky plateau, I broke out of the steep, forested slope. Before me was a sight that although grand in Western nature, also brought on a bout of depression. How could depression even occur in the grandeur of elk country? Miles of dense forest combined with thousands of feet in steep ascents and plunging descents sprawled before me with few clues to point me in the direction of where I might find elk. Yes, it was a bit disheartening. Where do I start looking for elk with an unending glamorous postcard vision that Jackson Hole could use in a tourism advertising campaign?
With no clinical psychiatrists available to assess my depressive elk disorder, I lit up the screen on my smartphone to again search for clues on where to start looking for elk. I needed to narrow down the expansive real estate to high-probability sites with expediency as my hunting window was closing like a small business during the height of the pandemic.
Zero In
Few readings snatch my attention quicker than hunting stories of the past. One of the greats will always be Jack O'Connor. In his book The Art of Hunting Big Game in North America, O'Connor describes elk movement in this historical and retrospective manner: "Today elk are mountain animals and the weather moves them up and down. Heat will send them into the coolness of high timbered basins and sidehills. Storms will likewise push them down into timber. Heavy snow that covers food and makes getting around difficult will drive them clear down into warmer river valleys where the snow is not so deep."
Although true at the time, that natural movement and migratory characteristic is becoming less common in elk country. In some regions, traditional migrations have disappeared altogether. Using hunting knowledge passed down by your grandfather, even your father, could be as out of date as an iPhone 6 when compared to the superpowers contained in an iPhone 13 Pro Max. Times they are a changing, even in elk country.
The New Refuge System
So, what is changing? In many states, unofficial, informal and unintended refuges are being squatted on by elk herds. Game-and-fish agencies have for decades established many refuges for elk, specifically winter range set aside for herds. Elk leave the nutritional significance of high-country habitat for front-range winter homes. In my home state of Wyoming there are no less than two dozen wildlife habitat management areas scattered from border to border managed as winter refuge for wildlife, including elk. Most are closed in late fall to human presence until appropriate spring opening dates. Elk thrive there all spring and shed antler aficionados visit them when gates swing open.
These sanctuaries still accommodate high populations of big game throughout the winter, but a new refuge has sprung up across the landscape. As enthusiasts relocate to Western elk country, they not only purchase small, front-range properties to live the good life in prime wildlife habitat, but large ranches are also trading hands from the pioneer families of the past. Suburbia on the slopes, city or county parks, green zones and even golf courses appeal to elk with a tolerance for humans akin to whitetail acceptance. Elk once lived coast to coast from the forests to the prairies and into the mountains. They can live almost anywhere from the North Country to the desert and they can tolerate total absence of man or an environment thriving with humans. Visit Estes Park, Colo., and you will see what I mean; there an elk could walk past you near a local gift shop. Add in the large ranches being purchased by billionaires looking for their own mountain escape from Hollywood or all crowded compass points.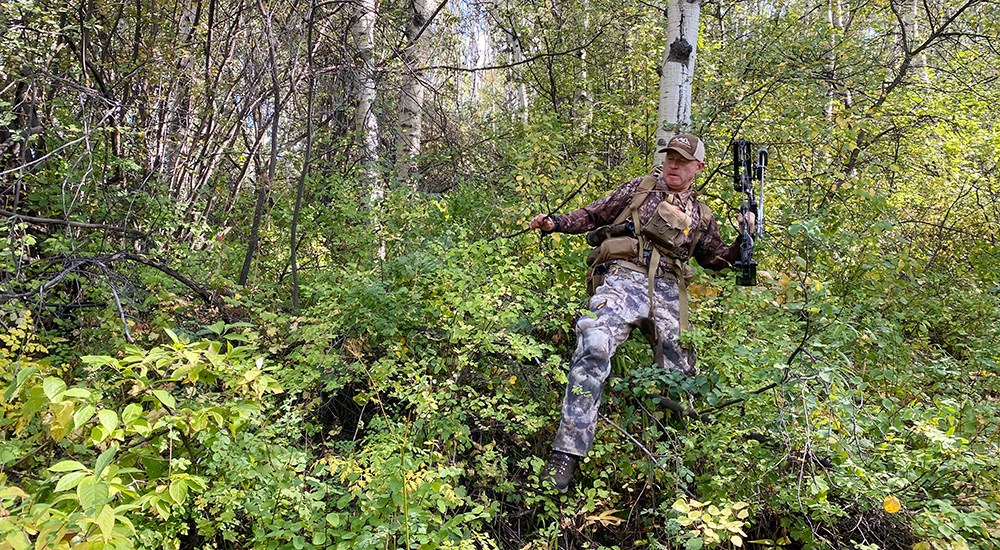 Elk no longer have to hightail it to the high country with these locked oases. These ranches were once open to hunting via a simple handshake, but outfitting leases and outright closures have created a new refuge environment with more appeal than even the government-run versions. Search online any Western state regarding elk management and you will discover a stream of articles trying to unravel how to manage over-objective elk herds on lands with closed hunting access.
Montana has been embattled in a heated debate over management as elk jog to private lands causing the state to create a new elk management plan to replace one that has been in use since 2005. Revamping and an advisory group are needed considering the dynamics of burgeoning and moving elk herds of recent years. Any great answers are yet to be determined. You will also uncover numerous studies to track these asylum-seeking elk.
In 2020, Colorado launched a five-year elk study on front-range elk movement near Denver. In an article from Colorado Outdoors, a Colorado Parks and Wildlife publication, biologist Ben Kraft, project leader, explains it further: "This project will help inform local management decisions. What we've noticed in the last couple of years is that elk are spending more time on open space and golf courses," said Kraft. "This project will help develop management strategies at both the local and herd level. Determining when and where elk occur and how many there are is the first step in mitigating some of the issues CPW and land managers and owners are currently experiencing."
He continued with strategy and a hopeful overall objective: "Trying to get them to get back into more of a natural movement and migration pattern is the primary goal." On public areas, a hunting strategy might work to return elk to a more natural pattern, but with the vast amounts of private land and landowners unwilling to grant appropriate hunting pressure, elk are not budging. Elk love the golf course lifestyle even without a golf course.
Real-World Hope
Although I paint a futile picture for hunting nonexistent elk on public lands that have vamoosed for sanctuaries, some elk have no say in the matter. They need to stay on public lands because there is no alternative. While discussing the matter with a young game warden one season, I asked him whether the elk were escaping from the higher elevations to take up refuge on private ranches in the valleys below. His straightforward answer was "no." His follow-up has been a mainstay scouting strategy of mine since.
Thinking in a logical manner, he described the elk-hunting unit as having minimal private land in the valleys below to house the large herds of elk in the mountain unit. A heavy concentration of public land scattered in the valley provided little refuge for any elk moving from the high country to find stress-free living on a private ranch. That conversation occurred years ago. I stayed in more rugged, public country during the remainder of the season to tag a mature bull that knew better than to leave guaranteed safety, except for one determined DIY hunter.
Today, whether bowhunting or rifle hunting, I scout for units with a minimal private land footprint and ample rugged, or roadless country for natural elk refuge. That sounds simple, but you oftentimes must research adjacent units to see if they hold an escape pod for elk. Another unit I hunt is totally public, but to manage elk that leave the public, wildlife officials created a separate unit for the neighboring private land. Early in September the elk stay on the public, but with the slightest hint of hunting pressure they gallop nearly a dozen miles. In less than three days you may never hear a bugle again on the public land.
Two years ago, I was hunting a Montana unit where I previously had tagged two mature 6-point bulls. I knew the area well, but I could tell the elk were changing patterns to spend more time on lower-elevation private ranches. For three consecutive days following the opener, the elk bugling and encounters were the best I ever experienced on a public-land hunt. How I did not tag a bull with oodles of elk surrounding me is still an unsolved mystery. Nevertheless, by day four the elk passed through to pile up on a ranch several miles away. Public land I had been hunting was vacant.
A week later and jumping from location to location found me on a sliver of public land bordering a large private ranch. A herd of elk sporadically moved on to the adjacent public for bedding and one morning I caught them in a bugling blowup giving me cover to move in. My bugles and another satellite kept the bull bellowing, and I was able to use terrain to move within 40 yards to put an arrow into the matriarch.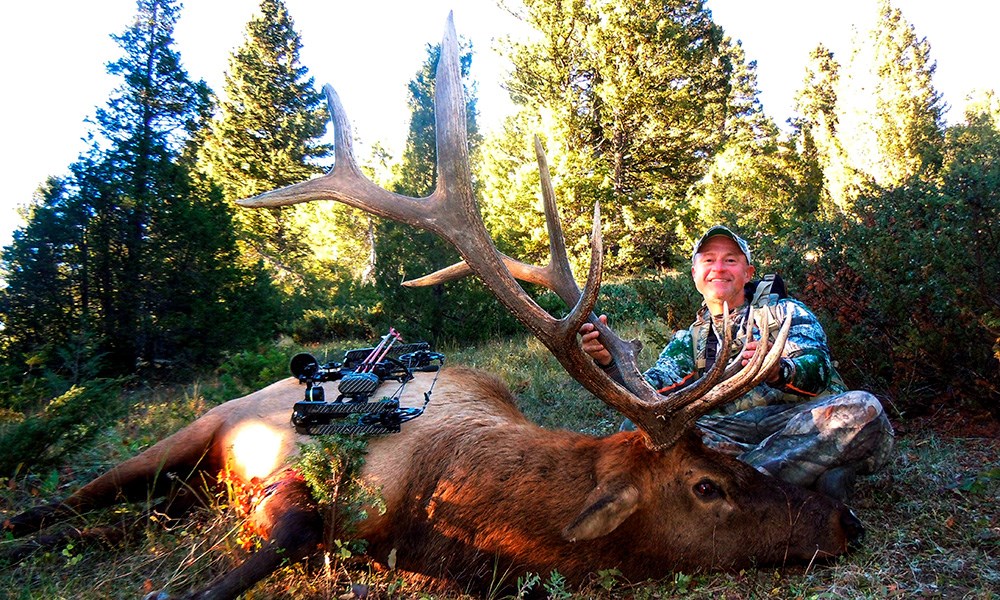 How far will elk move? That answer depends on hunting pressure, past migratory tendencies and even weather extremes. In some areas elk can migrate 100 miles, while in others they never migrate and only move for nutrition, or seclusion. In the case of elk moving due to hunting pressure, in open areas I have seen them cover 3 miles in minutes as they crossed a large canyon to effortlessly ascend to the other side and lope across a vast mesa. I have also hunted identifiable bulls and seen them more than 8 miles away the next day in the open country of eastern Montana. In brief, never underestimate the ability of an elk to cover ground as those long legs evolved with a traveling purpose. If elk choose to escape to a known refuge, make sure you are tens of miles from an easy route to any elk Club Med.
You can find elk within easy walking distance of trails in some controlled, limited units. And of course there is the inevitable and more common hunt that includes a death march into remote elk realms. In recent years, it seems that areas with hunting opportunities along designated trails have diminished. Most often when I locate elk while hunting from trailheads, I have put nearly 2 miles behind me along with 1,000 or more feet of elevation ascension.
Never say never, though. Two seasons ago my hunting partner Levi and I were speeding along a gravel National Forest Service road when a herd of cows dashed across. With a sliding stop the Dukes of Hazzard would have given a thumbs up, we immediately punched pins on our hunting apps for a morning hunt. For the next four days we were in elk with a mile hike and 1,000-foot push to reach their home. The access was not excruciating. We did not tag out in that area, but the easy access allowed us comfortable nights in camp with ample bugling during shooting light.
Conclusion
As for my previous psychiatrist musings on the open ridge, I slid onto a trail below identified with help from my HuntStand hunting app. Immediately I saw hope. Green elk droppings still shimmering in assorted piles down the path advertised that elk were ahead. Tracks confirmed the direction of the herd and I was off. That afternoon the herd gave me the slip by catapulting off a cliff-like mountain, but by day three my bugles combined with a dogged pursuit provided me with a roadmap of their typical day. Despite a tendency to feed on meadows in a lower valley, the sure bet was to meet up with them on the north slope of the mountain peak.
A couple of days later the entire herd moved from the mountain where I set up to a smaller mountain across the valley. It took me most of the morning to reposition near them when they pulled another Crazy Ivan and crossed into a vast private holding off limits to hunting.
Dejected, I sounded off with my Wapiti Whacker bugle tube. A bull sounded off below, obviously not among the escapees and soundly on public land. I slipped into a stand of stunted pines with a small window between me and the bull. Now aggravated, he responded again in heated search of my location. A minute later he walked through the opening and I sent an arrow from my Prime bow right into the sweet spot. He collapsed in sight, canceling any need for clinical evaluation.
---
ALPS Ultralite Elite Backpack
Do not kid yourself. Public-land, DIY elk hunting tests every inch of your body. To ensure you have the gear for elk strategies, climate battles and a successful extraction, look at a backpack that does it all. ALPS OutdoorZ has developed a multifunctional backpack designated the Ultralight Elite. The pack offers a customizable, lightweight system that is 30 percent lighter and 30 percent stronger than its other models.
You may purchase the frame alone ($299.99) for hauling elk quarters. To make it a true backcountry pack, you may purchase separately either an 1,800-cubic-inch pack bag ($149.99) or a 3,800-cubic-inch ($199.99) pack bag. Both easily attach to the frame with an aluminum hook system. The big bag weighs only 5 pounds, 13 ounces. Other features aid a comfortable fit including easy torso adjustment, contoured lumbar design, air mesh cooling, and construction using 500D Nylon Cordura for ruggedness and water resistance in the backcountry. The price also includes a rain fly and a bow/rifle carrying system—and the packs are hydration compatible.
---
September Helpers
You never know what hunting style you may end up embracing in September regardless whether you bow or firearm hunt. First, you absolutely need elk calls. Even if you do not use a call to close the distance, elk sounds can help you locate elk to give you confidence the neighborhood is bustling. Rocky Mountain Hunting Calls provides an assortment of quality calls to strike up a conversation. The company's Wapiti Whacker bugle tube outfitted with the V.E.T.T. system, situated in the mouth opening, screams authentic bugles while using the Black Magic GTP diaphragm. Add in the Heartbreaker cow elk call for a full range of sounds.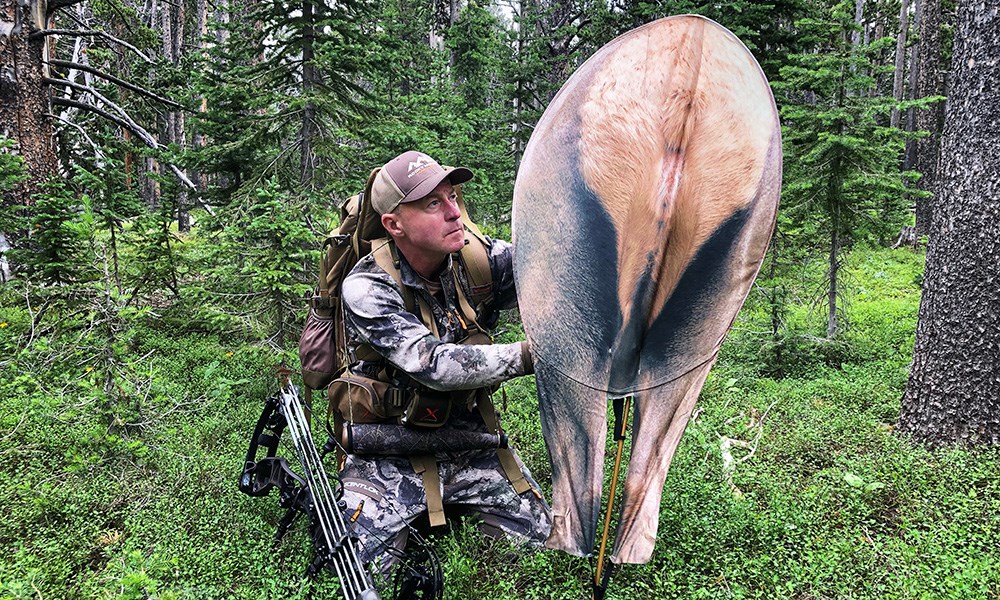 September afternoons can be slow, and in those situations, I park near a wallow for a quick nap. Before bedding down I mist the area with Wildlife Research Center's Elk-Fire sexual attractant. This odor wafting on the wind has the power to pull in a roaming bull while I snooze downwind.
Finally, on archery hunts only, I sometimes provide a visual stimulation by placing a Montana Decoy Company elk decoy in an opening. The Back Country model is the view of an elk rump. It is lightweight, easy to deploy and gives an elk confidence that a herd is ahead.