by
posted on June 28, 2018
Support NRA American Hunter
DONATE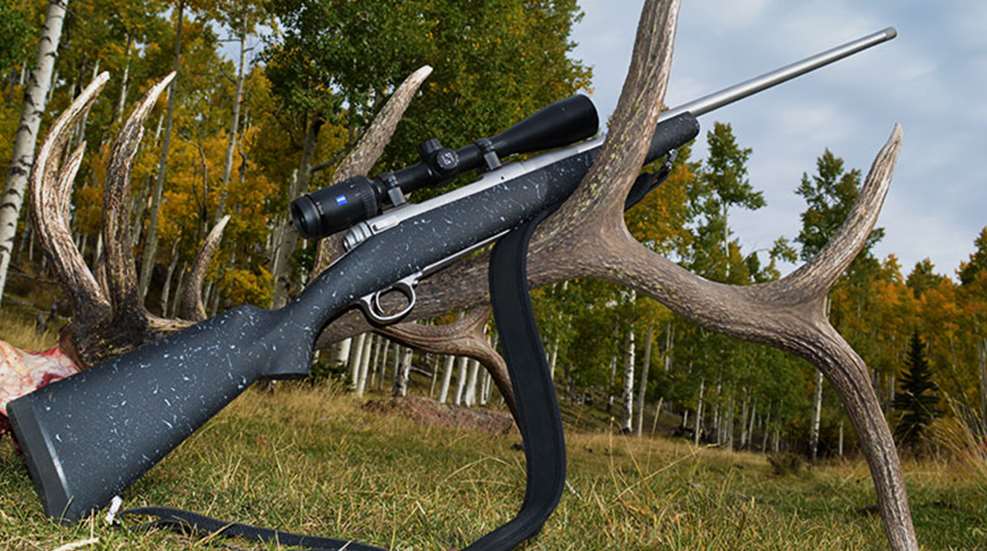 Ten big muley bucks bounded through the ponderosa and sage, single file in follow-the-leader fashion. High on a ledge above them I went entirely to pieces. It was funny, too, since I possess significant experience with mule deer, having lived among and hunted them all my life. Alternately inwardly glaring and giggling at myself, I nonetheless managed to knock my spotting scope over, lose my glasses, fumble my rangefinder and fail to find a good shooting position. On top of that, I managed to miss one of those big bucks—twice.
Funny thing is, I was prepared for a tough, long, cross-desert-canyon shot. I'd been lying motionless, tucked underneath a serviceberry bush, waiting for deer to edge their late-evening way off a distant mesa, but that's not what they did. Instead, they jumped up 90 yards straight below me and took off like a bunch of bouncing banshees, sending my nerves into sudden and uncontrollable fibrillation. My carefully chosen shooting position was all wrong, my spotting scope was where my leg needed to go and my spectacles, which I had removed for better glassing, had suddenly relocated to another continent. So, in true rookie style, I forced myself into an awkward field position, waved the crosshairs at a big buck that stopped in a clearing and slapped the trigger. Yes, of course I missed. He stopped again on the far side of the canyon-bottom wash, and I slapped and missed again.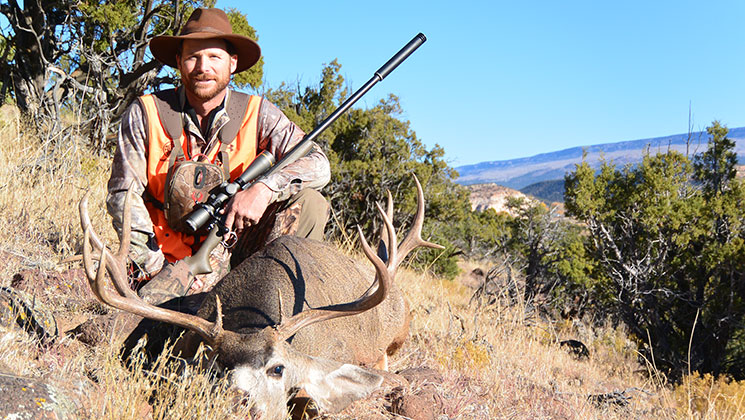 Interestingly, had the bucks shown themselves where I originally expected them to, I believe that I would have calmly and successfully made the long shot, cleanly killing one of those big boys. Which, incidentally, is exactly what I did next. Madder than a bee at a bear picnic for missing—twice—I throttled the demon inside, carefully ranged the buck when he stopped one more time atop the far side of the canyon, settled in prone and killed him dead with one perfectly placed 417-yard shot.
Now, there is no excuse for such a high-speed come-apart, and in truth, it was one of the only times since I was a youngster that it's happened to me. In my defense, I wasn't hunting with my favorite old rifle. Had I been, I believe the buck would have been dead with the first shot. Which raises the question: What makes a Western big-game rifle great? It's a bit of a personal preference thing, but there are some absolutes. Let's take a look.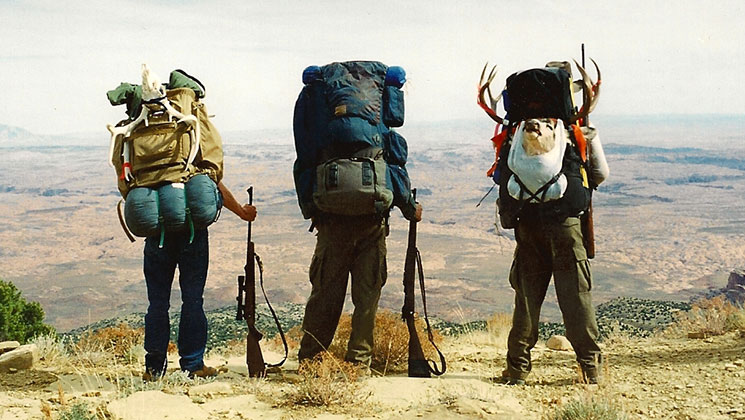 The Perfect Rifle
Many design strategies vie for supremacy in the Western hunting world, from ultra-lightweight mountain or "sheep" rifles, to heavy, long-barreled modular-stocked long-range rifles. In my mind, perfection lies somewhere in-between.
The perfect Western big-game rifle will possess certain attributes; it'll be superbly accurate, have a great trigger, and fit you like a well-worn buckskin glove. Beyond that, the personal preference thing plays a larger role, though things like stainless/synthetic construction, lightweight nature and simplicity are obvious choices.
Fit and Feel 
In my opinion, the most important element of your perfect rifle is how it feels when you handle it and how it fits you physically. We're all different; some have narrow shoulders, some wide. Some boast thick physiques, others thin. Some necks will be long, others short. Rifles, too, are shaped differently. Length of pull, drop at the comb, pistol grip, cheek piece and forearm shape all differ significantly from one manufacturer to another. All these things affect how a rifle fits, and every rifle will fit every person differently. Shop around and find a rifle that fits and feels right to you.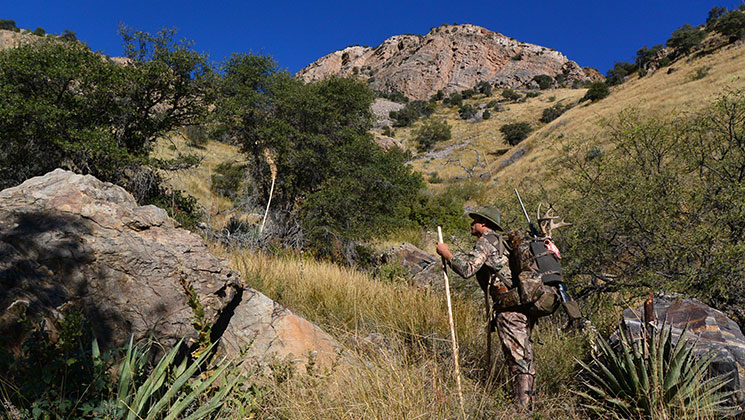 Weight
Much Western hunting takes place in steep, rough, high-elevation territory. Every ounce matters when you're racing a bugling bull and his harem toward a ridge-top saddle, or scrambling across jagged, cactus-strewn Coues deer habitat. Avoid heavy rifles; bull barrels, modular stocks and heavy tactical scopes are awesome in their place, but that place isn't in rugged Western big-game country. In my opinion, a seven pound rifle (without scope and accessories) is about the heaviest I'd want to carry. Six or six-and-a-half pounds is ideal.
Construction
Gleaming blued barrels and sleek walnut stocks still reign supreme for beauty and panache, and they still account for scads of big game every year. But simply put, there's nothing better for a Western big-game rifle than stainless hardware bedded in a quality, hand-laid fiberglass or carbon stock. Rain or snow, hot or cold, you won't have to worry about your barrel rusting or your stock warping.
Accuracy
When Townsend Whelen uttered his famous quote, "Only accurate rifles are interesting," he hit the proverbial nail right on the head. It's even more applicable in the Western hunting arena, where terrain is often big and wide open—shots tend to be long. In today's world of laser rangefinders, match-accurate hunting ammunition and ultra-capable riflescopes, an inaccurate rifle is as outdated as a rotary telephone—and far less classy. Many manufacturers offer a sub-MOA guarantee, and I'd settle for nothing less. Shots at Western big-game tend to be longer than the average shot in your local deer woods, so get a rifle that's up to the task.
Trigger
Perhaps the single most influential ingredient to shooting your rifle well is the trigger. A good, crisp trigger will make the difference when shooting from field positions and in less than ideal conditions. If your rifle doesn't come with a great trigger, replace it with a Trigger Tech or Timney trigger. You'll thank me later.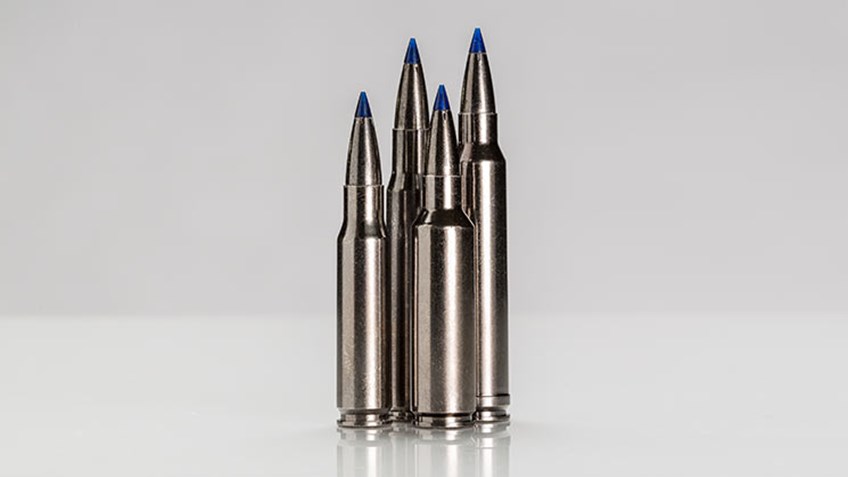 Chambering
Which cartridge is best for Western big-game is a question that will never be settled. The perfect elk, mule deer, Coues deer, black bear and pronghorn cartridges are not the same. So, we have the enchanting task of choosing a versatile chambering that will work well for everything. In terms of all-around worthiness, the legendary .30-06 Springfield certainly makes the grade. However, in my opinion, it's not today's best Western big-game cartridge. My fingers were surprisingly reluctant to type that sentence, because the good old '06 is one of my favorites. But were I to choose a chambering for a new rifle, it would be in one of the following: I'll list them with short synopsis of pros and cons.
• 6.5 Creedmoor: Great for youth and recoil-sensitive hunters. Fantastic for Coues deer and pronghorn. Somewhat light, but with careful bullet selection and shot placement, adequate for elk. A bit anemic compared to other cartridges on this list.
• 6.5 PRC: Hot new round that is superb on lighter game and adequate for elk. Fast and flat, and comfortable to shoot. Be sure to choose a tough projectile when hunting bigger game like elk.
• .280 Ackley Improved: Very good round that is perfectly adequate for anything from Coues deer to elk and moose. Boasts almost the same performance as the 7mm mag. but with greater efficiency and slightly less recoil.
• .28 Nosler: Fast, flat and very hard-hitting, the .28 Nosler is one of today's finest. It's hot, though, so not ideal for recoil-sensitive shooters.
• .300 Win. Mag.: Less ideal for the small species like Coues deer but great for the big stuff, this cartridge is a thumper—on both ends. Tons of projectile and load options available almost anywhere in the world.

Riflescope
Aside from your rifle itself, the scope is the most important ingredient in your setup. Today's variable-power riflescopes complete with ballistic reticle and/or turret are marvels of modern engineering. They aren't cheap, but with optics, you get what you pay for. In my opinion, an ideal Western hunting scope should be lightweight (20 ounces or less), boast superior glass for clarity and low-light conditions, and have a good ballistic reticle or turret. A ballistic reticle, such as Zeiss' Rapid-Z 800 or Leupold's Boone & Crockett, is faster and perhaps better to 500 yards. A turret is almost as fast and is more precise, but slightly harder to use unless you have a custom yardage-marked dial. Experience and skill are essential with either.
Bases and Rings
If there is one subject that all hard-core Western hunters agree on, it's that you want quality mounts for your scope. Rugged mountain trails, encounters with rocks and trees, steep mountainside tumbles and horseback travel are hard on rifles and scopes. They are even harder on the mounts that hold them together. Use the best bases and rings money can buy.
Push-Feed vs. Controlled-Round Feed
This is another highly-debated topic. I personally don't believe it matters unless you're hunting where the big bears live. I personally prefer controlled-round feed, but there are many superb push-feed rifles. Get what you like.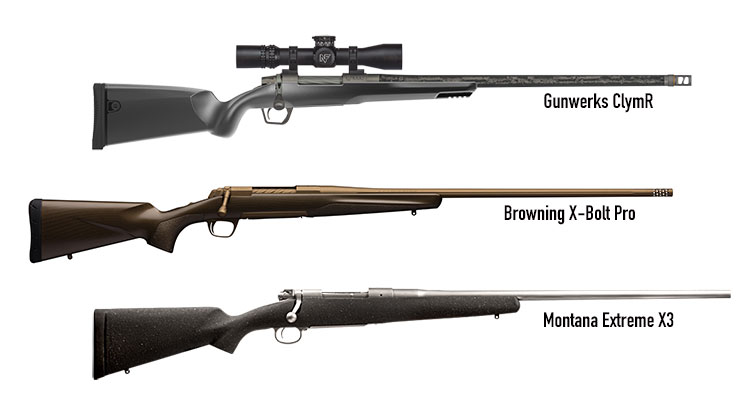 My Perfect Rifle
So what exactly—from all the options above—would I choose? Okay, I'll stick my neck out and tell you.
• Rifle: Gunwerks ClymR , Browning X-Bolt Pro or Montana X3
• Cartridge: .280 Ackley Improved
• Scope: Leupold VX6 HD 3-18X44 with CDS-ZL2
• Bases and rings: Nightforce, Leupold, Talley or Burris
There you have it. From wide-open pronghorn country to the steep timbered slopes of northern elk habitat, the West offers a wide diversity of terrain, conditions and big game. It's demanding on a hunter and his rifle, but if you follow the advice above you can come up with a rifle setup that's up to the task and perfect for you.