Support NRA American Hunter
DONATE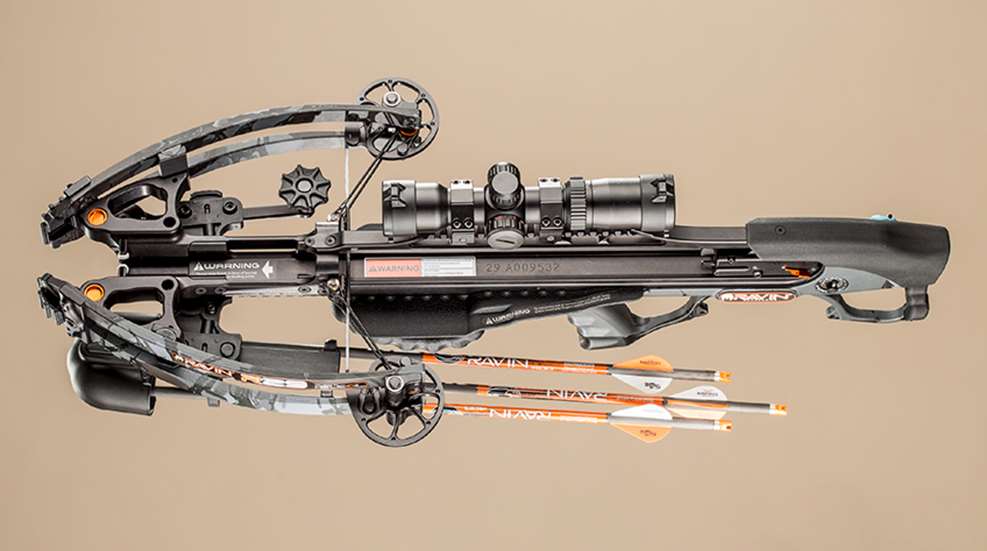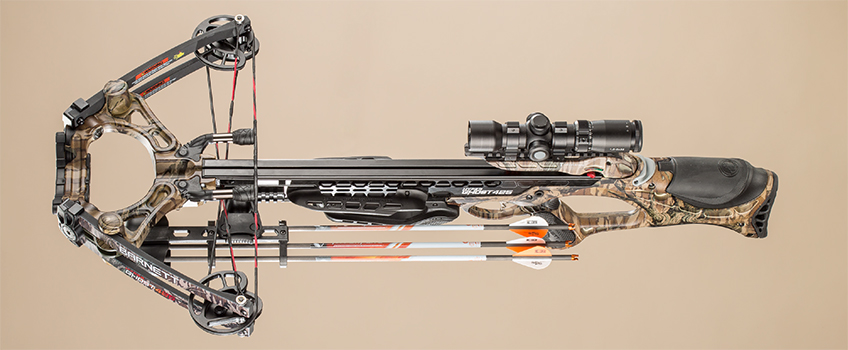 1. Barnett HyperGhost 425
First Impressions
This Barnett is the black sheep in this review because it's significantly less expensive than the other crossbows here. While it doesn't have the same machined, solid feel as the others—and overall it's larger—its power is on par with them and its penetration is greater.
Notable Features
Barnett has done a good job enhancing the fit and finish of the HyperGhost; it features rubber overmolded grip panels and an updated Trigger Tech trigger. Still, it's the sheer size of it (though normal for a traditional-style crossbow) that stands out. It's 36.5 inches long and 16.5 inches wide from cam-edge to cam-edge while cocked.
It was fast at 410 fps for a kinetic energy calculation of 151 ft.-lbs. with its 404-grain bolt. It was last in accuracy of the bunch. Notably, however, the HyperGhost was tops in penetration. Why? Its small-diameter, forward-of-center arrows are thin, heavy and slick. This translates to top-end penetration on the biggest game.
The Takeaway
This is the real world, and the Barnett can be purchased for around $1,000, nearly half of what some bows can cost. If you don't mind lugging a bigger bow through the woods or you are going on a hunt where penetration is the most important factor, the HyperGhost shines. And if cash is an issue, it shines very bright indeed. Trust me, this bow is plenty fast and accurate to take any animal that walks.
Pros, Cons
Pro: Its integral, step-through riser stirrup should be industry standard.
Con: It's loud at 105 decibels.
Pro: The trigger has minimal creep, so it feels much lighter than its 5.1-pound weight.
Con: It's very big, although not as heavy as two of the others.
Pro: It delivered the most penetration.
Pro: It averaged 1.6-inch groups at 30 yards in real-world, outdoor hunting conditions.
Pro: It is the least expensive of our test.
Technical Specifications
• Draw Weight: 204 lbs.
• Velocity: 425 fps (advertised) w/380-grain bolt
• Trigger: 5.1 lbs.
• Dimensions: length 36.25″; axle-to-axle width17.67″ (uncocked); power stroke 16.33″; weight 7.7 lbs.
• Finish: Mossy Oak Original Treestand
• Accessories: 3 arrows, quiver, scope, rope cocking sled
• MSRP: $1,299.99; barnettcrossbows.com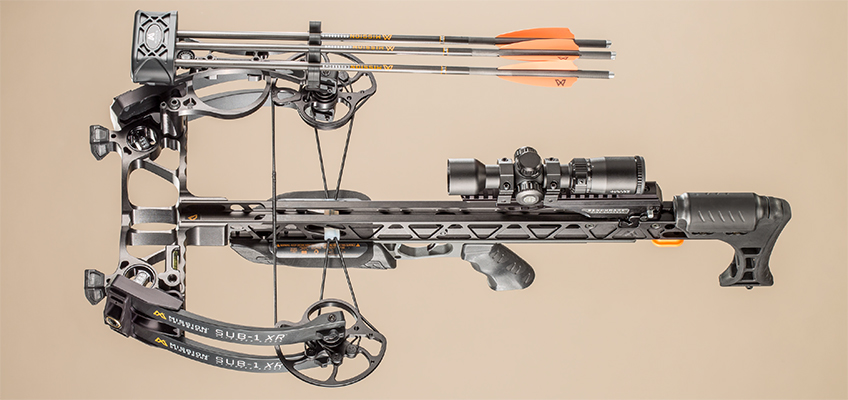 2. Mission Sub-1 XR
First Impressions
I've shot Mission's Sub-1 line of crossbows extensively, and by now I know that their engineering, machining and assembly make them as precise as they are tough. Mission—made by Mathews—has leaned heavily on what it knows about building accurate bows and transferred that knowledge to its crossbows. The Sub-1 has always been one of the most accurate crossbows in the business, but it was never one of the fastest, until now.
Notable Features
Its XR model is touted to keep the same level of sub-MOA accuracy while ramping up its speed and power. In doing so, however, something has to be sacrificed, and that is weight. The Sub-1 XR, barebones, weighs just under 8 pounds, but the reality is, nobody shoots a crossbow with nothing on it, so the physical weight that you would carry while hunting (scope, quiver, three arrows and RSD cocker) is 9.7 lbs. However, for that weight, hunters gain a lot.
At an average of 412 fps, the Mission clocked 2 fps more than its advertised speed. Combined with its light 346-grain bolt, it produces 130 ft.-lbs. kinetic energy. That's the lowest on the list, but it's still plenty for any deer or elk on planet Earth. However, as I found with crossbows across the board that push the envelope on speed, accuracy almost always suffers in terms of group size.
The Takeaway
Considering the Mission's solid build, powerful quietness and its price, it's probably my favorite bow of the four, for the money. Compared to all the other Missions I've shot, my sample model displayed uncharacteristically large groups, so it makes me wonder if it was this particular bow. Still, 1.5-inch groups are amazing for a bow! It's only real downside? It has a much bigger footprint compared to others, but for most of us treestand hunters, it shouldn't be an issue.
Pros, Cons
Pro: It's available with RSD crank cocker that will save your back and allow uncocking, but comes standard with rope cocker.
Con: It's wide at 17.125 inches when measured uncocked from cam-edge to cam-edge.
Pro: It was the quietest bow tested, measuring 100.5 decibels on my informal sound meter.
Pro: The stock is safe and adjustable. Its integral bubble level assists long-range shooting.
Con: The trigger measured 3.7 lbs. but with major creep.
Pro: It averaged 1.5-inch groups at 30 yards in real conditions, outdoors, in varying wind.
Pro: It's the second-least expensive at $1,600 retail.
Technical Specifications
• Draw Weight: 250 lbs. (adjustable)
• Velocity: 410 fps (advertised) w/346-grain bolt
• Trigger: 3.7 lbs.
• Dimensions: length 30.5″; axle-to-axle width 12.5″ (uncocked); power stroke 14.62″; weight 7.6 lbs.
• Finish: black (pictured), Realtree Edge
• Accessories: 3 arrows, quiver, Hawke scope, soft case, rope cocker
• MSRP: $1,699 and up; missioncrossbows.com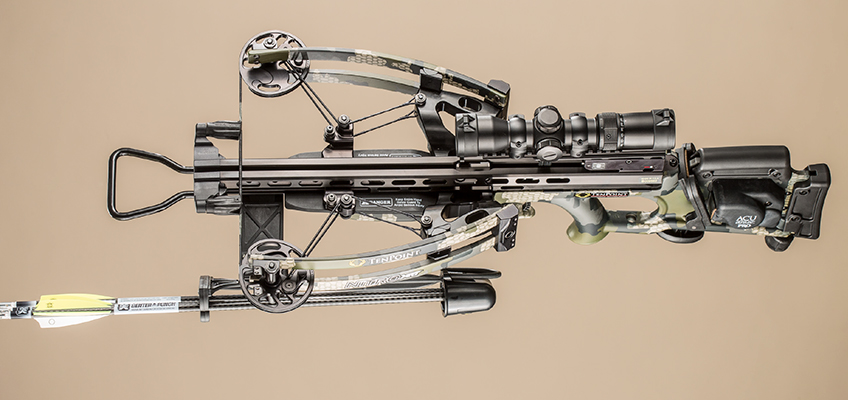 3. TenPoint Nitro XRT
First Impressions
I'm a huge fan of TenPoint because all its crossbows are quality devices that are made well, work well, are tough, accurate, safe and they hold up. Plus, they come with all the accoutrements you'll need to get them out of the box, sight them in and start hunting. You pay for this luxury but it sure is nice. What grabbed me about the Nitro XRT was threefold. First, it's incredibly narrow—especially when cocked at a mere 10.25 inches across its widest point. Secondly, it looks and feels great with its shooter-friendly grip areas and Kuiu Verde 2.0 camo. Third, fully outfitted, it's heavy at well over 10 pounds as you would hunt—but that also makes it quiet and solid.
Notable Features
The Nitro XRT uses a combination of reverse-cam technology and its Vector Quad cable system to create a compact yet ultra-powerful stroke. If it weren't for its necessary stirrup it would be rather compact, but as it is, it measures 33.5 inches long. Its beefy riser imbues a sense of strength as do its robust split limbs. I like the fact that its cheekpiece is adjustable, and mainly that TenPoint engineers thought out everything so that all its accessories like its cocking handle and cocking sled tuck neatly into the stock so they are out of the way yet always handy.
The Takeaway
Like always, TenPoint has a winner in its new powerhouse Nitro XRT. It's fast, powerful, accurate, quiet, quality made and comfortable to carry and shoot. It's expensive at a retail price of $2,600, but it's clear that some of that money is going to accessories rather than just the bow's technology and name. For example, its scope, while made in China, is much better than the scope that comes with the Ravin. And it also comes with a great case to protect this expensive investment. Its arrows are tops too—very strong with a slick finish so they're easy to withdraw from a target. It even comes with a sling.
The TenPoint's only negative is that it's the heaviest bow here. The tough part here is deciding which bow you'd rather have if you had $2,600 to spend. The TenPoint comes with all the accessories that you'll need to go hunting and is on par with top-end performance.
Pros, Cons
Pro: The heavy 467-grain bolts and ridiculous 430-fps speed produced a 192 kinetic energy measurement!
Pro: It shot 1.3-inch groups at 30 yards, outdoors in the wind.
Pro: Best scope of the bunch in terms of optical quality, however, the magnification dial on my test scope was very stiff.
Pro: It comes with a soft-sided hard case.
Con: It's heavy—though very solidly built.
Pro: With practice, cocking with the sled and crank takes only 30 seconds.
Pro: It's narrow and easy to carry.
Con: It's expensive, but the included accessories are great.
Pro: It's quiet for such power at 101.9 decibels.
Technical Specifications
• Draw Weight: 225 lbs.
• Velocity: 440 fps (advertised) w/445-grain bolt
• Trigger: 4.38 lbs.
• Dimensions: length 33.25″; axle-to-axle width 12.5″ (uncocked); power stroke 16.5″; weight 7.4 lbs.
• Finish: Kuiu Verde 2.0
• Accessories: 3 EVO-X arrows, EVO-X Marksman scope; ACUdraw Pro, quiver, hard case, sling
• MSRP: $2,549.99; tenpointcrossbows.com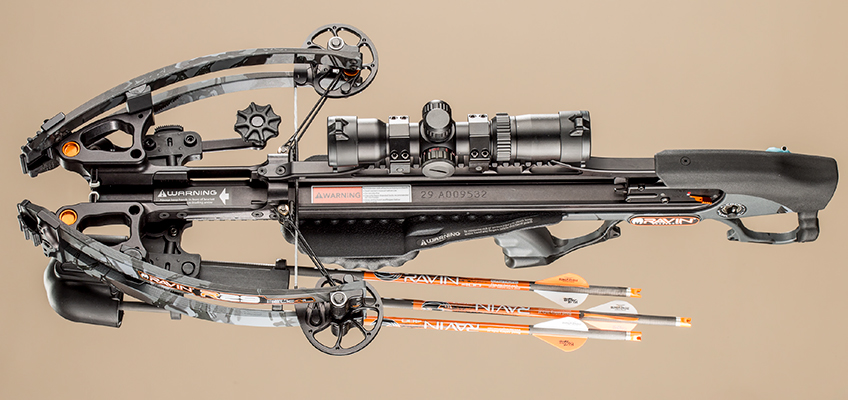 4. Ravin R29
First Impressions
Quite simply, Ravin makes the smallest and most technologically advanced crossbows of all time, and the R29 is its flagship. This bow is amazingly fast, accurate and smaller than anything else on the market—and that makes it a joy to hunt with. But it's also the most expensive. So the question is, is the R29 worth its $2,600 price tag?
Notable Features
What stands out about the R29 is its diminutive size and futuristic look. Without a stirrup to add length, it measures only 29 inches long. Cocked, it's just 9.5 inches from cam-edge to cam-edge, and it's only 13.5 inches uncocked. That's about a third the width of most crossbows just a few years ago.
The Ravin was never intended to be hand cocked, and so it features a sled and ratchet system that is safe and easy to use once it's practiced a few times. I can cock, load and shoot an arrow in around 20 seconds, and I can do this from a treestand without standing. That's a huge plus. The R29 also features a Picatinny scope rail that's integrally machined so it's connected on both ends for added strength.
The Takeaway
Because the Ravin is so expensive, I'm more critical of it. But its numbers in terms of size, accuracy, quality and performance are either the best or right near it. In all, it's the best crossbow going, but you pay for its technology. If it has a weak link, it's the roller arrow rest that can break. I know this because I've had one break on me. However, it is the included scope that bothers me most. C'mon Ravin! Putting a $50 Chinese-made, cheapest-of-the-cheap scope on a $2,600 crossbow should be a crime of greed. The company didn't cut into its bottom line by contracting with a good third-party vendor—nor does it come with a case like some of the others, but for this kind of money, it should. So, expect to spend a couple hundred bucks extra when you toss this silly scope in the trash, buy another one and also buy a case.
All in all, however, if I were rich, or I crossbow hunted all the time and demanded the best, I'd want the Ravin. Its ease of carry makes it worth its hefty cost to me. But is it that much better performance-wise (speed, accuracy) than others? No. But it sure is cool.
Pros, Cons
Pro: Its blistering speed of 440 fps combines with a 404-grain arrow to produce kinetic energy of 174!
Pro: It weighs 8.13 pounds in hunting form, yet remains nimble thanks to a tiny footprint.
Con: The added speed of this new model also adds noise, 102.3 decibels.
Con: The included Chinese scope is cheap!
Pro: The trigger is the best of the bunch at an amazing 2.7 pounds with negligible creep.
Pro: It's the most accurate of the bunch with a 30-yard group average of .98-inch.
Con: It comes with no case.
Con: It's expensive at $2,600!
Technical Specifications
• Draw Weight: 270 lbs.
• Velocity: 430 fps (advertised) w/400-grain bolt
• Trigger: 2.7 lbs.
• Dimensions: length 29″; axle-to-axle width 10.5″ (uncocked); power stroke 12.5″; weight 6.7 lbs.
• Finish: Predator Dusk
• Accessories: 6 arrows, quiver, scope, draw handle
• MSRP: $2,549.99; ravincrossbows.com